Chandigarh or the so-called food paradise is unlike all the typical cities of India, Uniquely being the union territory and the capital of two states, Punjab and Haryana, Chandigarh has a unique identity even when its comes down to the restaurant business. The restaurant industry is booming at a phenomenal rate in the city, with a lot of new restaurant formats coming up. Keeping in mind the changing trends of the city, we have analyzed and penned down the top few ways by which you can run a profitable restaurant business in Chandigarh. 
8 Tips For Running A Profitable Restaurant Business That Work Like A Charm In Chandigarh
Increasing restaurant profits and running a profitable business in Chandigarh does not work the same way as it did earlier. The changing trends and demands of the people in Chandigarh are bringing in newer restaurant formats to the city. With all these changes happening, restaurants have great potential to grow their brand. 
Here are a few tips you can start working on to increase your restaurant profits in Chandigarh.
i) Build An Online Presence 
Even the traditional restaurants of Chandigarh are beginning to work on their online presence to enhance their restaurant sales. Since almost everyone is using the internet one way or the other, you must make sure to connect with your target audience in every way possible. 
Having an SEO friendly website should be your priority. You need to follow some guidelines to ensure that your content and website are both SEO optimized, for them to rank better on Google and thereby increase online visibility. 

Focus on the user-friendliness of the website. A user-friendly website is the one with a great minimal, minimal wait- time and the best possible color scheme. 

You must ensure that your website is mobile-friendly as well, as most of the information that is consumed is through phones.

Along with that, you must not give too many pop-ups on your website. It is expected that a user would hop away from your website if there are too many ads. 
Designing your website better is a great way to make a spectacular first impression. The initial days of having a website might not be as profitable as it comes, but slowly and steadily, your website would start bringing in more orders than ever to your restaurant. 
ii) Incorporate Social Media Marketing
Apart from having a strong website, it has also become important to work on your social media. Instagram has recently stolen all the limelight and became the most active social media platform for both restaurateurs and foodies. People in Chandigarh now look for deals, pictures of food and the ambiance even before deciding to go there. 
Have an aesthetic Instagram Page.

Keep updating your page constantly to ensure that there are maximum customers engaged. The older and lesser updated your page is, the more chances you lose to attract customers. 

Taking reviews and commenting on your Facebook page also enhances customer engagement in multiple folds. 

Presence On Quora, Linkedin, and other platforms enhance the trust factor as well as increase your visibility. 
Here are two brilliant, yet contrasting examples of social media marketing from two different restaurant formats in Chandigarh.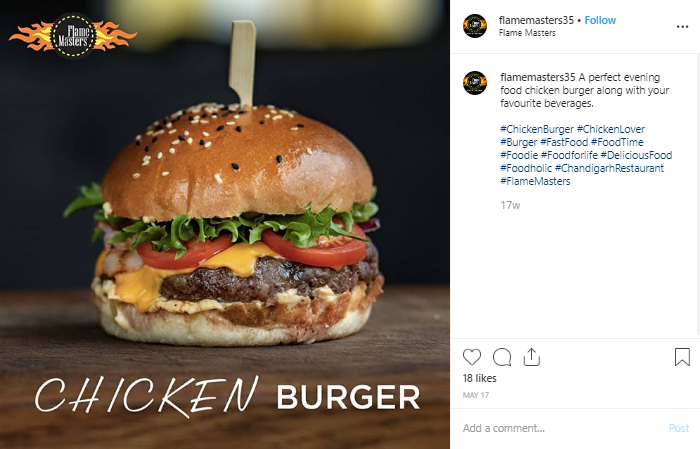 Flame Masters, a Quick Service Restaurant focuses on showcasing appealing food pictures to ensure that customers would want to buy more from their brand. Whereas, Sultan, a fine dining restaurant showcases a lot of contests and campaigns to ensure that customers come to their restaurant. The difference in their marketing strategy is solely because of the average spend in their particular restaurant formats.
You must also track how well your social media marketing is going for you. Instagram and Facebook give you insights for your business pages as well. You could also use other software like Hubspot and Google analytics to keep a track of what is generating the maximum leads for you.
iii) Partner With Online Food Aggregators
The online food aggregators are making an entry into the smaller cities, especially the tier-II and tier-III cities. Swiggy and Zomato are making constant efforts to have their empire as great as they do in the bigger cities. Taking leverage of this fact, many restaurants are collaborating with these online food aggregators to increase their online orders. This not only increases their online presence but helps to build a brand name sooner.
The only negative aspect of these collaborations could be a high margin of profit that these food aggregators ask for. Restaurateurs in tier-II cities do not feel that it is viable for them to pay such high profits to the online food aggregators.
"Food aggregators are a force multiplier for restaurants as they are helping retail outlets clock additional revenue by charging a percentage of sales. Having said that, they should have stuck to being force multipliers and widening their penetration and getting economies of scale to lower the costs associated. It is now becoming unviable for restaurants to continue at ridiculously high rates of commissions and sacrificing their customer data to these tech giants who are unethically using it to their convenience and advantage," says Vikram Nagpal, owner of The Pizza Kitchen. 
iv) Influencer Marketing Is On The Rise 
Another important trend that has just hit the city of Chandigarh is the influencer marketing trend. A restaurant's sales are highly impacted when micro-influencers and food bloggers review the place, as they have a wider audience following them. Having said that, there are also many negative aspects related to food blogging, which can be taken care of. Having a food influencer review your restaurant could sometimes set unnecessary high expectations for your customers. But all in all, micro-influencer marketing could be a boon for your restaurant business.
Here are a few examples of the most active food bloggers in Chandigarh that you could collaborate with.
Food Tales Chandigarh- Jimmy Makkar and Sachin Bhatnagar
Food Critic in Town- Rahul Miglani
Foodie Couple Chd- Jaspreet and Kamaldeep
Storyteller Chef Chandigarh- Naina a.k.a. Ritu Khosla
The Girl in Phulkari- Swati Khosla
Bite Me Up- Aashna Guglani and Sameer Gupta
Bon Appetit- Simarpreet
Bipolar Blogger- Vidisha Bhardwaj
Street Food Chandigarh- Manpreet S
Foodie Bliss 09- Prabhkeen Twinkle Nagra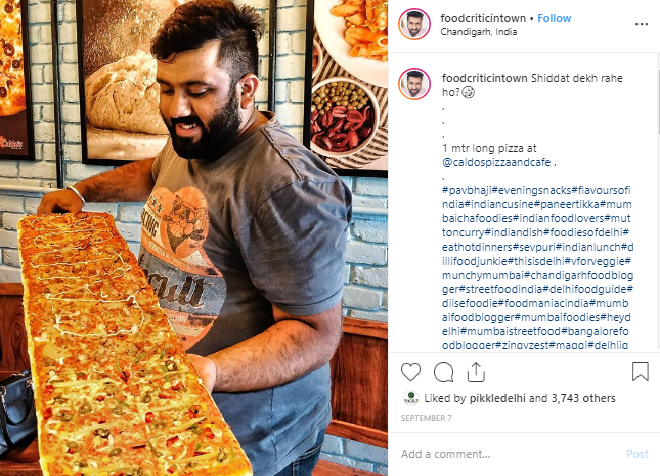 v) Bring The Authentic Taste With A Twist
Staying loyal to their authentic food, along with welcoming newer cuisines, the people of Chandigarh now demand their favorite food that comes with a twist. A lot of Punjabi restaurants serve the same old authentic Punjabi food with a pinch of international tastes in it. Chaplin Fast Foods is one such example where the restaurateur brought in Indian with Chinese and much more to attract customers. 
Having said that, people in the city are now exceedingly becoming open to new trends and tastes. This has caused to increase sales for many new restaurant formats, which have successfully catered to the changing tastes. One such example is The Pizza Kitchen from Chandigarh who dove into the latest coffee culture in the city.
"We have seen a surge in coffee drinkers after the opening of Starbucks in the city. The market has almost doubled to what it was before Starbucks came in. One of the many reasons I think is that today's youth is very well-traveled and exposed and wants to emulate the life that they had lived in the Western countries," says Nagpal. 
Catering to the newly brewing tastes and trends in the city, while maintaining your brand's authenticity might work out great for you. Since Chandigarh is a city that loses its excitement pretty soon in case you don't offer them something unique, you need to try to bring something new to the city. 
vi) The Use Of Technology 
Restaurateurs of Chandigarh are now realizing the importance of technology in the restaurant business. Since the already established chains of the city are thinking of an expansion, and the budding ones want to grow as early as possible, incorporating a restaurant POS is their best bet. Not only for streamlining operations and making their lives easier, but to ensure that nothing goes out of order. 
Most restaurateurs in Chandigarh believed that a restaurant POS is only restricted to billing and transactions. But with the advancement in technology, the scenario of a restaurant is just not the same anymore. Here are a few ways how you can use your restaurant POS to make more money out of your outlet.
Streamlining and standardizing operations is a great idea to reduce wastages, reduce food costs and keep inventory in check. This also ensures that all the staff members work together as a team, following the same guidelines to achieve the only goal- a happy customer.  

Increasing the Table turnover rate becomes another benefit that your restaurant POS will provide you with. Since the use of technology saves a lot of time for both the customer and the restaurateur, they can now cater to more number of tables than they earlier were in the same period. 

On busy nights, your restaurant POS will help you manage customers who are waiting outside. You could also try taking orders of your customers while they are waiting to further reduce the time to deliver to them. 

Your restaurant POS also helps you to manage your staff, and monitor their performance regularly. This is how you can ensure that there are no lags from the staff's side. 
Apart from these, there are many other benefits that your restaurant management software has in store for you. All you need to do is employ the uses well enough into your business model to take maximum advantage, thus increasing restaurant profits. 
vii) Up Your Marketing Game 
The marketing of restaurants is not just limited to handling a social media account of hosting a website. Since the competition in the industry is becoming more fierce by the day, which is why restaurants need to up their marketing game to make a statement. Here are a few tips that you can employ in your restaurant to increase your restaurant business.
Word of mouth marketing:  Since Chandigarh is a tier-II city and people still go to a restaurant through recommendations, word of mouth marketing can prove to be beneficial for you. You need to have a great first impression on your customers so that they can go back and recommend your place to their friends. 

Host Events to maintain customer engagement and make better sales. A karaoke night or a live music band at your restaurant boosts up the place like no other. You could also try hosting a 'photo of the month' contest to encourage your customers to take pictures at the restaurant and tag you. 

Birthday Promotions: You could incorporate a culture where you celebrate your customer's birthday, like Barbeque Nation or celebrate your venture's anniversaries and birthdays with your customers to make them feel valued. Offer discounts or promotions limited to a single day so that they can come back to your restaurant to redeem it. 

Employing User Generated Content: The content that users generate at your restaurant is both authentic and effective. Reposting your customer's pictures about food and their experience at your restaurant attracts more customers by enhancing the trust factor within your customers.

Videos of your staff and internal culture: Having an image of an overall happy restaurant creates a lot of impact on your customers. Putting out videos of your staff every once in a while and clicking pictures naming them 'Behind the scenes' helps your account to grow. 

Thinking of quirky campaigns that relate to the rising issues happening in the city, would bring direct attention from the customers. 
viii) Work On Your Decor- Have an Instagrammable Restaurant 
Managing your space well helps in increasing sales to a marginal extent. This is because people might not like coming to a crowded place or a place where there aren't any beautiful decor, in spite of the tastiest food served. The people who like to dine out in the city, mostly do it for leisure, which is why they expect the place to be Instagrammable. 
Rajkanwar Singh from AJA Cafe, have taken their decors pretty seriously, and believe that it's one of the most important parts of bringing more profits to your restaurant. People would want to come back to your place more for the experience you give them, and not just the food you serve. 
Singh adds that the entire architecture is built for the customers to connect to the place on a different level. The tiny water bodies, green plants mushrooming from various places have a psychological effect on the customer's mind and helps them to calm down. They have kept the design minimalistic but the interiors truly touch and relax the patron's soul!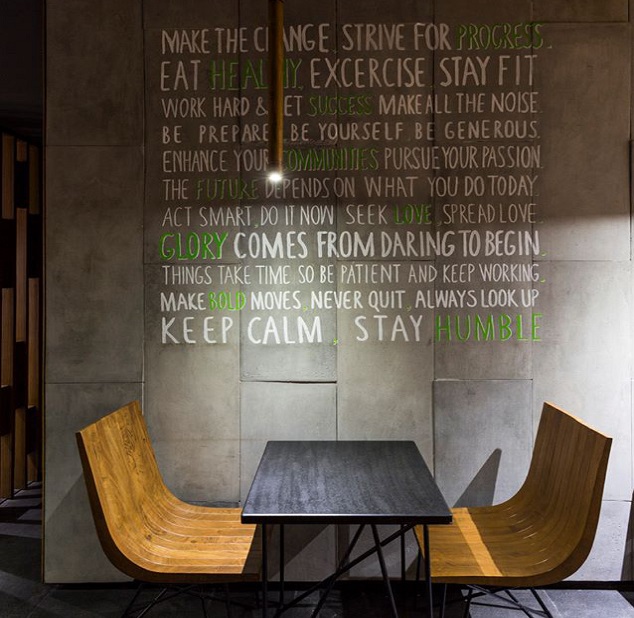 However we understand that changing the entire theme of the restaurant would cost you more money, we have made you a list of all the DIY tips that you could pick up on to enhance your restaurant ambiance. 
Minimum decor- Use twinkle lights, or minimum decor like 

Use natural light to make your place look more aesthetic. The light makes the place look more spacious and it's great for the pictures! 

Indoor plants make a great statement: Hang indoor plants in your restaurant to make sure the place looks classy. 

Maximize the number of tables kept at your restaurant 
Summing up, Chandigarh is the next city to be where all the restaurateurs would want to be. The presence of a couple of big brands in the city validates that. As a budding restaurateur, you should be able to follow these tips to make maximum profits at your restaurant.