With the tremendous growth of the restaurant industry, customers demand better overall experiences while visiting a restaurant, and not just excellent quality food. Most successful restaurateurs and chefs would agree that most customers taste food with their eyes even before taking a bite. This is reflected in the increasing usage of Instagram and other social media platforms where the most searched pictures are food pictures. Therefore, restaurateurs pay extra attention to the way their food is presented. Buying the right crockery is a crucial step while thinking of bettering your food presentation. Everything from the plating and the way you serve your food comes under food presentation. Many restaurateurs don't put enough emphasis on buying the right crockery.
Here's Your Crockery Purchasing List For Your Restaurant: 
i) Knives
Dinner Knife

Steak Knife

Luncheon Knife

Fish Knife 

Dessert Knife 

Butter Knife

Fruit Knife
ii) Spoons
Teaspoon 

Tablespoon

Place spoon

Soup Spoon 

Dessert spoon

Sundae Spoon

Fruit Spoon 
iii) Plates
Dinner Plate

Bread Plate

Salad Plate

Charger 

Soup Bowl 

Dessert Plate 
iv) Forks 
Dinner fork

Salad Fork

Forks with extra-long tines

Dessert Fork

Fish Fork 

Seafood Fork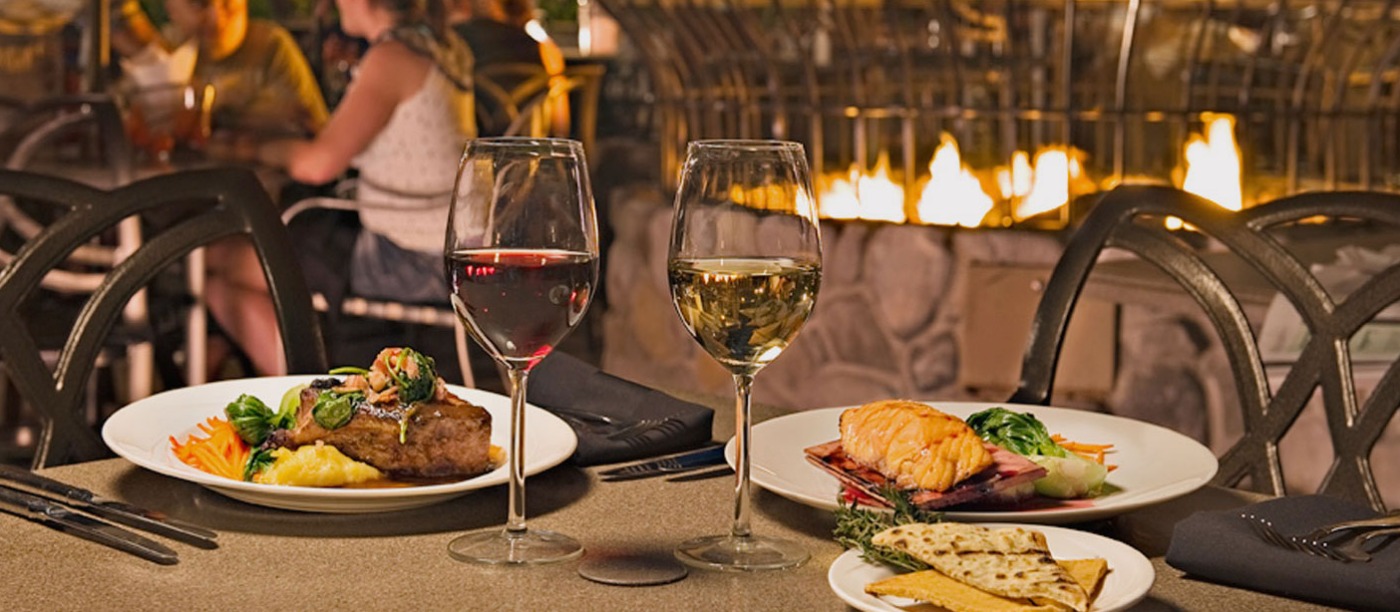 Types Of Crockery You Can Choose From
Your crockery and tableware are an essential part of setting the vibe at your restaurant. You must know about the different types of crockery available, each with its own sets of advantages and disadvantages. This way, you'll be able to make better decisions while buying your crockery, considering how far your budget goes. 
Stoneware: Fairly shiny, colored grey or brown, and is partially porous. This material is ideal for bakeware since it heats up slowly and evenly in the oven. Added benefits include being stain, chip, and scratch-resistant.
Bone China: One of the most sophisticated and elegant types of tableware, which is well-liked by restaurateurs is Bone China. The material is pretty light, extremely durable, and gives a delicate look. 
Porcelain: Usually hard, white, and slightly translucent, this material is made in beautiful designs and styles. Potters traditionally used the material for their daily chores. However, many restaurateurs believe porcelain to be their ideal choice. 
Earthenware: Earthenware is among the most beautiful and environment-friendly types of serving crockery, one can find. Usually thick and quite heavy, it makes an ideal material for keeping your food in the freezer, or in an oven.  
Aluminum: The material's cream color and durability give it an expensive look, though it is cheaper than bone china. 
Melamine: Melamine is a robust and lightweight material that also has thermosetting plastic. This means that the material is quite challenging to break, and can resist staining and scratching. 
Terracotta: A traditional Spanish material, terracotta, is often used in both ovens and tableware. 
Factors To Consider While Buying The Right Restaurant Crockery
Once you made a list of all the crockery that you need, here are the factors that you should consider while buying the perfect crockery!
i) Style And Food At Your Restaurant:
Your style plays a significant role in deciding the right crockery for your restaurant. Since clicking 'Instagrammable' pictures of their food may be a big deal for a few of your customers, it is recommended that you bring crockery that compliments your food presentation. Here are some tried and tested tips that would work for your restaurant! 
The traditional white plate never goes out of style! 

For restaurants with strong aesthetics, having contrast crockery would help in creating a statement. Choose matte colors to match your restaurant interiors. 

Make sure that your tableware matches your crockery. You could play with patterns and shapes. A couple of chefs would tell you that traditional food is better served in mud utensils, whereas others would recommend choosing modern china to keep up with your restaurant style. 

The color of your crockery could also change according to different seasons! During summer, you can go for colors like a lime punch or aqua blue, whereas fall colors like orange or sienna suit in winter. 
ii) Table Size:
Your table size determines how many plates can ideally fit on them, and thus the number of plates, dishes, or spoons you'll need. You must always buy a tad extra than is required at the peak hours of your restaurant to be on the safer side! 
iii) Cost:
Different material for your crockery is needed for different kinds of food at your restaurant. For instance, a classic dinner would go well with porcelain plates, whereas sizzlers and other fast food would look better on stoneware plates. So, it depends on your budget when it comes to deciding what kind of crockery to invest in. 
The average price range for each dinner set in India is between INR 1700 – INR 28,000. (Source: IndiaMART) 
iv) Durability:
Looking at the multiple options for the crockery materials you're buying for your restaurant, you can choose between the hardest to the most delicate ones. Since stoneware and porcelain are quite durable, they are mostly picked by restaurateurs who want to invest for the longer term. 
Here are some impressive examples from restaurants all over India, with the best possible cutlery and food presentation!
i) Social Offline:
The restaurant serves food with different kinds of cutlery, like a white plate or a stoneware tray, or even a paper bag. Their USP is the way they put a hashtag on their cutlery. People love to click pictures of these hashtags and the way they present their food!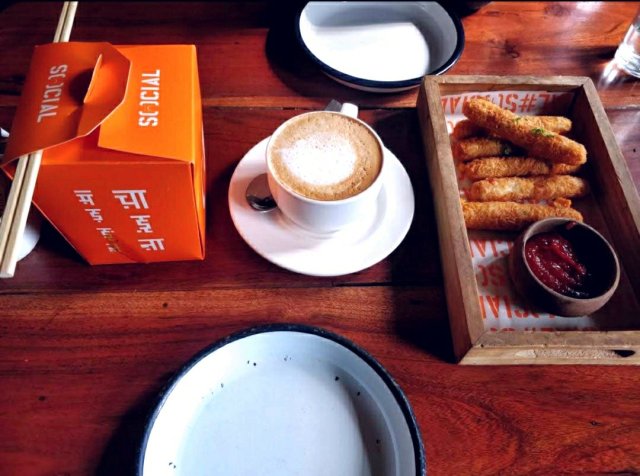 ii) Indian Bistro:
The crockery at Indian Bistro does complete justice to the idea of presenting Indian food in a twisted way. The way they serve the desserts with minimal creative cutlery is fancied by a number of people.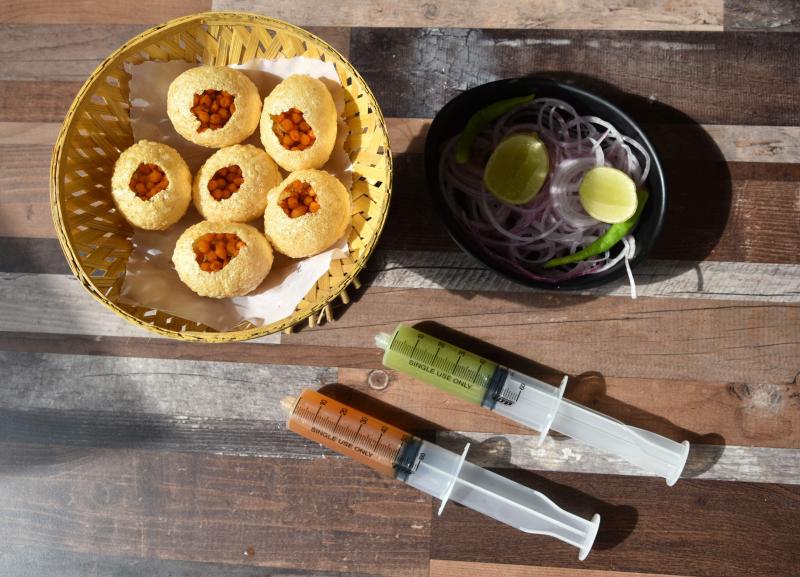 iii) Indian Accent: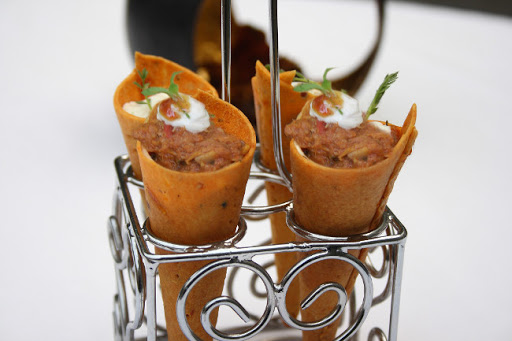 The chef Manish Malhotra does an extraordinary job every time he serves food on a table. The restaurant serves food in a unique way, ensuring that each of their restaurant cutlery complements the restaurant's vibe. 
iv) Bombay Brunch: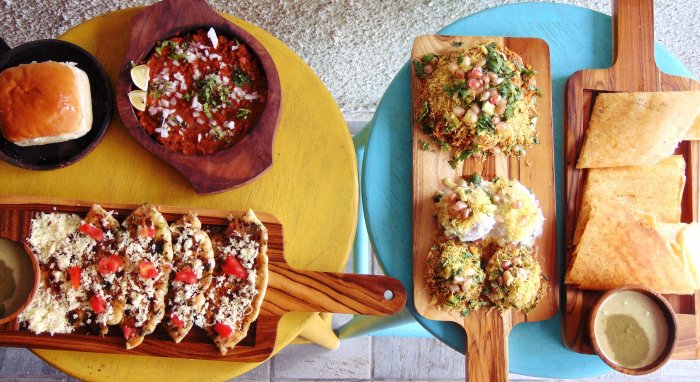 Complementing the idea of brunching at all times, Bombay Brunch ensures that the food is presented in a quirky way. The bold contrasts of plates and trays are something that the customers are usually fond of. 
v) Farzi Cafe: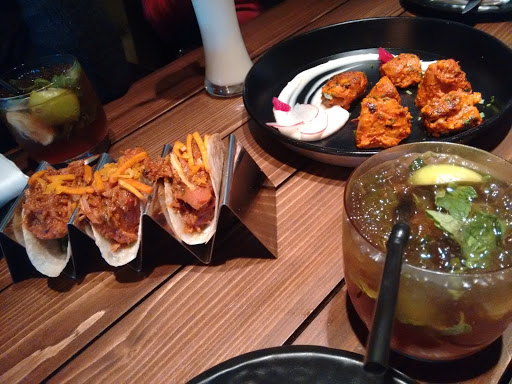 The cafe sticks to the traditional way of plating their food in white and black cutlery. It not only adds to the looks of the tableware but also makes the food extremely instagrammable! 
Choosing the right cutlery for your restaurant is a crucial decision to make. Since it directly impacts the vibe of your restaurant, you must make the best use of your crockery budget. We hope this blog helped you in making an informed decision!