The restaurant industry is highly competitive and customers have no lack of choices when it comes to choosing a restaurant for dining out or ordering in. Moreover, with the novel COVID-19 hitting the restaurant industry, it has become more important than ever for the operators worldwide to adopt strategies that enable help in increasing the overall sales and attract more customers to their business. This article covers some smart marketing strategies that would help you attract customers and increase restaurant sales.
How to Increase Your Restaurant Sales
In this article, we talk about effective tips and tricks that would help you gain an edge over the competition, and boost your restaurant sales.
1. Turn Your Existing Customers Into Promoters
Your existing customers can be your most prominent advocates. Treat them well, and they will, in turn, spread the word about how good your restaurant is. When they visit your restaurant, try to recognize them, what they previously ordered, what reviews they gave, and how you worked on them. You can use your customer database to get this information.
Try and use this valuable data to recommend them to new dishes. Such actions will make them feel needed and valued. You can also give them a few offers. Restaurants create more sales through their regulars as compared to new customers. Hence retention of customers becomes essential. Your regular customers will also market you through word of mouth and by bringing in friends and family, which will help you to increase your restaurant sales. Getting your customers to come back will forever be your most significant achievement!
2. Upselling
No matter how great business your restaurant is doing, chances are you would still like to increase your restaurant sales. One of the easiest ways to do this is through restaurant upselling. Upselling means convincing customers to upgrade their current purchase or buy more items. Restaurant upselling is the most common strategy for restaurants to boost their profits.
For you to successfully upsell your menu items, your staff must be very well trained. No upselling technique would work if the wait staff does not develop a rapport with the customers or is not in sync with all the menu items. In addition to this, you can also give free samples of the new things that you have incorporated into your menu to increase restaurant sales. Such activity will make the customers notice these dishes and increase their chances of ordering extra. Know more about various restaurant upselling techniques here.
3. Improving the Table Turnover Rate
You must have had customers at your restaurant who prefer to dine at their leisure. These customers take longer to leave your restaurant, which, in turn, results in a long queue. In some cases, you may even end up losing customers as they might plan on going to another restaurant due to no vacancy at your establishment.
Hence your initiative to increase restaurant sales is not limited to improving your customers' orders; the other way to achieve higher sales is by optimizing your table turnover rate. By improving your table turnover rate, we mean increasing the number of customers that you will serve in a day. However, this does not mean that you should rush customers through their experience.
You can tackle this by ensuring that the orders placed are instantly sent to the kitchen and prepared orders are served to the guests promptly. You also need to ensure that checks are presented and collected in time. The tables need to be bussed and reset as soon as your guests leave, and you should have the right mix of tables for your average dinner party sizes. Quick and efficient service helps you delight your customers and also helps you to turn tables quickly.
4. Social Media Promotions
Nowadays, everyone is available on social media platforms, be it Facebook, Instagram, Snapchat, or any other. Hence, the best way to increase your restaurant sales is by harnessing this force and making your presence felt on these platforms. It would help if you created social media pages for your restaurant.
However, make sure that you update these pages regularly by uploading pictures and posts about upcoming events that your restaurant will be hosting. You can also use these pages for notifying your customers regarding things like changes in the timings of the restaurant or changes in the menu. Social media is especially beneficial when you have to make announcements regarding special offers or discounts.
Imagine your potential customer visits your social media page to check out the menu items and the pictures, but what they see is that the last post is almost six months old. Will it leave a good impression? Of course, not! Hence, make sure that you reach out to your customers through these pages and even communicate with them on comments. Also, remember that you must never ignore a bad review. Always acknowledge bad reviews and apologize for the inconvenience. Your restaurant POS could help you keep track of all the feedback from your customers. Such actions will not only help in the retention of disgruntled customers, but it will also create new ones and will bolster the overall restaurant sales.
To learn more about lousy review tackling, read What To Do When Customers Give A Bad Restaurant Review.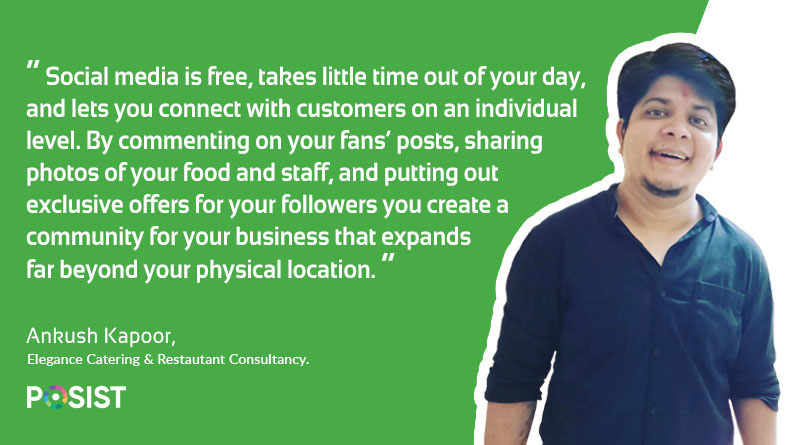 5. Providing Offers and Happy Hours
One of the best means to attract already existing and new customers to your restaurant is surely by offering offers on special occasions. This technique is quite frequently used, but it never fails to bring in that extra crowd in your restaurant. Such a strategy will under all circumstances increase your restaurant sales during the festive season. During the time of Christmas and the New Year, why don't you offer complimentary rum cakes, liquor chocolates, or donuts to satiate the sweet tooth of your customers? Complimentary items and offers always tend to attract customers.
It is a well-known fact that liquor brings in the most sales and profit in a restaurant. You must also realize that if your targeted clientele is the youngsters, then you must provide liquor at cheaper rates since they are generally not ready to burn a hole in their pocket. Here comes the importance of happy hour strategies. Provide one plus one on beer, or cocktails at half the price. You can also offer a plate of nachos(or any other items) with two beers, and this will also help you in upselling your menu items.
The best part about 'Happy Hours' is that they are targeted at the time of the day when sales are slow. Because of this, they draw customers to your restaurant during lean hours and increase restaurant sales. Just remember to market your offers and deals well on all marketing channels. Emails have been known to prove useful in publicizing deals and discounts.
6. Leveraging Online Ordering
Many people nowadays prefer to order food home, rather than going out and indulging in a sumptuous meal. Offering online food delivery would help you increase your audience base and enable you to reach out to potential customers.
If you have a limited seating space, or are short on servers, but have ample kitchen staff, you can leverage online ordering to process more orders and increase the restaurant sales.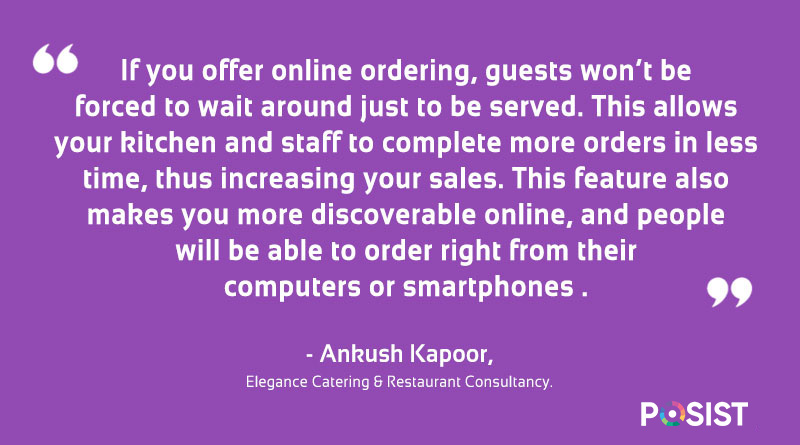 7. Offering Smaller Plates
Customers today, instead of ordering full meals, are increasingly opting for "mini-meals." Hence, it would be best if you also considered providing a higher number of smaller dishes or options to choose from, for your customers. The variations must include items that can be eaten as snacks, or that can be shared amongst a group of friends.
According to the statistics, the global snack food market which was valued at $427.02 Bn in 2020 is projected to grow at a CAGR of 3.37% during the forecast period (2021-2026).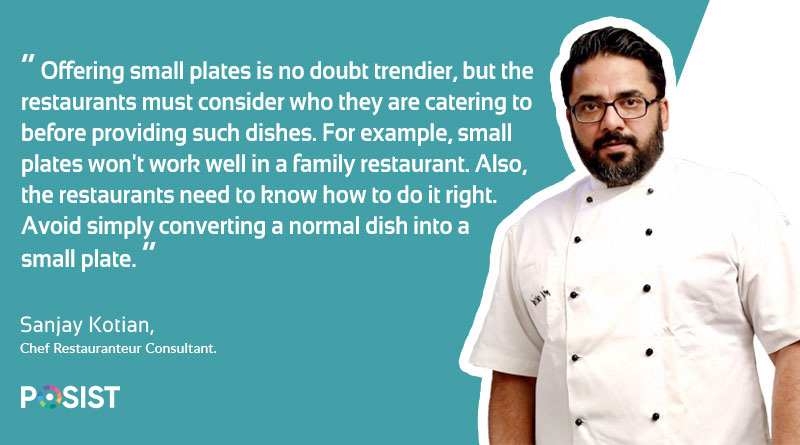 8. Hosting Events
You can organize comedy nights, karaoke nights, a guest performance, and can host various exciting events that will compel your customers to visit your restaurant on that particular day. Merely hosting will not be enough; you will have to market the game well so that the news of the event reaches maximum people. Hosting events will not just bring in your regulars, but also expose you to many potential customers who will not only increase your restaurant sales for the night but in the long run as well.
9. Claiming Your Business On Google My Business
Getting featured on Google will increase your reach, merely because it will be easier for your customers to find you on the internet. It will accentuate your customer experience if they see your restaurant on Google from where they can directly call or locate your restaurant on Google maps. Encouraging customers to leave positive reviews on your business page would also help attract potential customers better.
10. Pricing It Right
The menu needs to be priced carefully. While deciding on the menu pricing, you must keep in mind the menu's food cost, your location, and your target audience. For example, if your targeted clientele is college students, your prices must be relatively low. On the contrary, if you are targeting customers for your fine dining restaurant in a posh locality, then you can keep the prices relatively higher.
Read this guide about menu pricing and food costs that would help you design your menu better.
Research your surroundings before deciding the menu price. You should keep the surrounding market and competition into consideration while determining the Menu Price. If your competition is serving the same dish with a similar service at a lower price, then your sales are going to see a drop. This is quite evident that if you increase the costs of your menu items, it will automatically increase the net sales of your restaurant. However, you should know how to raise the menu price. Abruptly increasing the cost of the menu items will not be taken positively by your customers. Hence, try rising in small installments that will not catch the eyes of the customers, while it will increase the overall sales and profit for your restaurant.
11. Offline Marketing
Merely setting up your restaurant and expecting to see the influx of customers will be your biggest illusion. It would help if you marketed your restaurant well. Both online and offline marketing should be given due importance. However, merely focusing on online marketing and completely neglecting offline marketing which involves the distribution of flyers and pamphlets, can seem to be a significant concern since there are several people especially aged people who are not tech-savvy who still prefer to follow hoardings and read newspapers and pamphlets to keep themselves aware of the new restaurants in town.
12. Updated Website – Online Marketing
Considering the increasing use of technology, the reach of online marketing has gone ahead to push the borders of marketing itself. Make your presence felt on the social media pages, upload pictures, update your pages and website on time so that all your present and potential customers are aware of all the new insertions in the menu, the latest events that your restaurant is planning to host, and the like. These design tips will help you create a fabulous restaurant website that will bring in more orders.
13. Ensuring a Stellar Guest Experience
While a restaurant's product is no doubt an essential factor that attracts and retains customers, it goes without saying that a stellar guest experience will have a lasting impression on your customers. Let your customers feel comfortable and at home, serve them food with care, and live up to their expectations. Surprise your customers by giving them a complimentary slice of pizza or a pastry. This will enrich their guest experience and generate customer loyalty.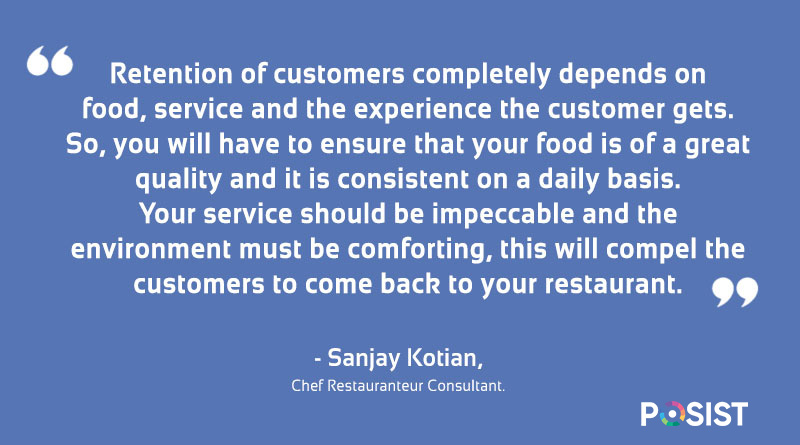 14. Email Marketing
Email marketing is also gaining a lot of importance in recent years. This kind of marketing helps you to nurture a long-term relationship with your customers, which will enable you to increase restaurant sales. Since messages have a word count limitation, which is not present in the email, you can use this marketing strategy to send longer messages. You can send periodical newsletters to all your customers to keep them hitched on all the new happenings at your restaurant. Find out how to do email marketing the right way for your restaurant here.
15. SMS Marketing
SMS marketing is a definite way to create a short-term relationship with your customers. Since you will already receive all of your customers' information from your customer database, why don't you use it to garner more sales at your restaurant? Whenever you are planning to provide offers at your restaurant, why don't you send an SMS to all the customers from your database? These messages generally also contain links to online ordering sites. Hence, they will compel to visit the website mentioned and order, thus increasing your sales. No one can ignore an invitation directly to their inbox!
Try these SMS marketing tips to double your restaurant business.
16. Analyzing Reports
Use a POS that will help you in running your business and augment your restaurant sales. Your restaurant POS must provide you with real-time information about everything that happens at your restaurant, whether you are physically present there or not. You must receive detailed reports of the number of sales occurring at your restaurant and across all outlets, the number of bills generated, the number of offers and discounts given, the items that have reached their expiry date and need to be reordered, and other such information. Since you will have a detailed report of all your sales, including the most selling items and the least wanted ones, you can accordingly consult with your chef, and bring the required changes in your menu.
17. Creating Combo Meals
Combo meals are a great way to attract customers, especially those who want to keep it low on their pockets. Try and select your top-selling lunch items and pair them with a popular side dish and beverage. If you see in popular chains, the couple burgers with french fries and a cold drink. McDonald's is a splendid example of such combos. Keep your combos simple. Having combos will not only help attract customers but is also a great way to club your high profit yet low selling items with the low-profit and top-selling dishes.
18.

Communicating With Your Employees
A lot of restauranteurs continuously ask about how to increase their restaurant sales or how to increase their restaurant business. Asking your staff and your employees what they think about the changes that must be brought in the restaurant is the best way you can run your business and increase your restaurant sales. In all probability, your employees will always provide you with an unadulterated opinion.
More often than not, their views will be right since it is they who deal with the customers daily. Considering their view will make your employees feel important, which is essential in running a restaurant. You can arrange for an open house session once a month, or call your staff for lunch at your restaurant once a week, to discuss and understand customer behavior.

19. Customer Loyalty Programs:
A customer loyalty program rewards loyal consumers who frequently engage with the brand. According to a study, strengthening customer loyalty by 5% can boost income by 25–95%. You can create a program that enables customers to earn points for every visit and redeem them for rewards, like complimentary dessert.
20. Host Pop-Up Experiences:
Pop-up dinners are one-time or short-term dining experiences to give your customers a taste of something unique. You need a selling factor that draws attention to your restaurants, like an unexpected location or a distinctive menu; doing this will expose you to many potential clients and bring in your regulars.
We are expecting to witness higher initiatives in the upcoming year on the part of the restaurant that will augment the restaurant sales. Since making profits is essential for all businesses, restaurants must bolster their restaurant sales apart from honing their restaurant management. We hope that after reading the article, you have garnered enough knowledge on how you can plan to increase your restaurant sales.