There are many important things to consider when setting up a restaurant. The experience every customer enjoys needs to somehow be both effortless and memorable. However, this isn't always easy when there are a million and one things to oversee each day. The quest for providing customers with a continuously incredible dining experience is one that every restaurant must pursue. Especially after COVID-19's shattering toll on the industry.
While there is a great deal many practical, tangible factors involved in creating the perfect dining experience, intangible factors are part of what makes them exceptional. 
The small, unnoticeable details that tie everything together and eliminate any opportunities for confusion or disappointment are what can transform a meal from average to outstanding. 
As the name suggests, such factors are often intangible to the customer themselves. But over the course of their dining experience, it will be those details they appreciate the most. So what are some intangible factors that restaurants can use to uplift their customer's experiences? Let's explore this in this article.
7 Ways To Create An Exceptional Intangible Customer Experience
Here's how to elevate your restaurant's customer experience in small but memorable ways.
1. Original And Innovative Menu
Food quality sits at the epicentre of a customer's restaurant experience. If you prepare delicious, original dishes, attracting customers will be a lot easier. However, it's not quite as simple as that—on top of delicious dishes, people crave excitement and innovation. 
While it's not always something customers can identify, serving food that surprises them in a positive way will always have a lasting impact on their overall experience with your restaurant. 
2. Menu Adaptability And Customization
Throughout the restaurant industry, you will find that customers fall into one of two categories: those that like surprises, and those that order the same thing every time as they love it so much.
Some restaurants pride themselves on their consistency of food preparation and quality—and for good reason. Plenty of customers want to have control over their meals, no matter how highly recommended the latest dish is. 
Menu customization and adaptability allow some legroom for the latter customer type to enjoy the food they know they love without taking any risks. 
Strict menus are enjoyable for some, but many (including those with rigid dietary constrictions, which are becoming increasingly common) may find them limiting. Meal personalization is an intangible factor your restaurant should not miss out on. 
3. Streamlined Services 
Streamlining your restaurant services gives customers a sense of ease and comfortability. Often, they have come either to wind down after a stressful day or to celebrate a special occasion. Either way, neither their time nor their energy should get wasted on your restaurant's lack of efficiency. 
Things like waiting for a table, service time, transaction processes, and seeking a waiter's attention should never be a hindrance to their dining experience. Streamlining your services means they get to spend more time and energy enjoying your restaurant and wondering when next they'll be back. 
4. Interior Décor And Ambiance
The interior décor of your restaurant's environment dictates the overall mood and ambience that customers will experience when they enter it. The placement of furniture, the flow from one space to another, even the lighting, will ultimately determine how people feel throughout their meal. Décor needs to reflect the personality of the food, flavours, and ethos of a restaurant. Ambience matters greatly. It can either enhance or vitiate the emotional and psychological components of dining out. Using the right colours, crockery, textiles, and mood-enhancing lighting will augment customers' overall experience. Plus, it will encourage the full-bodied sense of enjoyment that they came for.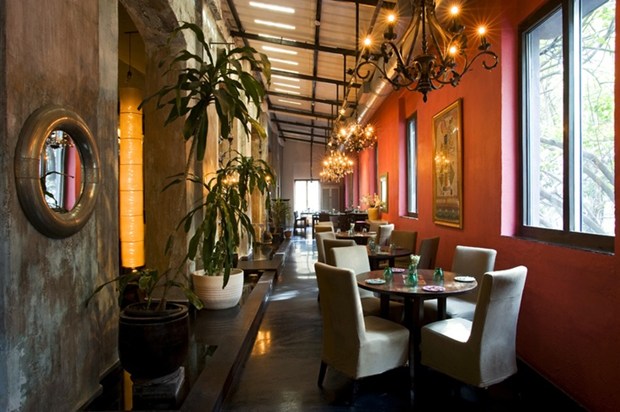 5. Staff Behavior
Having anxious, fidgety, or disgruntled staff will quickly cause customers to behave similarly. Putting your staff through regular training for stress management will help them cope better under pressure. Teach them how to use the POS properly, keep them updated on the correct protocols to follow in the wake of Covid-19, and ensure they understand every aspect of service. This will ensure that they deliver consistently calm, composed, and delightful service to customers. 
6. In-House Entertainment
There's nothing like a little bit of entertainment to turn a regular dining experience into something truly special. Hosting professional singers or musicians to perform at your restaurant adds value and a sense of novelty to the customer experience. 
They won't always be aware of it, but the addition of some soothing, syrupy background sounds will fill any lulls in conversation and give customers something more to rave about to their friends. Plus, you can build the costs into your markups and show much-needed support for local artists and musos at the same time!
7. Personalized Customer Experience
No customer wants to feel bombarded during their meal. Most people go to restaurants as a way to connect with loved ones or enjoy the food they know they can't prepare at home. Both of which are experiences that should not get interrupted unless absolutely necessary. 
It's essential for the quality of a restaurant experience that customers are not bothered by other customers or overly eager waiters, which both have the potential to trigger irritation. 
Keeping tables or booths nicely separated ensures that each set of customers can enjoy a private evening without disturbance. Waitron should also be acutely aware of when their presence is needed, approaching tables only by manner of etiquette or emergency. 
When it comes down to it, all of the intangible factors that add value to a restaurant experience are found in the smallest of details. Dining is a profoundly sensory experience, and when people enter a restaurant, their sensitivity to the atmosphere becomes heightened. And therein lies the opportunity to either enhance or damage their experience. Even though so many of these fine details won't be tangible to the average customer, the subconscious mind will pick up on them and leave a powerful lasting impact.