Customers and employees are most integral in determining the success of any restaurant business. While restaurateurs put a lot of emphasis on retaining customers with ample customer retention techniques, restaurant employee retention is still a massive problem in the industry.
According to the U.S Bureau of Labor Statistics, the average turnover rate of the restaurant industry in 2017 was  72.5% out of which 52.1% of employees left the job voluntarily. The restaurant business is notorious for high turnover rates where long working hours, high-pressure environment, slow growth, and low wages cause the majority of restaurant employees to quit. 
How To Devise An Effective Employee Retention Strategy In Your Restaurant
Some of the most successful businesses not only boast a vast network of customers but also work efficiently towards keeping the overall employee turnover low. Long term employees are not only beneficial to the long term success of your restaurant,  they significantly reduce turnover and decrease the additional efforts of restaurateurs in hiring and training the new staff.
We have compiled six effective strategies that will assist you in retaining your restaurant employees and reducing the turnover rate of your restaurant.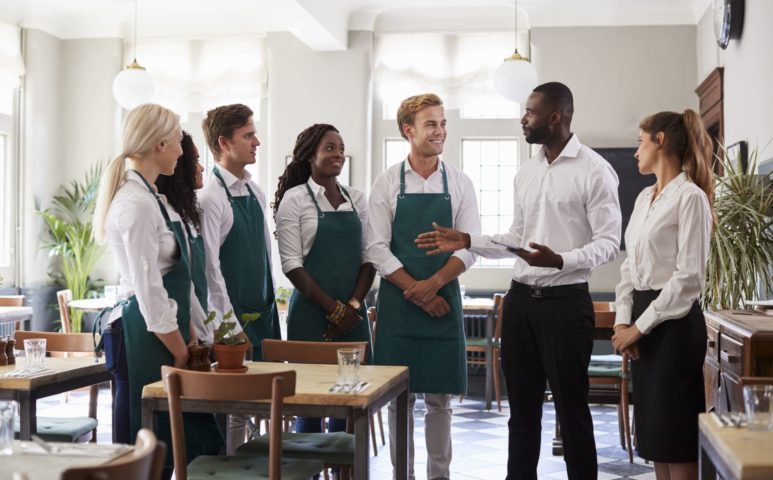 1. Provide Training
If your restaurant staff is not well aligned with the working of your restaurant, it might also affect their work. That is why it is imperative to provide proper onboarding training on hiring new employees and holding frequent training sessions for the existing ones. Lack of training may result in your employees feeling unaccomplished and unsupported.  Conducting proper training programs creates value and communicates that you care for your employees. Provide all the necessary information, conduct training sessions and involve constructive feedback from all the new hires. 
If you introduce any new technological innovation in your restaurant, bring changes in the order taking mechanisms or want to improve the serving styles, ensure that you communicate the same to your existing employees and conduct on-going training sessions for them. Teach them new skills such as optimizing food preparation and order delivery time, improving customer service and marketing techniques that will boost the employees' confidence and productivity. This will make them less likely to leave their jobs and thus would reduce the employee turnover rate of your restaurant. 
2. Offer Fair Wages
A study by BambooHR says that 10 % of people leave their jobs because they feel they deserve more than what they are paid. A significant reason why restaurant employees quit their jobs is due to low wages. Rather than working for an employer that offers them low wages despite their years of experience, they might consider switching to a different restaurant for a better paying position. As there are high business costs involved in hiring, training and developing restaurant labor, replacing them and investing time and effort in training new employees would not be a profitable solution. In order to retain the best employees, consider offering competitive wages to your employees. Compare the pay scale other businesses are offering to employ people with the same skills you are recruiting for. Conduct regular performance reviews and offer annual raises. Offering fair compensation to your employees keeps them from searching for better opportunities and lowers the attrition rate. 
3. Provide Growth Opportunities
One of the most effective employee retention strategies is to provide growth opportunities for your restaurant staff. While you invest your finances and time in finding the right people, treat your employees well and show them a ladder of growth. When your employees set wonderful examples of excellent teamwork, leadership and take initiatives, ensure to provide them with enough opportunities that will foster their career growth. Rewarding employees with even a small raise or award makes them feel appreciated and evokes a sense of loyalty in them. 
4. Focus On Good Leadership
A restaurant's management and leadership style plays a vital role in retaining employees. Are managers promoting a healthy work culture in the restaurant? Understanding leadership qualities is critical as it can prevent high turnover rates. Promote transparent communication with the staff by holding review meetings regarding the managers.
If there is any negative feedback such as ambiguity regarding HR policies, lack of growth opportunities or low morale, it might be the right time to promote healthy management practices to boost the employee's confidence. Consider giving managerial training sessions on leveraging effective communication with the restaurant staff, recognizing employee achievements, and promoting a healthy work culture.  Focusing on providing good leadership can prove to be one of the most effective employee retention strategies. 
5. Recognize And Reward Your Employees 
A stellar rewards program strategy is an excellent strategy for acknowledging the achievements of employees. Rewarding the employees on the basis of their contributions, motivates them and fosters loyalty. It also helps in decreasing the overall employee turnover rate in your restaurant.
Implement a recognition program for your employees and give monetary rewards to the employees who have worked meticulously. Offer salary hikes, bonuses and other financial rewards such as health and medical benefits to the best employees. Based on your restaurant's working style, you can provide employees the privilege of occasionally choosing the shift of their choice. Consider giving loyalty bonuses to employees who have completed a particular duration of service at your restaurant. You can acknowledge the efforts of your staff with gift coupons and vouchers like free hotel stay, movie tickets, etc. These are some of the best ways to cultivate better relations with your employees and ensure longevity. 
Source: Twitter
6. Take Consistent Employee Feedback
Just as taking feedback from customers is vital for improving the business, encouraging consistent feedback from employees is equally essential for a restaurant's success. A healthy culture of openness and transparency among the employees promotes positivity which also reflects in their work. If there are issues like logging and fulfilling orders, ask the employees if they are facing troubles with the POS systems. Understand the areas of improvement in your restaurant by seeking employees' feedback. Acting promptly on the employee feedback will enhance positive reinforcement and inevitably encourage more employees to provide constructive feedback.
A positive work culture is integral to your restaurant's success. A positive work culture largely affects the ability of your restaurant to retain the employees. If your restaurant is suffering from a high turnover rate, it is the right time for you to ponder upon these useful employee retention strategies that will help you achieve your long term goals!