With the augment of this new age of technology where everything is getting digitized, why will the restaurant menus be left behind? Replacing the hard copies of restaurant menus with the digital restaurant menu will help you in ways more than one. Not only is it cost effective since you will not have to print menus every time you bring in the slightest change, it is very appealing to the eyes since your customers can see the entire menu on one sight, which in turn will help you in upselling.
How a Transition to Digital Restaurant Menu Can Boost Your Restaurant Business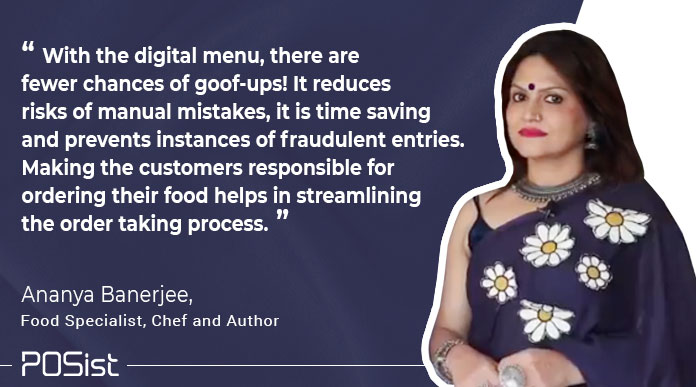 Digital restaurant menu has an upper hand over the traditional restaurant menu for various reasons. Since most of the restaurants are automating their restaurant operations through a robust restaurant management software, it is easy to make the transition as well. The main reasons why the shift to the digital restaurant menu is a must are:
1. Reduced Dependency on Manpower
Automation always frees up the reliance on staff and reduces dependence on the external forces like the manpower. If you have an e-menu on every table, then orders need not be taken down by your servers, which will in turn help in freeing them and reducing the need to schedule servers during peak hours.

Not only will this reduce your need to tap the right restaurant staff, and then train and retain them, it will also reduce the scope of mistakes while order taking and the instances of misplacing orders. Since it is your customers who are placing the order the possibility of sending the customers a wrong order would be nearly negligible. The digital restaurant menu is a highly accurate system and leaves little room for mistakes.
2. Easy Menu Updation
When digital restaurant menu when integrated with your robust POS systems, all changes on the menu relating to the menu items and the pricing can be managed remotely so that either all or only the selected few restaurants (if it is a chain) gets it updated on the e-menu.
3. Enhances Customer Experience
The digital restaurant menu is highly beneficial for your restaurant since it will enhance your entire guest experience. With a stellar HD photo displayed on the tablets, it would allow your food items to appear more attractive. Your digital restaurant menu will also be equipped to suggest food items to customers according to what they have been browsing or point them to the more popular dishes for that week. This implies that your digital restaurant menu will be able to provide a personalized experience to your customers.
It will even help to lower customer's estimated wait time. Hence, it gives customers a reason to look at the screen for more than the expected time, and correspondingly this provides the restaurant with another chance to slip in promotional or other branded content. Overall, it ensures that you maintain a healthy conversation with your customers throughout their stay at the restaurant, while they eat or wait for the food to be served.
4. Cost Effective
Unlike a traditional static menu board, costs can be reduced by diminishing the need to design, print, ship and reprint menus whenever promotional items are added to the menus. Once you have your digital restaurant menu designed, installed and integrated with your POS maintaining it as simple as uploading pictures and posting on any of the social media platforms.
Since a digital restaurant menu can be easily edited it allows your café or restaurant to be dynamic in your offerings – for example, tweaking your food to adapt any latest trends or any seasonal festivities.
5. Real-time Data Analytics for your Business
Tracking data is extremely essential for all business and hence restaurant business is not an exception. Having a digital restaurant menu will help you to automatically track which dishes were popular for the week, and even help you track the exact time when the said dishes were sold the most.

Having such data in hand, you can easily forecast for such future demands, to ensure that your kitchen never runs of stock during the estimated time period and hence preventing your restaurant from losing valuable business. This will not only help you to order just what is needed, that too in the correct amount and correspondingly reducing the kitchen waste generation and the input cost involved in purchasing the raw materials.
6. Remote Control
If you have a chain restaurant or having several franchisee outlets, and if you are unable to physically be present at your restaurant it is highly recommended that you have a digital restaurant menu which is integrated with your restaurant POS. Maintaining consistency is highly important whenever you are running a chain restaurant or a franchise. And many of the time it is seen that a franchise might just start selling items other than the prescribes items since the owner is not physically present in the outlet. In order to protect yourself from any such situations, you must have a digital restaurant menu since you can remotely check on the items sold. Moreso, since it is integrated with your restaurant POS, none of your restaurant chain outlets can sell items behind your back other than the ones which are priorly fixed.
7. Upselling
Upselling is an art that not everyone is able to master. While upselling is a very integral part that helps your restaurant to garner that extra bucks, training your staff in effective ways can be tiresome. Don't worry! Digital restaurant menu can come to your rescue very effectively. These digital screens display complimentary items, once you have these restaurant digital menu integrated with your POS. Compared to the static images in your traditional menu, the HD screens gives your viewers a much better and cleaner look. Burger King, in 2010 deployed digital menu boards across London and Birmingham locations, resulting in a 64% rise in sales in just 12 months.
With the massive technological development and its sprawling impact on the restaurant industry, if you stick to the traditional static menu boards, you will be losing out on a lot of potential customers to your competitors. In order to streamline your entire operations, it is highly recommended for you to make that quick shift to the digital menu boards.