A catering business is not easy to run, especially since there is so much competition. In such a cutthroat industry, there is no place for mistakes. To help you establish yourself in the market, we compiled a list of four mistakes you don't want to make when running a catering business. Once you understand your weaknesses, you can address them and start working on them; so take this list as your to-do for all your future events. Finally, we'll discuss what you can do to run a smooth event and what you need to prepare your staff for.  
Mistakes To Avoid While Running A Catering Business
1. Do You Have Enough Staff For Your Catering Business?
The biggest mistake caterers tend to make before events is not hiring enough staff. Events tend to take a toll on people, both physically and mentally, primarily if you're catering a family event. 
In such cases, it usually takes a lot of people to organize, set up, and run events. You're going to need to assemble a great team. As much as you'll want to have competent people around you, at a certain point, you'll need to work on the sheer quantity of waiters, cooks, and more. 
Since the catering business is so physically demanding, don't make the mistake of asking your employees to take on more assignments to hire fewer people. This will lead to a deterioration in the quality of your events. 
Luckily, since most young people have experience within the service industry, you can easily find good waiters. 
2. Are You Prepared Enough? 
You can never predict everything that can go wrong with an event, but you can be prepared. Likewise, you can't be responsible for how other people react in certain situations, but you can make sure that everything is excellent from your side of the deal. 
For instance, you can make sure you have enough food, cutlery, glasses, and dining wear for everyone. Look out for your branding opportunities as well. Make sure you have enough business cards to hand out and some kind of a self-standing roll-up banner that has your contact information on it. 
Whenever there is alcohol involved in the event, there is a possibility of things going haywire. Make sure your staff is educated on how to deal with intoxicated guests in the most dignified way possible and bring a couple of painkillers with you just in case. 
The way you treat your customers is significant in this industry. They must be your priority, so make sure to discuss all your ideas beforehand and work with them to create the best possible event. 
The more information you can get on your attendees and their needs and expectations, the better you can prepare for the event. 
3. Work With Reliable Software 
To organize your events and ensure there are no overlaps, you need to have reliable software. When people first start their company, they tend to take on any client they can, which is dangerous for caterers since it can lead to overscheduling. 
To avoid making such mistakes, and invest in a good scheduling tool that you and your team can work with. That way you don't have to rely on an Excel sheet or calling each other to see if a certain date is free or not. 
The way to have a successful event is by registering in advance and invoking excitement about the event among guests. Writing on social media about the event is also a great way to increase awareness of your company and attract new customers.
Other than that, securing new clients needs to be done with professional-looking business proposals. 
For instance, the best features of the software are proposal analytics and proposal AI. Proposal analytics let you know exactly who opened your proposal, when, how much time they spent reading each of the chapters, and more. 
All of that gives you the information you need to follow up successfully. Proposal AI compares your proposal with other successfully signed and paid proposals and lets you know what you must change to achieve a better result. 
These proposals can be signed with a digital signature, and you can even integrate a payment integration for an even seamless onboarding experience.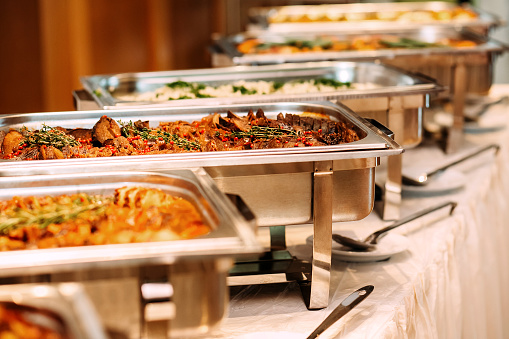 4. Include Alternative Food Choices
This may sound like we're preaching to the converted, but don't exclude people with food allergies and dietary restrictions from your events. For instance, you always need to be prepared with substantial vegan, gluten-free and vegetarian options. 
Make sure that your meals prepared for vegetarians are not just side dishes, but actual protein-rich meals with meat substitutes and are filling. Vegan and veggie guests should not feel their options have been compromised. 
If you have the resources, always ask your client to list event attendees with dietary restrictions. For your events with a buffet table, make sure everything is correctly labelled with the ingredient list and other characteristics. 
There are more food allergies than ever, but on the other hand, there are also more food alternatives than ever, making it easy for you to find a good substitute. 
The more work you do in preparation for the event, the better it will turn out, so make sure to focus on the organization of your circumstances and work out any potential issues beforehand. You need to have reliable staff and software to work with and avoid educating yourself on market trends.