Restaurant location is one of the most important factors to consider while thinking of opening a restaurant. Malls and posh streets are already an old-age destination for restaurants. Restaurateurs are now actively shifting towards airports as their preferred locations for opening their restaurants. Since airports are unexplored platforms with high footfall and great opportunities for the growth of a brand, they are becoming the new hot venues for restaurant chains/brands. 
With the changing times, airports are not just locations where people come to board their flights anymore. Travelers prefer to come in early to an airport, to avoid missing their flights, which is why they like to shop, eat and have an overall luxurious experience. Some people are so busy taking back to back flights for attending meetings and conferences, that they shop and eat, all at airports. This is why restaurant chain owners are targeting airport locations for their outlets. There are also high returns that a restauranteur should be expecting out of their airport outlets, due to the high disposable income of travelers. 
Taking Leverage Of Airports To Expand Restaurant Business 
Looking from the other end, the idea of opening a restaurant at an airport is quite an attention grabber. Since the restaurant location plays a crucial role in the success of a restaurant, airports are becoming the new target location for restaurateurs as they attract international footfall. Not only that, airports are a great platform for restaurateurs to give their customers overall experience of luxury, and thereby make a great brand name. 
There are many advantages that restaurant chain owners could make out of their airport outlets, which focuses on the expansion of their business. Outlets like those of Subway, Cafe Coffee Day, Irish House and Pizza Hut already have their presence at several airports. "Airports are captive markets. It turns out to be that such markets are better. Moreover, airports with high spend passengers turn out to be good retail destinations," shared Sharad Sachdeva, COO, Lite Bite Foods.
Let's shed some light on all the different advantages that an airport has to offer for scaling restaurant businesses. 
i) High Footfall: 
Generally, large restaurant chains tend to target a location like that of an airport to expand their business. Airports offer high footfall and captivity for a brand name to grow to its highest potential. What you need to focus on is manage it well by incorporating the right technology, equipment, and staff and you're good to go. 
High international footfall, and travelers with a high disposable income, coming in at all hours of the day would help you gain higher returns in a shorter period. "Assured footfall, great brand visibility, and great margins make the airport a great restaurant location," points Pankaj Judge, Co-Founder at Chai Thela which is doing 300 to 400 bills a day. Since these travelers expect their orders to be quick, and the services to be on point, you need to ensure that since day one of your restaurant establishment. 
ii) High Returns: 
Opening a restaurant at an airport costs a higher share of your investment as rentals, staff, and inventory as compared to a restaurant in the city area. Having said that, there are ample opportunities to grow as a brand at an airport, that the cities are usually devoid of. Due to a constant generation of high revenue, restaurant brands at airports find themselves to be mostly in profit. 
In spite of the high rentals of airports, restaurant owners believe that airports give them more in return and that the one-time investment is worth the risk. "While being at the airport, the period is usually limited wherein consumers are looking out for a convenient option to fulfill hunger pangs. For a consumer traveling to make for an early 10:00 am meeting to a consumer who is heading back after a long tiring travel expedition who is in need of a quick snack, limited-service brand plays an important role in addressing such needs," added Raghunandan Dole, COO Lite Bite Travel Foods & CFO Lite Bite Foods.
iii) Lesser Competition: 
Airports act as magnets for smaller businesses or restaurant chains to grow their business as there is money in there. Having said that, opening a restaurant at an airport comes with its unique set of struggles. Even if you're a restaurant chain owner, who has experience of running a restaurant on the street, you would face different issues while setting up your restaurant at an airport. 
Since it is not a cakewalk to open a restaurant at an airport, there is lesser competition for the brands who already have gone through the tiresome process. Let's just say that it is a one-time effort and investment that you need to go through, and then you have all the land for opportunities. On the other hand, if you are thinking of opening a retail shop, you would have the last say in your prices due to a lack of other options for travelers. 
iv) A Smaller Inventory:
Inventory management has been a nightmare for most of the restaurateurs, even the big players in the market. A major chunk of the restaurants fails in their first year of establishment, majorly due to improper management of their inventory and staff. This is why managing a smaller inventory could be a great way to boost sales at your outlet. 
Although there could be a limited space to keep all your raw materials, proper management using a restaurant management software could help you overcome that challenge. The incorporation of a restaurant POS would also help you customize the way you want your kitchen to look, and to ensure that even with the limited space, you never go out of stock. 
Along with that, you also need to have an idea that the costs of inventory and staff at airports are high. Since the So you might as well not be able to handle a larger inventory, as it would eat up on a lot of your investment. 
v) Not Much Marketing Needed: 
Having an outlet at an airport would not require enough marketing at your end. It is about the physical presence of your outlet that would work the best for you. You need to place your restaurant where it's highly visible to travelers, so people would like to visit your outlet instead of their convenience. The restaurants at airports have a slightly different algorithm to be successful. The marketing strategies do not involve many discounts or promotional offers, but captivity. 
Although, you must take special note of how to attract frequent travelers to your restaurant brands. The most frequent travelers are business individuals, high influential people or the rich group. You must have some unique strategies in mind to keep your restaurant on the top. These strategies could revolve around how you design your outlet or the vibe your customers get at your particular outlet. 
Here is a representation of the huge differences in the prices of dishes at a regular restaurant and a restaurant at an airport.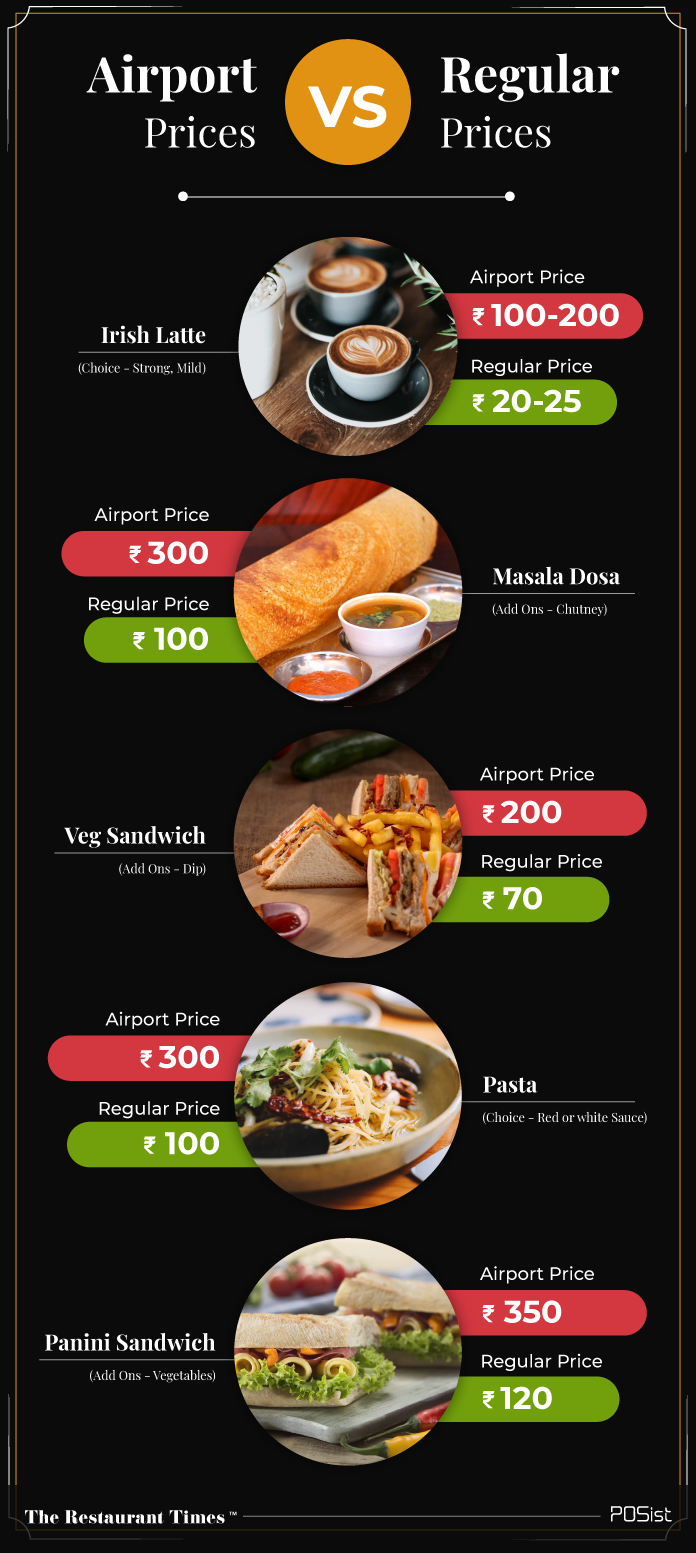 Things To Consider Before Choosing Airports As A Restaurant Location 
Despite these advantages, you must understand the negative aspects of opening your outlet at an airport. You should know that you and your staff would be needed to go under the security check, just like the passengers every time you want to get to your outlet. There could be somedays your entire 30 minutes of lunch break goes into standing in a queue, waiting for the security check to complete. 
Apart from that, there are a couple of technical difficulties that you might face while running your kitchen. Since many airports tend not to provide you with a gas pipeline, or the authority to even keep your knives on your shelf, it becomes a little inconvenient for some of the restaurant kitchens to function. You must also keep in mind that you need to deliver the order in less than 2 minutes to ensure that the travelers don't feel anxious after or in between their long flights. 
Incorporating a proper restaurant management system would help you to tackle these issues by managing your recipe, taking and delivering orders in time successfully, managing your kitchen better, regular reporting, analytics and so on. You must keep a separate budget to incorporate all your required features of a restaurant POS into your outlet. 
All in all, it is rightly said that airports, unlike other restaurant locations provide restaurateurs with the amazing footfall and promotional strategies to expand their brand. Since travel is at its peak nowadays and almost everyone prefers to take the air route over trains or cars, this could be the right time to invest in a restaurant at an airport. On the other hand, you must also consider the negative aspects of establishing a restaurant at an airport. If you work through the negative aspects and keep in mind the opportunities you have at your end, you would be able to run your airport restaurant in a more efficient way.