Once you set up your restaurant and profits start coming in, the next obvious step is usually to scale the business. Or perhaps you are passionate about the food business, want to open a restaurant but are short of funds. In both the cases, you'd need to raise capital to fund your restaurant venture. For this, you need a selling restaurant business proposal that will act as your sales pitch when you're looking for investment for your restaurant.
The difference between a restaurant business proposal and a restaurant business plan is that a business plan is meant for yourself and your team while a business proposal is meant for investors or other stakeholders. As the future of your restaurant may depend on it, it is imperative that your business proposal is as good as a sales pitch that no one can refuse.
How to Write an Effective Restaurant Business Proposal
Here is how to go about writing a restaurant business proposal that would certainly distinguish you from your competition but before going into the format of it, here are some things that you must remember while writing a business proposal. 
Company Details: Describe your company and product and mention how it is different from others
Market Analysis: Include a thorough market analysis which explains all about the market you are trying to enter and how you will fit and bloom in it. Here is a handy little article on how to do the Industry Analysis before you open your restaurant. 
Team Details: Describe your team in detail. Mention their experience in the field, how they have added value to your restaurant and what all is a part of their previous success.
Marketing and Sales Strategy: Include your marketing and sales strategy so that you investors would have reasons to believe why your restaurant venture would be a success.
USP: Include why the investors must invest in you or chose you over others. What is in it for them, what all can you deliver and what your previous track record looks like are all significant insights.
Cash Flow Statement: Develop a cash flow statement that clearly mentions the current and future need of cash or investment. Do not go cost to cost but keep some time and cash handy for unforeseen situations.
Apart from these, your restaurant business proposal must be built on solutions, credibility, samples and should focus on the target language. Make it clear in your proposal how you will benefit the other party, make them trust you by quoting your existing investors or partners, including case studies and testimonials. Make sure that your proposal is of the target language, i.e language that the investor would better understand. For example, if you are trying to enter into a joint venture with another restaurant, your business proposal must not include too much technical jargon. On the other hand, if you are designing a proposal for a huge company, use of business terms and technical vocabulary will be appreciated.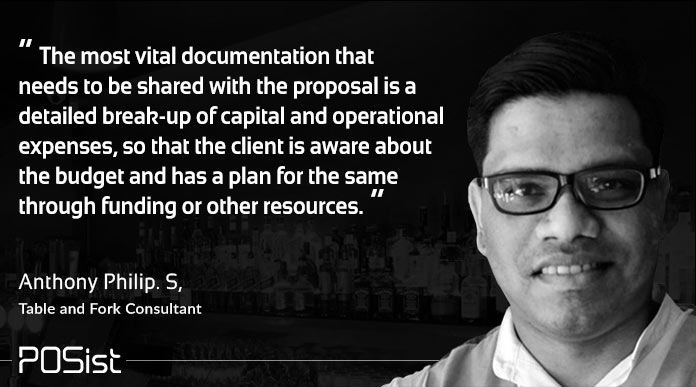 Now that you know what to keep in mind to write a business proposal, the next step is actually writing it. Here is a step by step guide to writing a stellar restaurant business proposal that is sure to help you raise funding for your restaurant.
1. Collect Relevant Information
While it is tempting to hurry through your business proposal to get a first come first serve advantage do not sacrifice on this beginning stage. The key to writing a good proposal is knowing the person you are writing it for. Writing just basics in a proposal would not cut it, understand the point of view of the other party by gaining insight on them. Ask yourself these questions,
Who am I writing the proposal for?

Why would that person want to invest in me?

Can my restaurant help them meet their goals?

How would this partnership span out?
Collect all this basic data to get a direction for the restaurant business proposal. If the investor or the enterprise thinks that your goals match only then would they actually want to consider you as a business partner? Answering the above questions would also enable you to easily write your body of the proposal.
2. Estimate the Costs and Investments
The next step is to outline costs and investments. First do your end of the task and estimate all the costs. Do not just guess those costs but actually go and investigate them. If you already have a running restaurant then half your work is done. You already know what your fixed costs are and have a better idea about running costs of a restaurant. You would thus only have to calculate the expansion costs and extra costs after the expansion.
If you do not have a restaurant already then take our advice and estimate your costs with a mock walkthrough. Literally go through every step of opening a restaurant to understand basic costs. Then come up with unprecedented restaurant scenarios to understand how much of a contingency fund would be required. Remember that you would need extra cash for the start-up years and the first 6 months to 1 year, you could actually be operating at a loss. Once profits start rolling in that would not mean that the investor would also be profiting as first the basic investment needs to be covered, so a precise cash flow statement is imperative.  If you have other sources to raise finance do mention them. Whatever cost and time that you have estimated, multiply it by 1.5 and add it to reach a safe figure. That is, if you think that the restaurant needs 10,000 rupees for something, write it as 10,000X1.5 which is 15,000. This is so because there may be a lot of unforeseen events and this method would create a contingency fund that would be ready at hand. Even if money from this fund is left or results start rolling in before estimated time, the investor would still be happy as that would be a pleasant news.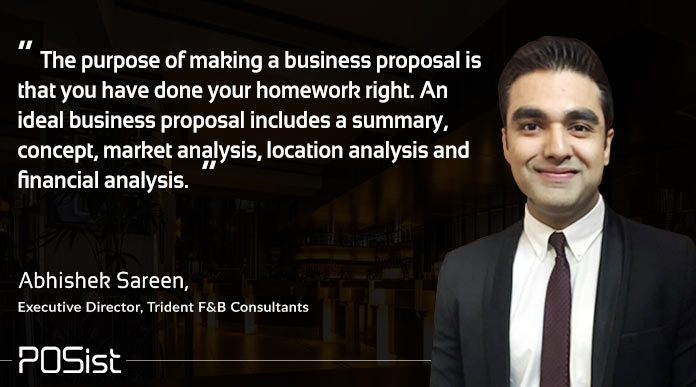 3. Pen it All Down
The next step of a restaurant business proposal is to now put together all the information and actually write the proposal. While there are many ways in which a business proposal could be written in a simple format includes an Introduction, Executive Summary, Table of Contents, Body, Conclusion and Appendix.
This format may change according to nature or size of the business but for a restaurant, this would be perfect. Here is how you go about writing each section.
Introduction of the Restaurant
As the name suggests, this is the section where you introduce your restaurant. Try to do it in a way which makes the other party feel connected and interested in you. You could include your origin story, the thought behind the restaurant or how the brand came to be about. Do this in a way that your restaurant's goals and the investor's goals seem to match. This is also where you earn yourself some cookie points for your work ethic, vision and ideas making the client trust you. A good way to do this is to quote other enterprises that may be involved with you or to quote your customers. Saying things like our business partners think we are great service providers creates a better impact than saying we think we are great service providers while winning the investor's trust at the same time. As far as the length is concerned, try to keep it within one page.
Executive Summary of Your Restaurant Business
This is where 'why should you invest in my restaurant' question is answered and so is one of the most important parts of the business proposal. Focus on the final goals here and try to give the reader the takeaway message of the entire proposal. This is partly where it is decided if the reader wants to or needs to read further so keep it short, to the point and clear. Mention what you plan to do, why you should be invested in, how you are different and what can the other party gain from an alliance with you.
Table of Contents
Depending on the length of the proposal next is the table of contents. If your proposal is genuinely long and has a lot of sub-parts include this but if it is on the medium to short end, you can omit this step. Restaurant business proposals should ideally not be too long or draining so add this step only when you absolutely need to.
Body of the Restaurant Business Proposal
This is the second most important part of your proposal after the executive summary. In a way, this is where all the points and answers you gave in the summary are explained in detail. Include what you plan to do, how you plan to do it, what are the detailed costs of your plan, why should the investor consider you, how you plan on benefiting him, how prepared are you to go through with your plans, all of this comes here. Also, include what cannot be accomplished by your restaurant in this expansion or venture. It is very easy for investors or to-be partners to expect a little too much from the other party. Do not give into what you can not do by clarifying all that is in your reach from the beginning but do not make it sound like you cannot or will not step out of your comfort zone.
Conclusion
Once you are done with the body of your proposal use this section to emphasise why you should be invested in, how you are different and what the message take away from this proposal is. Conclude with a call to action that encourages the reader to take further notice of you and think about you. Mentioning contact information and links to your social media and websites is a good trick to use here.
Appendix
The appendix, like the table of contents, is an optional section. It is there to include bits and pieces that could not be accommodated anywhere else in the restaurant business proposal. Try that you do not have to include this section but it is no loss even if you do.
Here is a quick infographic that summarizes the points you should include while writing a restaurant business proposal.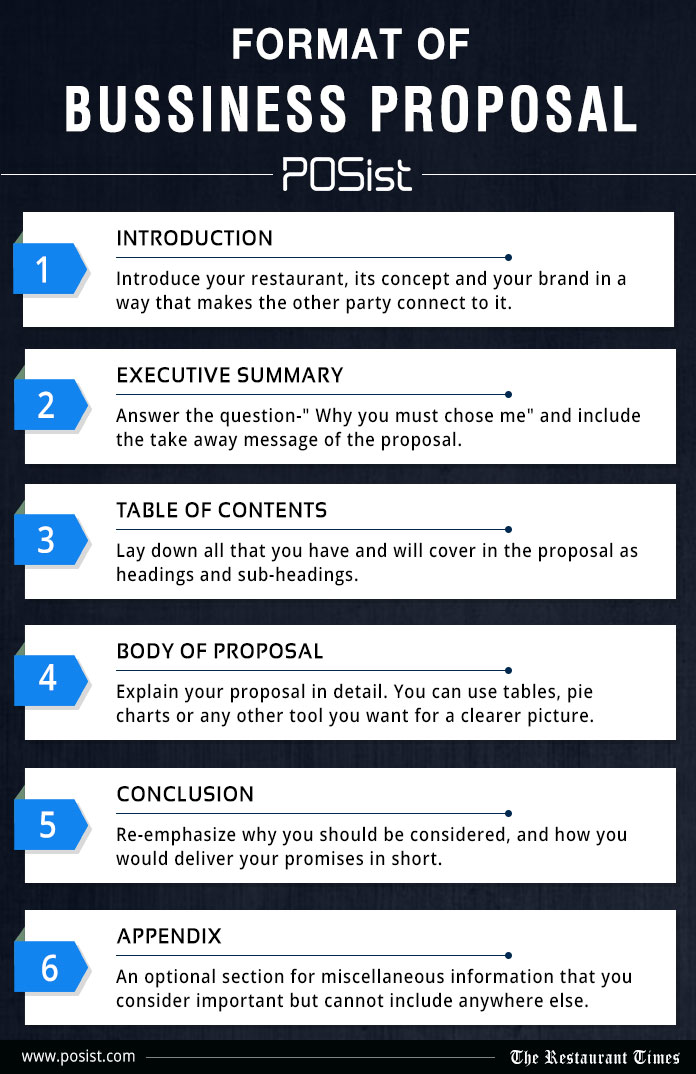 While writing a restaurant business proposal may be a tedious task it is not too difficult once you get the hang of it. Follow these steps to write effective, pitch worthy business proposals that would definitely give you an edge over your competitors.