Most of the restaurant players, small or big food chains, and other allied businesses perceive the Food License from FSSAI (Food Safety and Standards Authority of India) as mere a permission to operate food businesses. Find out how to get the FSSAI License for your restaurant here. However, very few people know that it can be used as a marketing tool to increase business. Thanks to the Maggi Probe and its extensive coverage in media, most of the people know about the FSSAI food licensing & registration system in India!
Impact of the FSSAI Food Licensing & Registration System on the Restaurant Business
In this article, we will discuss a few points on the FSSAI food licensing & registration system and the impact it can have on your restaurant business.
1. FSSAI Logo on Menus and Pamphlets
Most of the restaurants and food outlets put their logos on the menu to make their customers aware of their FSSAI registration. We also see FSSAI logo on different packaged food and beverages. This logo depicts the trust and validity of the product that it is safe to consume. FSSAI logo with license number placed rightly on menu, boards or pamphlets can help food outlets increase their business. There a lot of unorganized players which do not possess FSSAI license, and if your restaurant is certified by authority then the certificate acts as a USP and will attract more customers.
As customers trust more on the food outlets and their hygiene, that possess food license compared to the outlets in the competition. It also helps in building trust and reliability within customers for the restaurant. The restaurant, QSR or food outlet can also place the Food Certificate in that particular area of the wall which can attract more eyeballs. For example, at the entrance, at the billing counter or even at the waiting area.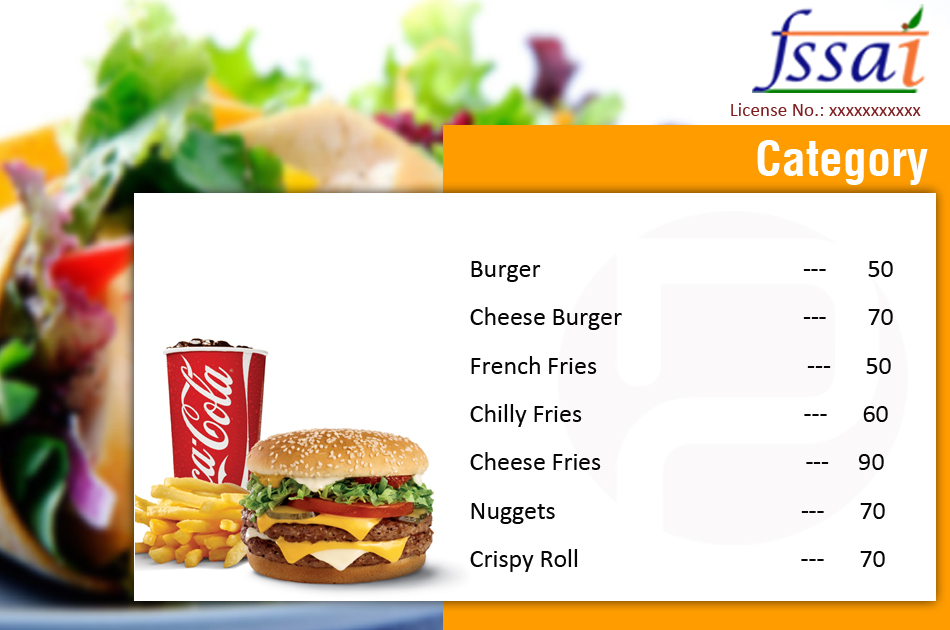 2. Legal Aspects
Most of the new food outlets and restaurants avoid the FSSAI food licensing & registration system to save the money and to avoid the hectic process of documentation in the early days of business. However, the procedure is quite simple, and there are a lot of legal consultancies which can help in getting FSSAI with an ease at nominal fees as compared to the penalties or fines that have to be paid to the authority later for not having a license. To avoid the later repercussion, one should get its FSSAI license with other valid permissions before officially opening the food outlet.
There may be instances when a customer takes a legal action against the restaurant in case of food poisoning, allergic reactions etc. The FSSAI license provides a cushion for restaurants in such cases, as it is given that the food outlet or restaurant is certified to sell food items follows certain instructions and standardized process and products. However, on serious complaints and allegations even food license cannot save you from legal actions, and at the same time, FSSAI may cancel the license.
Therefore, the FSSAI food licensing & registration system helps ensure the quality of food at your restaurant.
3. Customer Acceptance
For those who are opening the restaurant for the first time, or starting a new outlet must possess food license not just because of legal formalities and avoid fines or penalties but get accepted among consumers. Most of the people will perceive your restaurant as a brand if your restaurant is certified by the Food Standard and Safety Authority of India. At the early stage of operations, it is very hard to market or make people aware of your restaurants. But with FSSAI logo the new restaurant would be widely accepted by the new customers. Moreover, to attract more and more customers, the new restaurant can also use FSSAI logo on their bills and packaging for home delivery which will further enhance your relationship with your customers.
4. Helps in Business Expansion
If you are already a renowned restaurant or food outlet and you want to replicate your success in a different area of the same state then you can use your existing food license.  Also, if you want to go big and open a chain of outlets in a different state of the country then you have to get a central license from FSSAI. The FSSAI food licensing & registration also helps restaurant owners to get bank loans and funding for expansion. However, only food license alone will not facilitate the funding but other sale taxes and financial documents are also required.
5. Corporate and Big Ticket Businesses
In today's world, getting big-ticket businesses and corporate events aren't easy for any restaurant or food outlet due to their strict and tight regulations. Apart from the registered tax number at the state level and central level, many corporations require food licenses from FSSAI. So, FSSAI food licensing & registration system is as important as the other essential papers and legal forms. So it is more than a necessity than a need of just getting a permission of operating the business peacefully.
6. Standardization of Kitchen and Raw Materials
FSSAI expects that every food outlet and restaurant that is certified under the authority should follow certain rules, procedures, and process to maintain a standard and hygiene in the kitchen. Moreover, the guidelines from FSSAI help restaurant owners to procure standard raw materials and grocery which further gives assuredly of quality food.  
According to news, only 1 out of 15 food businesses are registered with FSSAI. There are around five crore food businesses in the country and only 33 lakhs of them have the FSSAI food licensing & registration system. Last year, FSSAI took on famous noodle brand Maggi for the excessive lead content. Later, many small or big food outlets and restaurant chains were raided on the grounds of Food adulteration and hygiene. Post this event, many food outlets rushed for their registrations and while some of them improved their kitchens and outlets.
In the latest notification, Food Safety and Standards Authority of India has given the mandate to all the food businesses to register latest by May 4, 2016. Below are the details on how to apply food license for your food outlet and restaurant.
How to get the FSSAI Food Licensing & Registration System for Your Restaurant
The process of application of FSSAI food licensing and registration system starts with identification of eligibility of your premise depending upon the installed capacity (in case of manufacturers) and/or turnover (for other kinds of businesses) and/or location, your premise may eligible for any following categories:-
1. Central License– Central License is issued by the FSSAI Regional Offices. Find out about the documents required for Central License here.
2. State License– State License is issued by the state authorities. Find out about the documents required for State License here.
3. Registration–  In case you want to apply for state license/registration, click here to view the list of states accepting applications FLRS. To Know the detailed process for the filling application click here.  Find out about the documents required for registration here .
Stay tuned to Restaurant Times for more updates on restaurants, latest food trends, technology, policies and much more!