Social media presence is an important part of running a contemporary business, and it's quickly becoming a popular restaurant marketing tool for attracting new customers and converting them into regulars. No matter how appetizing your food is, your efforts are going to go unnoticed if you're not driving traffic into your restaurant.
According to Social Media Today, 30% of millennial consumers deliberately reject restaurants that don't have a strong Instagram presence. And, as restaurant patrons become more technologically advanced, it's more important than ever to have a distinct online presence and brand.
A social media plan is an important element of your restaurant marketing strategy, whether it's as basic as sharing images of your specials and promotions across all channels or as complex as using paid ads and boosting your postings on your best-performing platforms.
A smart and efficient social media approach may help restaurants drive delivery orders, dine-in reservations, and high levels of customer engagement, especially in these unprecedented times of coronavirus pandemic. 
Transform Your Restaurant's Social Media Presence Into A Huge Success 
Here are some tips that can transform your restaurant's social media presence into a huge success and attract more customers to your restaurant doors. 
1. Posts Tell Stories 
Remember that people are looking for clear, specific, and detailed information when choosing what to order. As your restaurant adapts to new models such as delivery and online, sharing numerous food photos on social media is one of the most effective ways to promote and market it. Allow your food to be the focus of attention. 
Aside from sharing high-quality photos of their dishes, Wave Asian Bistro & Sushi in Mount Dora, also regularly shares behind the scenes videos and photos from what goes on in the kitchen. Restaurant customers are fascinated with how food is prepared in kitchens as there is a slew of very successful YouTube series that shows how a restaurant prepares a distinctive dish.
Whatever you post on social media tells a story of where you come from and why you are serving people. Make sure you make your goal clear and post according to the audience that you want to attract.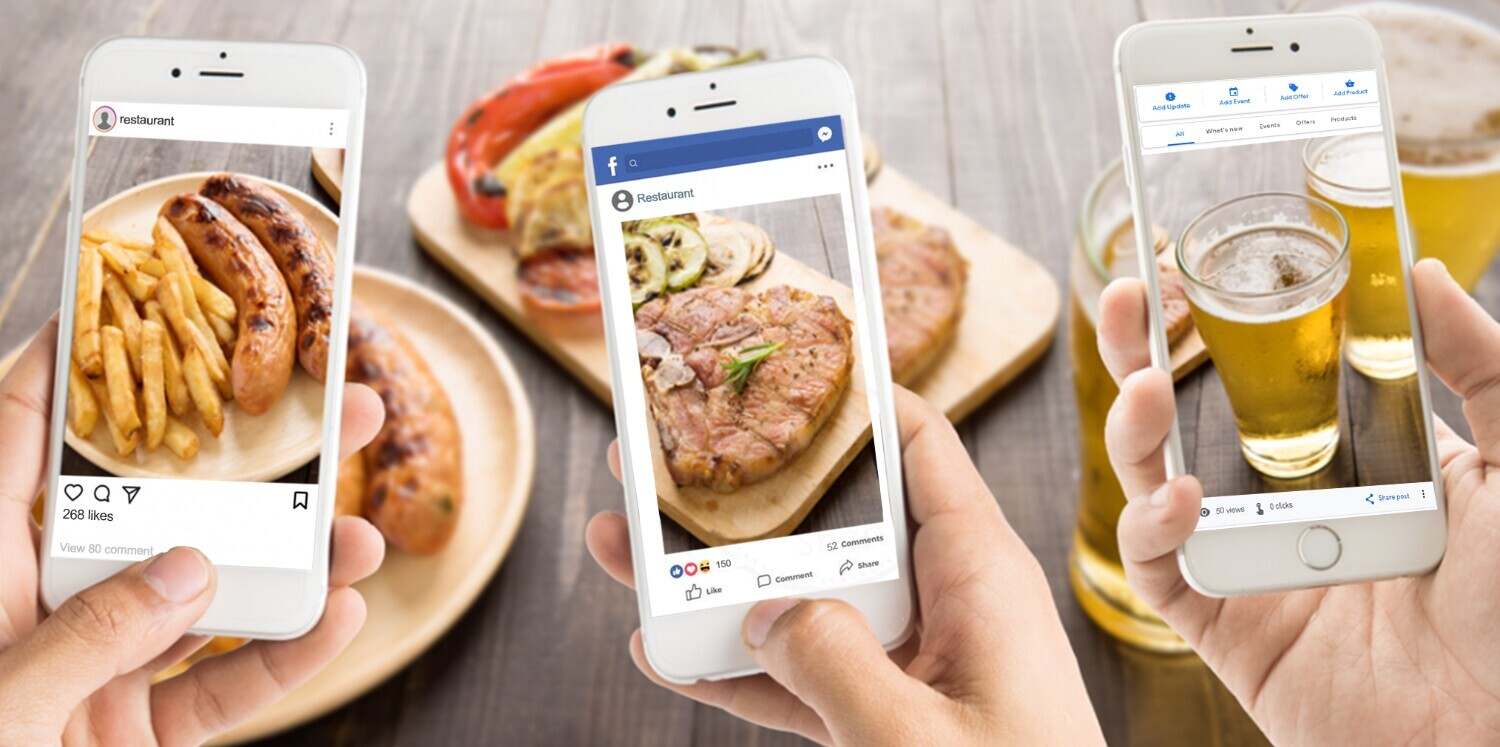 2. Timing matters 
It's important to know the best times to post to social media, and also make sure you understand your audience first. Take time to go through and analyse your traffic to know when to best reach your customers. Social network timelines are algorithmic, and for that, you will need a social media advertising strategy that syncs well with your posted content. You can promote posts during 'happy hours' or times when footfall is usually slow.  Planning when to post ensures that your customers see the burger special before the time they enter your restaurant. 
3. Engagement 
Increase social media engagement by asking entertaining questions and encouraging answers. Polls and quizzes are about more than just updating your followers on what's going on at your restaurant. It's also about paying attention to what they have to say. Platforms such as Facebook, Twitter, and Instagram are excellent for establishing a two-way conversation with your customer. 
By engaging your audience in person and in digital form, you can encourage them to share your social media handles for greater reach. Make sure to include your reviews on various platforms to have better engagement and by this, not only can you publicly thank the people who mean the most to your restaurant, but you also create the type of social proof that is necessary for attracting new customers.
Tools To Improve Your Restaurant's Social Media Reach
Here are some tools that can help expand your customer base and reach out to more people.
1. Buffer 
As their website says, "the best way to drive traffic, increase fan engagement, and save time on social media." Buffer is a useful tool for publishing to most social media channels, whether you're a small restaurant just getting started on social media or a restaurant with thousands of fans and followers. It also allows you to post and schedule videos through their site, which isn't something you'll see all that often. 
2. Hootsuite 
Hootsuite is a social media management platform that covers nearly every aspect of the role of a social media manager. Users can do everything from curating cool content and scheduling posts to managing team members and calculating ROI with just one platform. It provides social media scheduling, monitoring, analytics, and also team collaborations with other brands. 
3. Google Business 
When people search for you online, a Google My Business account allows you to appear in search results. It's free, making it a cost-effective marketing tool for both small and large enterprises. Google is one of the largest digital platforms in the world, it has millions of users and generates more than 1 million content every second. 
Contact information, company hours, and other critical facts should all be included in your Google My Business listing. You may utilize updates to announce that your services have been extended, temporarily closed, or completely reopened (an especially useful feature during emergency situations like COVID-19). Because Google business accounts have excellent local SEO, the information you give will rank higher than that of other websites. 
4. Iconosquare 
As a restaurant owner, food is your top-most priority, including how it's presented.  Social media sites like Instagram, Facebook and Twitter come in handy when you want to draw attention to your restaurant menu and the best way to do that is via pictures.
If you want Instagram to be a significant source of foot traffic (and social media traffic) for your restaurant, start using Iconosquare. Restaurant operators use Iconosquare to "monitor, analyze, and optimize every key part of your Instagram activity," including follower growth and location. 
5. Google Ads
Using Google Ads is the best decision you can make for your business. Google Ads allow you to advertise and promote your products and services when users search relevant keywords. When done right, it has the potential to turbo-charge leads and sales. 
The pay-per-click (PPC) model is used by Google Ads which allows marketers to target a certain term on Google and place bids on it, competing with others who are also targeting the same phrase. Google Ads is a very useful tool for your restaurant because it allows you to drive traffic to your website, resulting in more visits and thus more sales.
As a restaurant owner, you know the importance of community and how to spread it. Having a social media presence and being able to effectively use it as a marketing channel helps your customers to connect with you even when they are not in your restaurant.