One of the most forgotten about components of a restaurant is the billing terminal. Between the hustle and bustle of setting everything up, the billing terminal where the POS software will be installed is often left till the end; but purchasing POS for a restaurant is a onetime business. Therefore, it's only natural for restaurateurs to sweat over deciding which POS system to buy. Restaurant POS terminal market size is expected to reach a net worth of $24.7 Billion by 2025.
Lately, the term 'Cloud-based Restaurant POS' has been dominating the entire market. With easy internet access almost everywhere, Cloud-based restaurant POS has become a favorite and acts as a complete restaurant management software. So, in case you still have a dilemma and can't decide which POS to choose: the tried and tested traditional POS, or the new cloud-based POS that is revolutionizing the restaurant operations, look no further. This article will tell you exactly which POS to purchase for your restaurant business. 
Restaurant POS Software Comparison: Traditional POS vs. Cloud-Based POS
After having analyzed both cloud-based restaurant management POS technology and legacy POSZ technology, we have come up with an analysis of why Cloud POS should be your first choice for your restaurant.
1. Traditional Restaurant POS
Traditional restaurant management POS systems, also known as legacy POS, have dominated restaurant management for a long time. They store data on local servers and run on a closed internal network. These POS systems are built on the traditional client-server architecture.
POS software is no longer limited to generating a Kitchen Order Ticket (KOT) and bill receipts against orders. They also feature higher-end functionalities such as inventory management, Customer Relationship Management (CRM), and Analytics, etc. to meet the demands of the growing restaurant industry. It is difficult to integrate these new features into the traditional POS, and the maintenance cost is also quite high.
Drawbacks Of Traditional Restaurant POS
Below we have mentioned the risks that are there in having a traditional restaurant management POS.
Data Loss Risk: Customer data is stored in local servers and run on a closed internal network. There's a risk of losing data in case the system encounters a bug or gets corrupted.
Expensive: Higher upfront cost. More time to deploy complex hardware. In case the system crashes, the cost of re-installation is quite high.
Requires Maintenance: Since the POS contains local servers, IT maintenance is required.
Does Not Provide a Complete Solution: The restaurant owners still needed to be physically present at the outlet to keep an eye on the business. There is no way to keep a check on the on-counter thefts.
Not Scalable: It is difficult to incorporate new features into the system. It is essential to have a POS system that is scalable and can have new features incorporated into it easily.
With stiff competition, restaurants constantly need to be on their toes to give them the edge over other restaurants. Optimizing the business, while still providing top-notch service to the customers remains a problem. There is a need for a more sophisticated and complete restaurant management platform.
2. Cloud Restaurant POS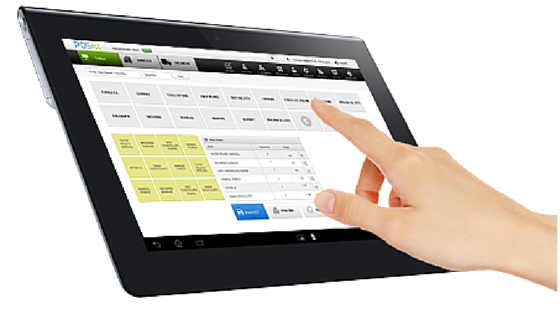 Cloud-based restaurant management POS is essentially Software as a Service (SaaS) that allows all information to be accessed from a remote server instead of storing and accessing it locally. In layman's terms, it means that the database containing all the information, right from the daily transaction reports to inventory data, to customer's data, is available on the internet.
Cloud restaurant management POS is independent of the location of the restaurant, and the data can be accessed from anywhere. Saas solutions are also scalable, and new features can be easily integrated into it.
Advantages Of Cloud Restaurant POS
Here are the ways cloud-based restaurant management POS benefits your restaurant operations.
The risk of data loss is minimized: Since all the data is on the remote servers, even if the POS terminal at the restaurant suffers damage, the data remains safe and can be backed up anytime.
Keeps working even in the case of internet outage: Cloud POS allows you to keep making transactions even in the case of an internet outage. The data can be synced up when you go back online.
Remote accessibility: You can monitor your restaurant's business from anywhere. Cloud POS gives you live sales data right into your phone. Web-based reporting of data lets you manage your restaurant from a remote location.
Easy integration of modules: Integration of higher functionality modules such as loyalty programs, online ordering and payment, table reservation, and accounting is possible. Third-party software can be incorporated into the POS, and customized according to the restaurant's needs.
Cheaper: Cloud POS decreases upfront costs as no expensive servers are required. Since everything's online, there are no hidden costs of re-installation in case the system crashes.
Posist is a cloud-based point of sale software that provides complete restaurant management for all types of restaurants and food outlets. Ask for a free demo here.