Attracting new customers and retaining old ones goes hand in hand for a successful restaurant business. With the sheer number of restaurants and food outlets functioning, gaining new customers can be a difficult task, and can also turn out to be too expensive if not done right. Therefore, the right restaurant marketing becomes crucial to a restaurant's success. In a previous article, we discussed how to achieve the perfect digital marketing strategy for restaurants. In this, we tackle the behemoth: offline restaurant marketing ideas and how to execute them.
But before you read ahead, here's a comprehensive restaurant marketing manual that will help you create holistic strategies to promote your restaurant business.
Stellar Offline Restaurant Marketing Strategies 
Try these nine effective offline restaurant marketing strategies that are sure to increase your customer base, and also help retain old ones.
1. Hosting Events
Customers are always looking for a new and exciting experience. Hosting events at your restaurant is a great way to give yourself the edge over other restaurants. Inviting a live band to play, or a DJ or a celebrity singer to perform attracts not only your customers but also the performer's fan base to your restaurant. If you are on a tight budget, you can organize events such as Karaoke Night or Standup Comedy Night, where you can invite your customers to participate instead of just watching a show. Hosting events is one of the most popular marketing strategies for restaurants, and has become a must to attract customers Here are five interesting event ideas that would liven up the slow nights at your restaurant.
2. Engaging With Food Bloggers
People always prefer to dine at a place that has a good reputation. When a food connoisseur or influencer visit a particular restaurant and gives good reviews, it is seen as a recommendation for that restaurant. For this reason, food bloggers and influencers play a significant role in implementing marketing strategies for restaurants. It is a good idea to host a bloggers' meet at your restaurant and invite them to dine at your restaurant. You can also approach them separately to write about your restaurant.
3. Advertising
Offline advertising is a tried and tested method of reaching out to customers. Securing a place in the local newspaper, or setting up an ad on a billboard, although expensive is a sure method of grabbing eyeballs. You can decide on the size and medium of your ad according to your budget. Radio mentions are comparatively cheaper and work wonders especially for local advertising. If you're hosting an event or advertising about the new item on your menu or the irresistible discounts that you're offering, advertising delivers excellent results.
4. Participating in Food Festivals
If the customers like your food at the festival, they would most certainly remember you the next time they think of dining out. They are a great place to connect directly with your potential customers, and also to get them to sample your dishes. Food festivals are an excellent way of displaying your best to the customers. Read how participating in Food Festivals is an excellent restaurant marketing strategy here.
5. Food Guide Listing
Your restaurant's presence in food guides is a must. Listing in travel guides and search engines like Just Dial proves to be beneficial while reaching out to potential customers. Tourists especially refer to food guides while deciding on a new place to dine at. Although online listing sites have overtaken the market, a presence in the printed food guides still remains a must.
6. Distributing Pamphlets
Distributing pamphlets and flyers is one of the most cost-effective offline marketing strategies for restaurants. They're cheap and can be easily distributed to potential customers. The design of the pamphlets is also important and must be designed carefully to attract customers. An ideal advertising pamphlet should contain the menu of your restaurant, and highlight any special dishes or deals that you are offering to entice customers. A clear Call-to-Action, such as Order Now with your restaurant's phone number should be clearly visible. As these pamphlets are usually designed to boost home delivery orders, you must mention the time, area, and minimum order restriction (if you have any) on the leaflet.
Read in detail how distributing flyers and pamphlets is one of the best offline marketing strategies for restaurants here.
7. In-house Restaurant Marketing
You can run execute in-house marketing strategies for restaurants as well! You can use your restaurant's logo for branding purposes. Decide on a theme and a logo for your restaurant, and use it wherever you can. On your employees' uniform, delivery order packages, etc.
Having your line of merchandise is a great restaurant marketing idea that resonates well with the customers. You can also start your restaurant's line of merchandise such as branded coffee mugs, coasters, cutlery, etc. that generates a market buzz, and gives exclusivity to these items. Cafe Coffee Day has a thriving merchandising business apart from its regular cafe business, which also helps significantly in branding and marketing.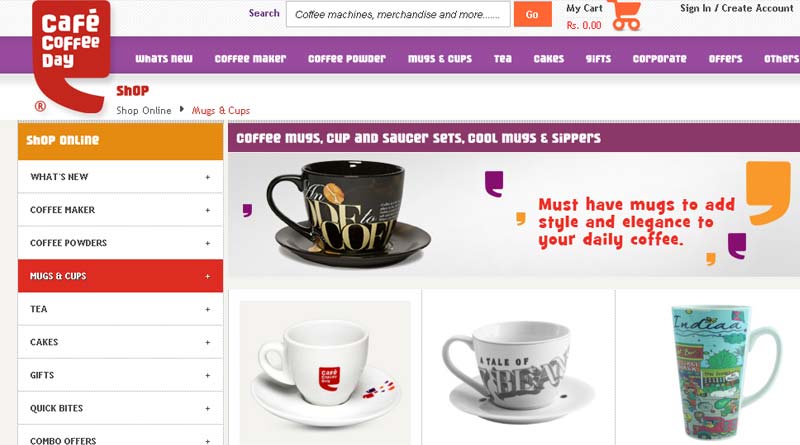 8. Partnerships
Partnering with local organizations and brands is also an excellent way to achieve offline marketing. By catering to another organization's events, you directly introduce potential customers to your food. If people like what they eat at such events, they are bound to come back to your restaurant for more. You can also act as a food sponsor to events to increase your customer base.
9. Public Relations (PR)
PR is an integral part of marketing strategies for restaurants. Newspapers have a wide range of audiences and are an effective medium to advertise your restaurant. However, having paid press releases can be an expensive affair. At least, in the beginning, you need to announce the opening of your restaurant. You can also try to associate with food journalists directly, and invite them to write about your restaurant. Find out how to do the PR for your restaurant here.
Implement these offline marketing strategies for restaurants in your marketing plan, and watch your profits boom. Think we missed a point? Share with us your ideas in the comments below; we would love to hear from you 🙂