With the growing internet usage, we have witnessed the cropping up of multiple restaurant management apps that simplify and automate restaurant operations. Mobile apps are handy, and give instant access to the data, making them an indispensable part of the restaurateurs' lives. However, with over 3 million apps in the Google Play Store, it is very likely that a restaurant might have a difficulty in choosing which ones will be beneficial for it. Having too many apps is a big 'no no' since it may get confusing and you will not be able to devote the expected time on all the apps accordingly. To make it easy for you, we have listed the top apps that you as a restaurant owner should use that will help you in your restaurant operations.
Top Restaurant Management Apps That You Must Use at Your Restaurant
Here's a list of the top restaurant management apps that are a must for any restaurant owner.
1. Mobile Reporting App Cockpit App

A mobile reporting and analytics app is one of the most important restaurant management apps as it allows you to gain a complete control over your operations without you having to be physically present at your restaurant. Posist's Mobile Reporting  Cockpit App helps you gain a thorough knowledge of what is happening in all your outlets. And, what more? You will get these details right on your mobile! Thus, you will never lose touch with what is happening at your restaurant. The major trump cards of this app are:
Live Outlet Count –

This restaurant management app will help you to keep a track of all the business that is currently happening at your restaurant. This includes the details of the number of outlets opened currently and are accepting orders.

Total Bill Count –

This will update you about the number of bills generated at each of your outlets. Hence, this app will enable you to keep a track whether any misappropriations is happening when it comes to billing.

Number Of Items Sold-

This will help you to keep a track of all the items sold across all the outlets. This also includes particular items sold on a particular day in every outlet.

Track Of Discount-

You will be able to track all the discounts and offers provided by your restaurants and the total amount of discounts offered on a particular day in every single outlet. This will ensure that all your customers are provided with the expected discounts, which should be neither less or more.

Total Sales Details –

This restaurant management app will help you get the total sales details right on your mobile from wherever you are. You will also receive sales data such as net sales, gross sales and the total amount spent by each customer.

Customer Details –

You must be aware of the total number of customer who visits your restaurant. This will help you keep a track of the total footfall in your restaurant and strategize accordingly to increase the footfall in particular days.
2. Online Restaurant Listing and Review Apps

With the advent of the Food Tech revolution, the popularity of restaurant listing and review sites have gone through the roof. Thus, it only makes sense to manage the listing and reviews of the restaurant through a mobile app. There are a number of restaurant management apps designed to manage restaurant listing and reviews, the most popular of which we have listed below.
(i) Zomato
Zomato is a global online listing and review company which ventured into food ordering and table reservation space and has also launched a new platform that will enable restaurants to launch custom based native mobile apps to run their business on the internet, and directly connect and engage with their customers. Zomato can also very easily get integrated with other apps that you might be using at your restaurant, this includes your restaurant management POS.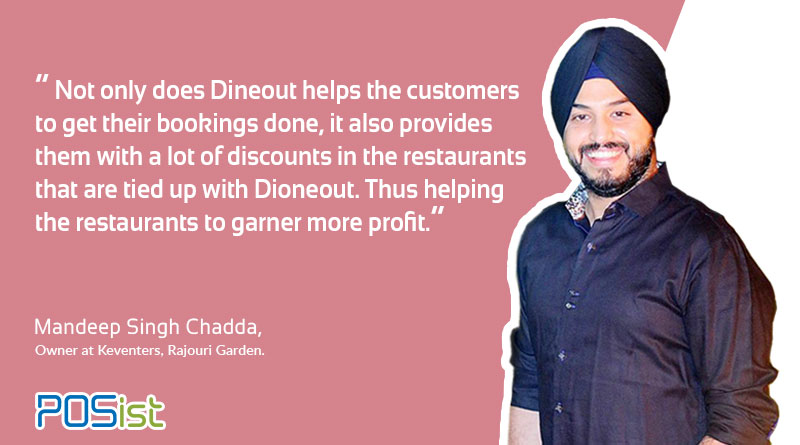 In India, you will find restaurants using such restaurant management apps in every nook and corner of the street. Hence, if you are not using this app to manage your restaurant at your restaurant you will lose out on many potential customers. 
This restaurant management app not only helps the restaurants to know where they are placed in the market, that is if they are doing good or bad, it also helps the customers to locate your restaurants based on the ratings of Zomato. Your customers can also post their reviews on Zomato.

This will help you to understand what your customers think of you, the areas you need to work further and the changes that you need to bring in which will keep your customers hitched to your restaurant.

Zomato, India's leading restaurant rating website, has also realized the potential of the online delivery business in India and has developed a model whereby they have combined the brand visibility on Zomato.com with the third party administration of the delivery or dine-in experience.
(ii) TripAdvisor
As a restaurant owner, you must know that you can gain a lot of revenue from tourists. Hence, you must use a restaurant management app like TripAdvisor and get your restaurant featured on it, from where the tourists who can be your potential customer get in touch with your restaurant.
Once you start devoting resources to attract travellers, you will instantly witness that your marketing efforts will start having an impressive domino effect on your profit. If you are hesitant, be rest assured that you are definitely not alone in this pursuit. Almost 39% of the fine dine establishments in 2014 stated that they were going to invest more money in targeting tourists since the revenues garnered from here is excessive.
3. Table Reservation App
Table reservation apps are one of the most important restaurant management apps that allow customers to reserve a table beforehand. Delhi based restaurant management app, Dineout, is a table reservation platform that has listings over 20,000 restaurants and has real-time reservation facility enabled at over 2,300 outlets across Delhi/NCR, Mumbai, Bangalore, Pune, Chennai, Kolkata, Ahmedabad, and Hyderabad.
This restaurant management app is essentially an online reservation website which enables the customer to book a table, online and through phone, at restaurants. It also provides them exclusive discounts for usage of the service, which their users can very easily avail at the restaurant.
3. Online Food Ordering Apps

 Mobile ordering apps have become increasingly important in recent days. Swiggy is one such restaurant management app that has become extremely important for all, in the domain of online food delivery. Swiggy is a Bangalore based company engaged in hyperlocal food delivery. Currently, Swiggy is present across eight cities in India, which includes Bengaluru, Gurgaon, Hyderabad, Delhi, Mumbai, Pune, Kolkata and Chennai. And, Swiggy has 5,000 restaurants listed on its platform. You should ensure that your restaurant ordering system can accept orders from such online food ordering apps.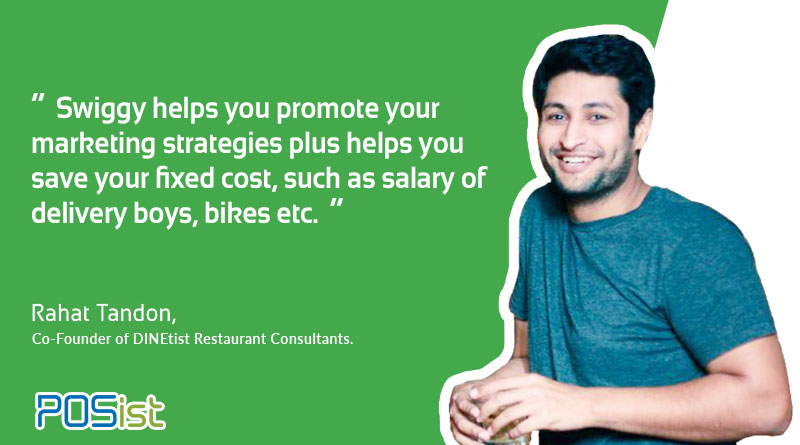 There are various ways by which this restaurant management app has come across as a beneficial platform for all the restaurants out there.
Marketing:

Traditional ways of marketing, like, distributing flyers or posting an ad in the newspaper is no doubt still used. However, restaurants nowadays are understanding the increasing demand if online marketing and are trying to weave new offline strategies for marketing. You may think that it is a time-consuming affair, however, worry not, Swiggy is that restaurant management app that has come to your rescue. This increasing need for marketing(especially for new restaurants) is handled by Swiggy.

Discovery:

To the customers, this restaurant management app has made it extremely easy to locate new restaurants. Be it an already existing restaurant like Domino's or a brand new one, Swiggy has made your restaurant just a click away from all your potential customers. This has come across a great thing for the restaurants, since, they can now be discovered easily and thus their reach has increased.  

Scaling:

Most of the times it is difficult for restaurants to get a reliable person who would sit at the phone desk to take order calls, write down the order on a piece of paper among the crowd and noise, and even pack the food and send it to the customers. And who knows, the customers might straight away reject the order. Delivery is time-consuming with additional 3-4 calls regarding the address. Swiggy is just a one-stop solution for all these hiccups in the running of our restaurant. Online ordering apps are one of the most important restaurant apps as,




– Taking orders will no more be a hassle




– Since it is a commission based model, the restaurants will incur no loss at any cost




– There will be upfront payment by customers




– Customers get food faster, give good reviews and this will increase the sales at your   restaurants
Find out how to partner with Online Food Ordering platforms here.
5. Delivery App
Posist's Delivery App is one of the essential restaurant management apps that helps you to assign, place, track and deliver orders with ease to your hungry customers. With the help of this app, you will be able to see the available delivery boys and assign them orders accordingly. Since this app is integrated with the CRM, the delivery boys will be able to check the entire customer history such as their address with ease. This app also allows you to keep a check on the real-time tracking of orders through GPS tracking. One of the best features of this app is that you can have a detailed report of when the delivery boys accepted, picked and delivered the order. This will help you in rating the performance of your delivery boys. For your customers' ease and satisfaction, this app allows the customers to receive SMS once their order gets confirmed and they can check the status of their orders seamlessly. This restaurant management app is a must app for all restaurant owners since the concept of food delivering has gained a lot of importance in recent years. This app will ensure that you have a tight control over all your delivery activities.
6. Servers App
Don't you think a restaurant management app that will allow your waiters to take orders directly from the app, whereby pushing the orders directly to your POS, will help you reduce the manual labour involved that will, in turn, reduce delays? If you do, the, Posist's Servers App should be your destination. The server app has the full menu that allows the waiters to take orders and place it directly in to the POS. Since the waiter has the menu right in front of him, this will also help him to upsell the items of your restaurant. This restaurant management app will also help you to rate your waiters' performance since you will receive a detailed report of all the orders placed by each waiter along with the discounter offered.

Restaurant management apps help you to reach out to all the potential customers out there! Not only these apps simply ensure that your customer footfall increases, it also helps you in the marketing, billing, inventory, in other words, in the complete restaurant operations. Hence, use these restaurant management apps and bolster your restaurant operations beyond leaps and bounds.