The kitchen is the nerve center of your restaurant operations, and this makes it more than necessary for you to streamline its operations. Previously, most of the restaurant kitchen operations were handled manually, and the head chef was the primary person who ran the kitchen. While it is true that a kitchen without the executive chef is nothing; however, he too needs help, and there is nothing better than having a stellar restaurant POS as his best friend in the kitchen.
It is essential to streamline restaurant operations and technology helps with that! It is true when it comes to kitchen operations as well. A restaurant POS that comes with features like recipe management, stock and inventory control, automatic KOT generation process and a stellar KDS will make your kitchen operations seamless while ensuring that you have control over your rising food cost.
4 Ways Technology Optimizes Restaurant Kitchen Operations
Until and unless you have a well-structured process in your kitchen, this place has the potential to be a war zone. Hence, it becomes imperative for you to use technology that will not only set a standard procedure for all the operations, but it will also reduce the risk of manual mistakes which will, in turn, minimize the unnecessary generations of kitchen waste and streamline restaurant operations. hence, will reduce your food cost as well. Restaurant kitchen management should be every restaurateur's top priority.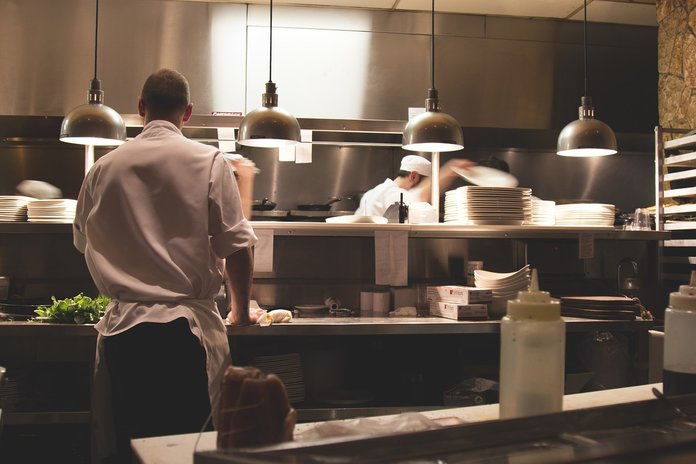 1. Recipe Management
Retention of customers will be a cakewalk if you can serve them their same favorite dish the same way as they had it the first time at your restaurant. Here comes the importance of having a standard recipe of all your menu items. It is not unlikely that a chef on a particular day, under pressure might mix up the recipes. It is only a manual mistake, but it can cost your restaurant reputation more than what you can think of. Hence, to avoid such situations employ a restaurant POS that comes with the recipe management feature.
Once you have such a robust technology in place, all you need to do is sit with your head chef and fix the recipes and sync it in the POS. These recipes will talk about each and every ingredient that goes into making the dish, the quantity of each ingredient, the temperature at which it needs to be prepared, the process of cooking and the approximate time required to prepare the dishes. The recipes should also talk about the presentation process and the ingredients that would be required in that stage. Once you have them ready all your chefs need to do is follow it diligently.
Recipe management feature becomes all the more necessary when you are running restaurant chains. It is not unlikely for your customers to expect the same taste, quantity, and quality of dishes across all the outlets. And this is something that can be easily achieved leveraging on the technology like recipe management.
Needless to mention that having a standard recipe will help you to reduce the unnecessary generation of kitchen waste. Without a recipe management feature, it is not unlikely for your chef at times of falter with the recipes. And in such situations, they are left with no other options but to discard the dish prepared, which amounts to the kitchen waste and increases your overall expenditure.
Hence, a recipe management feature while streamlining the restaurant kitchen operations, and helping you deliver excellent customer service, will also ensure that your restaurant does not generate unnecessary kitchen waste and hence keeps your food cost under control.
2. Stock and Inventory Control
Restaurant kitchen management begins with stock and inventory management, as it is the backbone of your kitchen operations. Unless you have strong control over this section, there is a high probability for your kitchen processes to go haywire. In addition to this, considering the rising food cost, unless proper surveillance is done on inventory, it might increase your food costs like never before. Know how you can monitor your restaurant inventory and control your food costs here.
To avoid such instance, all you need to do is have a stellar POs on board which has an intelligent stock and inventory control mechanism. It should come with features like real-time alerts. For example, whenever an item reaches its reorder level, the POS should send a real-alert to all the concerned people, and this helps the kitchen to place the order of the item before the kitchen runs out of it completely. It is also empowered to send you real-time alerts of items that reach its expiry date, and this will protect your restaurant from using expired products, which if used will have a damaging impact on the image of your restaurant.
In addition to this, the restaurant POS must have the feature of first in and first out. This will save your kitchen from stocking products which are expired, or which have gotten spoiled.
Managing inventory manually is a task that is not humanly possible, especially if you are running a large scale restaurant business. Hence, take refuge in a stellar POS which has a stock and inventory control mechanism which will optimize your restaurant kitchen operations like never before.
3. Automatic KOT Generation Process
KOT is an abbreviation for Kitchen Order Tickets. It is primarily a note which goes to the kitchen, billing division, and one copy is kept in the system for future reference. The KOT contains details related to the table number, items ordered and its quantity. Having a restaurant KOT which is automated, reduces the scope of manual mistakes, saves time, helps you to have real-time reporting of all the orders at your restaurant, and minimizes financial discrepancies.
Whenever a customer places an order, it gets printed in the kitchen in real-time, this saves the server from running from the table to the kitchen to hand over the KOTs. And since the KOT gets printed in real-time, the kitchen staff can start working on the order on an immediate basis which augments customer service.
These clearly show that having an automated KOT system will not only help you accelerate your restaurant kitchen operations, and it will also help in reducing the restaurant expense to a great extent. Since customers crave for seamless order taking and payment methods, what is stopping you from shifting to the new age KOT generation process?
4. Kitchen Display System
Having a kitchen display system will optimize your restaurant kitchen operations like never before. While the automated KOT would still print orders on the paper in the kitchen, when you employ a KDS instead of a printing a paper-based KOT, the orders are directly displayed in the kitchen through display screens along with the order details. This eliminates the need for your server to deliver the KOT to the kitchen, which in turn saves time and labor. It also ensures that no orders are missed. 
Learn more about how KDS improve efficiency in your restaurant kitchen here.
In addition to this, if the customer makes any changes in the order after placing the orders, it gets reflected on the display screen at the kitchen in real-time, and hence the kitchen staff can start working on the changed order in no time. Such a tech-oriented operation, not only helps you accentuate the customer service, but it also streamlines the complete restaurant kitchen operations.
We hope you have garnered a comprehensive understanding of how you can leverage technology to hone your entire restaurant kitchen operations. Since the kitchen is the focal point, is the heart of the restaurant business, you must leave no stone unturned to streamline the operations further, which will help you deliver an outstanding customer service while ensuring that you keep your labor and other redundant costs at the bay. So what are you waiting for, quickly employ technology if you have not already, and see your restaurant kitchen operations soar!