When was the last time a customer at your restaurant complained about his food arriving too late? Worse, how many negative reviews found their way onto social media about the experience? Complimentary meals and apologies do little to address the problem. You might envy the fast-food chains- impeccably efficient order management machines – which take no more than 90 seconds to deliver piping hot meals to their customers. In comparison, the service at your restaurant may seem glacial! While your dine-in restaurant cannot expect to compete with a fast-food chain, there are some ideas that you can borrow from their playbook to optimize the restaurant order preparation time.
Done right, the impact this can have on your restaurant's popularity and revenues is huge. On the other hand, if delays in serving customers continue, the business might suffer. Increasing the size of your kitchen or hiring dozens of extra workers is neither practical nor affordable.
Let's look at some alternatives that can help you streamline your restaurant order preparation and table-wait time.
Prioritizing Restaurant Order Preparation Sequence
Let's say an order contains multiple dishes like pasta, noodles, and some ice cream. All three dishes take different times to prepare. Also, if one item is prepared before the other, it might not remain at its right temperature. This is why you need to follow a precise strategy to optimize the order preparation time. 
Leverage technology to improve efficiency and customer experience
Imagine a kitchen display system that shows serving staff new orders as they arrive. The result: Higher efficiency and service quality, especially during peak hours. It might even help your staff be more courteous to customers. Linked to your restaurant management software and POS terminal, a kitchen display system can also make billing and end-of-day accounting much easier.
This is how the system works. An order is directly entered into your POS as soon as a customer places it. Within minutes, it is displayed in the kitchen and the chef starts working on it. Serving staff can attend to other customers instead of relaying orders to the kitchen manually. It can help you maximize your table turnover rate, i.e. the number of orders you take in a particular span of time. Besides, it also eliminates the possibility of confusion while taking orders.
POS order management systems also come with integrated tablets for servers to take orders with. They make order-taking effortless for even new hires that may have just joined your restaurant. It also indicates to customers that your staff is professional.
To serve customers on a first come first serve basis, a Kitchen Display Management System (KDS) should show orders in the sequence they were received. The insights provided by it can help in the quicker preparation of your food and rectify any problems. Here is what a KDS looks like: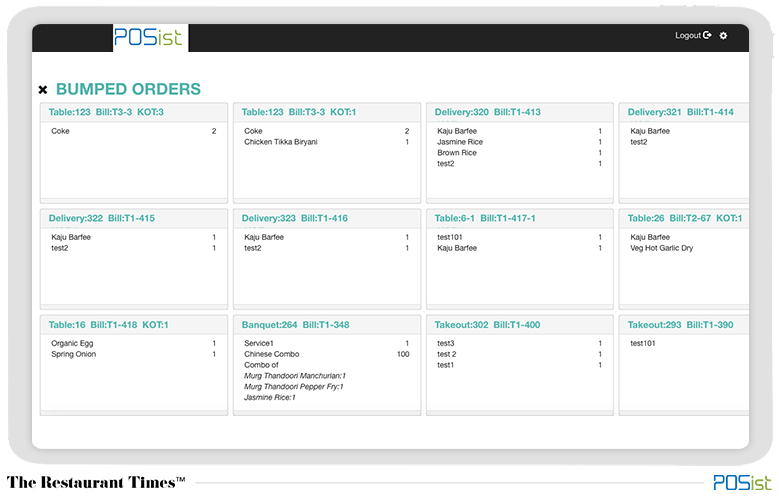 Keeping The Restaurant SOP's In Place
A restaurant SOP or Standard Operating Procedure consists of defined workflows governing every aspect of the operations of a restaurant. These include logistics, staffing, back-end activities, and service delivery among others. One such restaurant SOP is the average order fulfillment time which in turn affects the overall utilization of the restaurant.
These SOP's need to be strictly enforced for the efficient running of the restaurant. Restaurant management software can also help you control recurring costs such as inventory and customer acquisition.
Another SOP that you need to be careful about the minimum table wait time specified by each restaurant individually. The staff needs to make sure that the customer is not left unserviced for more than 10 minutes after being seated at your restaurant. This would eventually lead to a bad impression and thereby a bad brand name.
Train Your Staff Accordingly
Getting more orders delivered at the same time would also require extensive staff training and expertise. Most restaurateurs tend to forget to focus on staff training, which is why they face high attrition in their restaurants. Hence, it becomes crucial for you to train your staff for the initial few months and then incentivize their performance.
Without well-trained staff, your restaurant business may underperform even with the best possible restaurant POS software. Both these aspects go hand in hand.
Your restaurant management software can help you monitor staff performance, and thereby identify training needs. An ideal POS should be able to track attendance, table turnover time, discounts on offer, and so on. You could easily implement a performance-based incentive system using data from the POS system.
Summing up, optimizing order preparation SOPs can increase the efficiency and profitability of your restaurant. Investing in restaurant management software can yield rich dividends over a period of time.