When we saw Samrat Reddy of Drunken Monkey visiting our office at Rama Road, Delhi, we were determined to not let the opportunity of having a candid conversation with him slip from our hands. How could we possibly let go of the man who is positive and determined enough to switch multiple job roles, who believes that the monkey will do better marketing of his product and who believes sports to be as important as Drunken Monkey, (his smoothie venture) in his life?
A Candid Conversation With Samrat Reddy Of Drunken Monkey
After acquiring an engineering degree he worked in Australia for a brief time, after which he went to Scotland to get his MBA done. It was during this period that he started taking interest in this lucrative industry.
To clear the eternal confusion as to why smoothies, he gave a very interesting answer. Samrat mentioned that what Starbucks did to coffee is brilliant. He even went on to say, that coffee had evolved into such a cool thing that nowadays if people plan to meet for a meeting outside the office, the preferred location is always a coffee shop. He is not a coffee or tea drinker, and hence he wanted to provide people with an alternative to the regular beverages — a smoothie place which is much like a cafe. In India, smoothies are still not big enough, and there is a big market gap. So, these two factors prompted him to venture into the domain. He wanted to utilize this gap and establish a blooming smoothies business. However, he could not start the business back then, since his knowledge of the business was limited.
Ever since he has worked in various sectors, he worked in his family business for over four years which is into the steel sector. Then he was listed in an oil drilling company, where he worked for sometime after which he was placed in a water treatment plant in Cameroon. Then finally one fine day, about three years ago, he realized that he was not really happy with his life, and then he materialized the idea of Drunken Monkey. After deciding on the idea, they came up with the name. Following this he did extensive research on the market he was venturing into and to establish the desired goals.
"Our goal was to open 100 outlets in 2 years. I think we will achieve our goal, we already have 33 outlets, and my Feb 2018 we hope to achieve our goal, although our deadline is April 2018," says Reddy.
The Major Challenges In Running A Smoothie Business
When we asked about the initial challenges that he faced, Samrat in a very quirky voice stated, "I am a very positive guy, and I think the way to success is positivity." He mentioned that there are various things for which a restaurant business can fail, a wrong plan, a wrong product, the wrong time and even competition. So these three are the key areas which demand a considerable amount of research. One of the biggest challenges when it comes to smoothies is logistics. If you have a coffee place or an ice cream place, for example, it is very simple, since the coffee beans and the ice cream will taste the same. However, Drunken Monkey deals with fruits and here comes the problem. Understanding the logistics was the biggest challenge, states  Samrat. I was in touch with a chef from Europe who helped us with how to make sure that we don't have any wastage.

The second thing as per the Kahuna, which can be a source of the initial challenge is the menu. Right now Drunken Monkey has 180 menu items. The main reason why they have so many of them on our menu list is to counter competition. Samrat with a sense of positivity stated that "We want the competition to come to partner with us and not try and overthrow us."  
He also stated that Drunken Monkey as a team has very big goals. They want to grow at a fast rate. Feb 2016 was their first launch, and since then he has established 33 outlets. Drunken Monkey started franchising out only this year and are weaving concrete plans to go beyond borders and appeal to the international crowd as well.
"We never promoted ourselves as healthy. We don't want to be preachers. People are intelligent enough and they can decide what is healthy and not," says Reddy
Franchising Drunken Monkey
When we started talking about franchising, Samrat stated that one of the major challenges is to maintain consistency across all outlets, and to counter this challenge, he has tried to make his operations very machine-driven. The operations of Drunken Monkey does not depend on the in-house force. There is a clear recipe that is provided to the chefs, and they must follow it. There are clear procedures that they must follow, and if they don't follow it, there are always ways to correct it.
How Technology Eased Out The Operations Of Drunken Monkey
On being asked how technology has helped him in the running of his smoothy business, he stated, with a very convincing voice, "A lot. I personally think, without technology a restaurant cannot grow or will grow at a very slow rate.". What technology does is, it automates everything, "You don't need to hire 100 people for 100 stores, a single software can take care of 100 stores."
Why Smoothies Over Alcohol?
Out of inquisitiveness, we enquired why smoothies and why not alcohol? Hearing this question, Samrat with a very candid smile stated, "Well I think alcohol is something that everyone is doing and there are enough hubs and pubs around every city." Hence the competition is very stiff in this domain. And he feels that the gap in the market is more in the smoothies business than in alcohol. "It is not that I am a teetotaller, I am not. If I need to do alcohol, it has to be something big." On the contrary, since smoothies are something new, there is a better scope of being the best in this domain.
"We don't promote that alcohol is bad, and smoothies are good. We leave it to the people to decide. If they like the taste, they will like Drunken Monkey," says Reddy.
In addition to this, there are various states where liquor is banned, in states like that it will be great to scale Drunken Monkey in the market.
What Makes a Food & Beverage Business Successful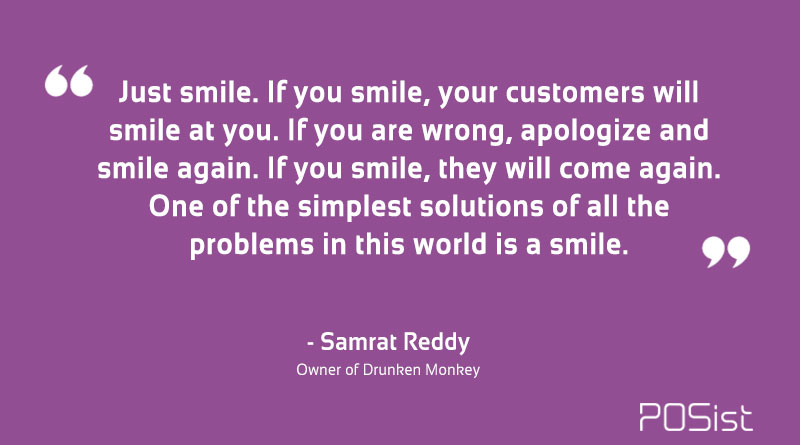 While speaking with Samrat, we garnered the understanding that he considered that with the right product, a proper location and a brilliant customer service any business has the potential to scale. The product must be the pivotal focal point. With a bad product, you can hardly expect to make a mark in the market. Similarly, if you open a restaurant in Antarctica, you will hardly attract customers. Hence, while deciding on the location, look for a place that is easily accessible, and with a place where the guest can park their vehicle and drop be convenient. And lastly, with bad customer service, your dream of retaining customers will be a distant mirage. 
"Great customer experience is something we need to ensure more. If I am asked to rate our product, I would probably rate it 9 or 9.5 on 10. I  would never give it 10  on 10. But when it comes to customer service, I would rate it around 6 and know that we still have a long way to go. We are working on it, and there is a lot of changes to the cards. It should be Drunken Monkey's way of doing things, which is not yet implemented.  We would do something innovative and creative for customer experience as well, which would make Drunken Monkey stand out, and we should probably achieve that by 2 to 3  months," says Reddy.
Living Up To The Monkey's Expectation

When asked about the statement on their website, that the "monkey wants the General to be the big kahuna of smoothies" and how he intended to abide by this demand of the monkey? He stated that "We started small, we don't have the size or the pockets of Starbucks." Samrat has a unique way of perceiving a particular situation. Instead of considering that they are in a disadvantageous position if compared with Starbucks, he has tried to see the brighter picture. He stated that "Starbucks is there for many years and it has a steady business model, it is fixed, on the contrary, what we have is flexibility, and that's our advantage. We can do whatever we want, and we have the Monkey on our face, so the Monkey does everything for us." Drunken Monkey is in to take risks. They treat Starbucks as their inspiration and will definitely feel good when they will reach there.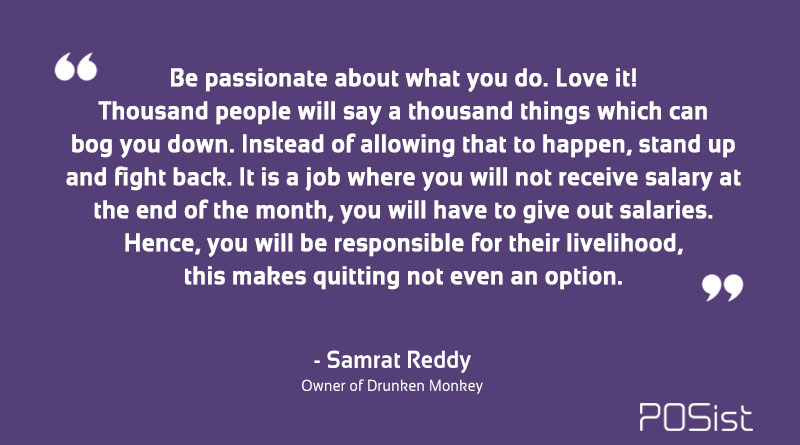 After having an unvarnished conversation with Samrat Reddy of Drunken Monkey, we sense the immense force with which the team is pushing the brand to scale across all boundaries, and all we can do is just wait and see how the Monkey runs through the entire Indian geography and entices each one of us with the taste of fresh fruit smoothies!