Burger Seigneur is a well-known Gourmet American style burger outlet in Bangalore. The brand that currently has 2 pet-friendly outlets in Bangalore is not just a regular burger brand! What sets it apart from other brands is the fine quality of ingredients. The ingredients utilized in the preparation of various dishes are mostly imported from different parts of the world. For instance, the mayo is imported from Italy, the Portobello mushrooms and cheese is also internationally sourced. In fact, their carefully crafted menu has as many as 12 unique burgers to tickle your taste buds. That's not all, their thick shakes, cool blend brewed coffees are also popular amongst the youth. 
In Conversation With Naufal Verkumb, Co-owner of Burger Seigneur
In an exclusive conversation with The Restaurant Times, Naufal Verkumb, Co-owner of Burger Seigneur uncovers the story behind creating a niche burger brand and its expansion strategies with a hybrid model. 
The Secret Behind The Exotic Burger Menu At Burger Seigneur 
When Burger Seigneur had been newly launched, they offered only 6 burgers on their menu. Even today the brand offers a limited menu with an assortment of only 12 gourmet burgers. Naufal highlights that all the dishes in their menu are a perfect representation of the indulgence of the brand. The menu has been designed carefully and includes the inputs from the team as well.
According to Naufal, a limited menu makes it easier to train the staff and put in front the best quality food items. 
"Putting good food on the menu should always be the prime objective, rather than putting a lot of things on the menu." 
Being a foodie himself, Naufal enjoyed indulging in burgers and thick shakes at all the places he visited while travelling abroad.  However, he felt that India lacked premium quality burgers due to a scarcity of good ingredients. Due to the government norms in India, restaurant operators have to pay duties of upto 60% on the import of food. Moreover, the best produce is exported, leaving operators to make do with low-quality ingredients. This is one of the major challenges faced by the Indian F&B industry.
Burger Seigneur offers a premium range of burgers that set them apart from the other players on the market. The USP of the brand is that they import all their ingredients to provide the best possible quality to their customers.
According to Naufal, ingredients are the core essence of your dishes and set everything apart. The ingredients in their classic Mixed Berry Shake are imported from France, they use original Belgium chocolate in their thick chocolate shakes, the coffee blends are brewed with beans from Nepal and India. However, due to a shortage of imported raw materials or other restrictions, the menu often gets impacted. As a part of their future growth plans, the brand is also looking at possible ways of producing raw materials locally.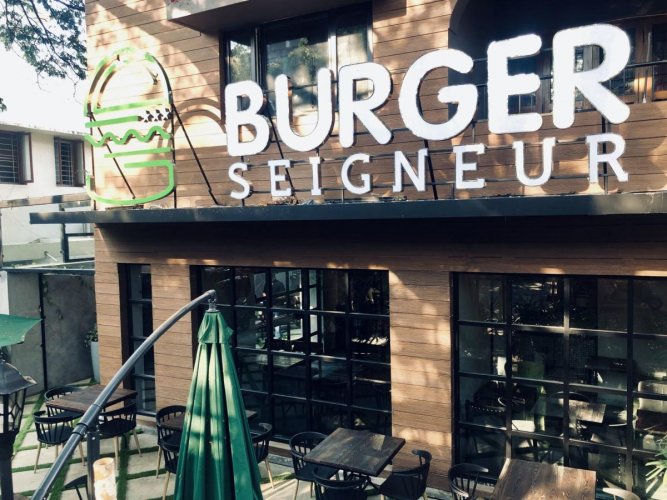 The Hybrid Model Is The Way Forward
Burger Seigneur offers a premium menu in a one-of-its-kind self-service restaurant setting. Initially, the brand had to face a lot of problems as the menu was priced on a slightly higher side and services were limited. Eventually, customers accepted their service style. 
"We wanted Burger Seigneur to reach a larger audience. By offering full-service in our outlets, we had to work on multiple aspects. However, with limited services involved, we can focus more on expanding the business."
In spite of operating with a limited-service model, Naufal says that they were always focused on growing their dine-in business. However, Covid-19 changed this scenario completely. Today, Burger Seigneur is present on all the major delivery platforms such as Zomato, Swiggy, Dunzo and has plans to establish three cloud kitchens in Bangalore. Naufal emphasizes that they want to expand their delivery business and be able to deliver burgers across Bangalore. With a cloud kitchen business model, it'll be easier for the brand to establish a robust delivery network. 
"It is easy to set up the operational processes with a cloud kitchen. One can cover a larger area and cater to a wider customer base with limited finances. Moreover, anybody can enter into the restaurant business with a cloud kitchen and experiment with their concept."
Naufal also carefully points out the cons of operating with a cloud kitchen business model. 
He says, "When you serve customers in a well-equipped seating space, they tend to associate well with your brand. However, when a restaurant lacks the physical space, the brand engagement and experiential dine-in experience goes missing. Moreover, doorstep food delivery takes more time compared to serving dishes in-house. This further affects the customer experience". 
Burger Seigneur is trying to tackle these issues by adopting a hybrid model. The brand has plans to expand its business to Hyderabad, Chennai, Mumbai and Delhi. 
They are working towards launching a main storefront outlet for better brand resonance and expand the delivery business by operating through multiple cloud kitchen brands. 
For setting up the cloud kitchen business, the brand is looking to work closely with kitchen infrastructure enablers, Swiggy Access and Kitchens-At and has plans to set up their own delivery-only kitchen. 
Message To The Budding Restaurateurs
Whether creating a niche brand or a mass product line, it is important to differentiate. With a mass product line, setting up the business might be easier but marketing and branding should be hands-on. Similarly, when it comes to a niche brand, your brand would cater to a relatively smaller audience and therefore your branding and positioning should be different.
"The restaurant industry is easy to get into but it's extremely difficult to sustain and grow a business. To create a well-known brand, it is foremost important to define its objective. Be very specific with the brand you create. Believe in your brand and work towards taking your business to the next level."
Watch Naufal Verkumb in an exclusive F&B Talks session with The Restaurant Times.