The restaurant industry is all about good customer service and giving your customers an experience they won't forget. Most restauranteurs today focus on building a great ambiance at their restaurants to keep up with their competitors and to make their customers want to come back. Especially in a city like Delhi, where people mostly look for a luxurious and comfortable experience while dining out with their friends and families, Ashna Gandhi has used her location preferences and her interior designing skills to build a great ambiance at her outlets for families as well as the millennials. She opened an array of outlets in the same location, leading to her restaurant business expansion. 
Coming from Varanasi, Ashna did her post-graduation from Delhi, back in the year 2004. She entered the world of interior designing by starting her very own venture, Ambey Interiors, that mostly served designing purposes for offices, restaurants and modular kitchens. This is when Gandhi realized that she could do more with her designing skills, thereby making an entry into the restaurant industry. She started with Mellow Garden in the year 2017, and opened three more outlets in a matter of two years namely, Just Behind U, Woody's Grill and House Of Punjab, all in the same locality in Delhi. 
Building A Circle Of Outlets In The Same Location For Restaurant Business Expansion
All her four outlets are in the same market, Rajouri Garden in Delhi. Looking at the tricky consumption trends of Rajouri, you'd find a collection of different restaurant formats, from waffle shops to fine dines and bars. The mixture of such diverse restaurant formats makes the market a hub for competition as well as growth. There is a new outlet seen in the market every single day! 
Since the area around Rajouri is majorly resided by Punjabi families, therefore the restauranteurs cater to their tastes and preferences. This is why restaurants there mostly focus on Punjabi cuisine. "The competition is growing here by the second and hence it's important to be better than the rest. Things that I kept in mind while picking up Rajouri as my ideal location were, easy approachability, good footfall, parking and lift facilities and demand for food and drinks. As per my experience, Rajouri is the best location as it has great footfall," says Gandhi on being asked why she picked Rajouri over and over again. 
It is important for a restauranteur to make a statement in his/her own market and then look at expansion. This is exactly what Gandhi has been doing with her brands. Her four outlets in Rajouri majorly focus on catering Punjabi families and kids. She also has separate areas and room for the kids to play. Keeping in mind the diverse audience of Rajouri, she has made sure both the kinds of audiences are given equal importance. 
The two floors of Mellow Garden, Rajouri, have completely different ambiances and food menus. The first floor caters to families and is served with Punjabi, North Indian, and Chinese food, which is mostly preferred by families. The second floor mostly caters to the millennial generation, corporate parties and so on, which is why the menu is crisp and serves a lot of experimental food. Gandhi also ensured that the two floors have completely different vibes, such that people could enjoy the best of both worlds. She wanted to be the queen of Rajouri first, and then explore her other options. Her continuous efforts lead to a successful restaurant business expansion and opening of her consecutive outlets in a matter of just two years. However, Gandhi is planning to open her next outlet in Noida. 
How Marketing Helped Her Build A Trustworthy Brand 
Delhi has a mixed population of millennials, traditional families and corporate people. When we talk about a single market, that is Rajouri, restaurants here need to have a completely different set of marketing strategies to ensure they are able to build a trustworthy restaurant brand and deal with the rising competition around. Several restauranteurs use a couple of techniques, specific to their customers to make sure that the strategies are effective. 
The boom of social media has created an enormous impact on millennials and their choices of eating out. This is why it is important to have a social-media worthy ambiance and food that is presented well enough to take its pictures. "It's all digital marketing nowadays. Considering the fierce competition, it is necessary that the marketing strategy not just right but should be top-notch as compared to the top brands of the market. Posting the latest deals on food and drinks on all the social pages and website is a must. Running contests, reaching out to bloggers & influencers, be on top on most of the foods apps are for perfect marketing plans"
However, these marketing strategies are often interrupted by rules and regulations of that particular city. Talking about the latest beer ban in Delhi, restauranteurs are still trying to find a perfect marketing tool to enhance sales of other beers and to prevent their customers from going to Gurgaon instead of their bars. "Well because of the ban on a major beer company, the sale of other beer brands is shooting up. We have started various offers on other beers and other alcoholic drinks such as whiskeys & vodkas. Obviously, we need to focus on the marketing strategies a lot in order not to lose those beer lover customers. At Mellow Garden, we offer great deals & discounts to our guests, especially on our cocktails and other drinks," Gandhi mentioned.
Apart from that, Gandhi stresses on the rising issues in the country to catch the customer's attention. One such instance is mentioned here, wherein she used the scrapping off of the Article 370 news to create promotions in one of her outlets. The campaign gained a lot of attention and brought in a lot of orders to the restaurant.
Overcoming The Major Challenges In Expansion Of Restaurant Business
There are a series of hurdles that come by a restaurant while setting up their outlets or while thinking of restaurant business expansion. However, due to differences in restaurant formats, and locations of a particular restaurant, different restauranteurs might face challenges like licenses, rentals and staff attrition. 
"Apart from getting done with all the legal formalities, what stood as a major challenge was to build a trustworthy and efficient staff team who could not only serve our guests but also help the brand in its growth. Location is a small part of the challenges which we need to overcome before opening a restaurant. Concept Planning, Pricing Surveys, Staff Training, Business planning with profit forecast, marketing strategies, etc become issues while you think of your restaurant business expansion," Gandhi mentioned. She proposes a lot of campaigns focusing on customer retention, like 'Mellow Garden Anniversary Discounts' and so on!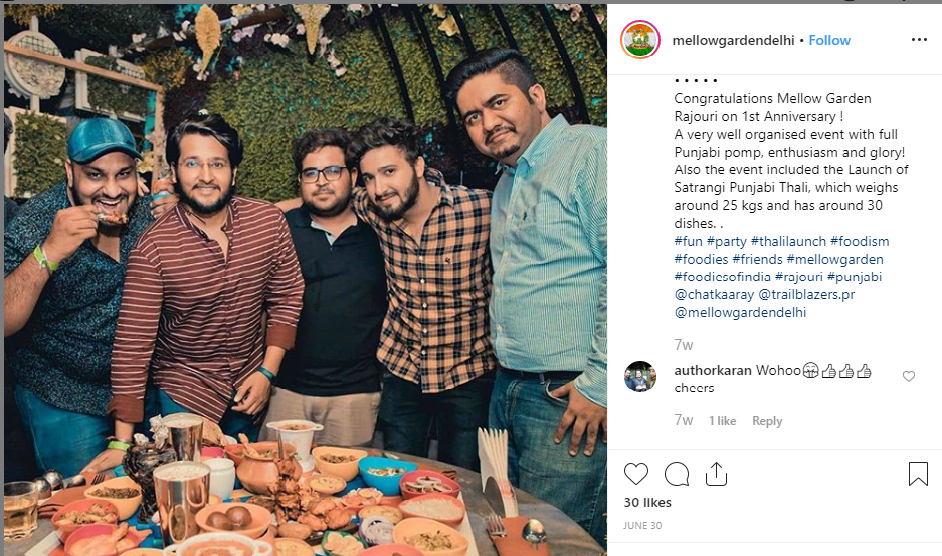 Managing a single restaurant is overwhelming as it is daunting. There are many restaurateurs who fail to keep their restaurant running, even after taking n number of precautions. Think about a restaurant owner with multiple outlets! It could be a nightmare if all the outlets are not functioning well enough. Gandhi's day is usually divided equally among the three outlets on Rajouri, 2-3 hours on each outlet. 
The use of proper restaurant management software streamlines a lot of operational hurdles that are otherwise difficult to manage. Especially when it comes to a chain of restaurants, things like getting a live feed of all the restaurants, constant reports of sales and staff performances, vendor and inventory management and so on would have a direct impact on a restaurant owner's life. 
The Secret Sauce Of Her Restaurant Outlets
Creating a great brand requires a lot of hard work but a reward is a good number of loyal customers. Being unique in the market brings you a more preferred choice of guests as compared to other top brands. Quality Food & outstanding service should be consistent with the brand name. Whether it be online or offline, the brand should look & acts uniquely. 
"The brand is what makes up a memorable experience and a great restaurant that attracts customers. All my outlets, Mellow Garden, House of Punjab & Just Behind U are working on these strategies", added Gandhi.