Oscar Balcon, an Italian citizen with deep roots in the Emilia Romagna region, the land of his mother, had always been in love with the food there since his childhood. Professionally, Balcon pursued a career as a banker. After retiring from a successful career in the corporate sector, he decided to serve the cuisine which he loved the most and that led the birth of Artusi Ristorante. Apart from good food, Balcon is also very passionate about fine Italian wines which he has been collecting with dedication for many years.
There are no twists, no fusion, no amalgamation, and no short-cuts at the Artusi Ristorante. The fine dining restaurants in Delhi and Gurgaon are known for their authentic Italian food and have been delighting customer ever since their inception.
Oscar Balcon Reveals What It Takes To Run A Successful Restaurant
The central concept, the cornerstone of Artusi is authentic Italian food. Balcon did not want to offer the generic Italian cuisine and instead serve something that reflected his hometown and the authenticity of Emilia Romagna region. The name of the restaurant is dedicated to Pellegrino Artusi, who is considered as the founding father of Italian cuisine. In conversation with The Restaurant Times, Oscar Balcon talks about the essential ingredients that made his restaurant a success.
Importance Of Location And Concept
Oscar talks of how Destination Dining has become a reality and a trend now. People are now ready to travel for an extraordinary dining experience. It is essential to define the restaurant type and identify the target demography and its most populated areas and then choosing a restaurant location that sets the business up for success becomes easy.
'A restaurant's concept is a combination of cuisine type and restaurant style,' says Oscar Balcon.
Even the smallest bistro or coffee shop requires adequate space for a kitchen, walk-in refrigerator, dry storage, and an office. A dining room needs an expanded area for a wait-station and possibly a bar. What looks like a massive space for rent can quickly fill up with all the necessary equipment to open a restaurant, so the choice of location is always significant for any restaurant and must be chosen carefully.
Building A Great Team
The importance of having a strong team cannot be stressed enough. Considering the high attrition rate in the restaurant industry, building an efficient task force is quite challenging. Direct involvement of the owner becomes crucial in this case.
According to Balcon, 'You can never force your staff to be motivated and perform their best. The best one can do is lead them, and demonstrate what you expect out of your staff.'
Balcon further emphasized on maintaining the quality of the staff and the service just as much as the food. It is important to train your employees and sharpen their skills. 'When an employee learns new things on the job, it gives them a greater sense of purpose. It also shows them that they are wanted for the long run, and are not seen as easily replaceable.'
Letting the staff know that they are appreciated and celebrating their accomplishments also helps in creating a wholesome work environment. Employees also love when they are involved in decision-making processes that affect them. For example, letting them set their availability and working collaboratively with the staff when scheduling their hours and shifts can go a long way.
Developing A USP
Every new day is a challenge, and every new idea is a challenge. With the changing consumer trends and customer expectation, it becomes difficult to cater to new trends while still staying true to the concept. Serving quality food and delivering exceptional customer service is the only way one can succeed in the restaurant business.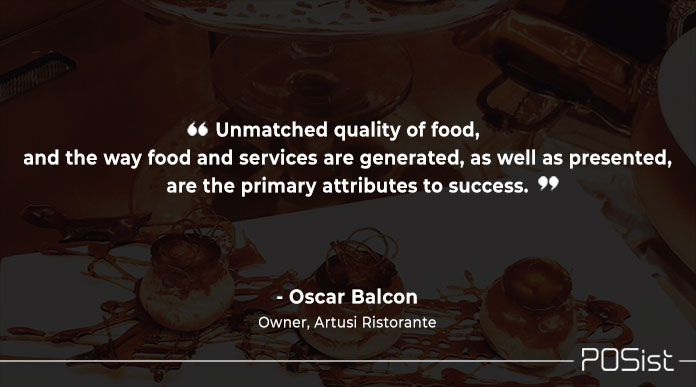 'Come up with a unique reason for people to eat at your restaurant. Keeping up with new ideas and adopting techniques to lure customers is a challenge faced every day,' says Balcon.
Spreading The Word
According to Balcon, word of mouth marketing is one of the most credible forms of advertising, as consumers trust their friends. It is all about creating a buzz, no matter what type of business or product one has. Whether its a brand, an eCommerce store, or a SaaS business. The more interaction happens with people; the more likely any name will spread.
He mentions that Artusi has always been very lucky in terms of loyal and repeat customers. Building conclusive involvement and relationships with customers help generate word of mouth.
It is also important to share updates about the restaurant online through social media, and that helps in increasing customer engagement.
Technology In Restaurants
Technology is exceedingly changing the way in which restaurants communicate with their potential customers. If a restaurant is not easily found on the internet, it can create a huge bump in the number of new customers one can acquire and retain.  Apart from social media, effectively using CRM and running loyalty programs enables effective customer engagement.
'Being able to analyze the daily operations and the sales effectively is essential to running a successful restaurant business,' Balcon says.
The use of Point of Sale software has become very important today. It gives a clear picture of sales and food inventory. One can check mistakes on orders and inventory, monitor employees work hours and supervise the daily operations. Managing the business becomes quite effortless in this case.
Oscar concludes with the thought that all entrepreneurs should carve their own niche to be successful. It is good to listen to the experts, but one should never try to copy others in creating their vision. If it has worked for somebody else, it doesn't necessarily mean it will work for you as well.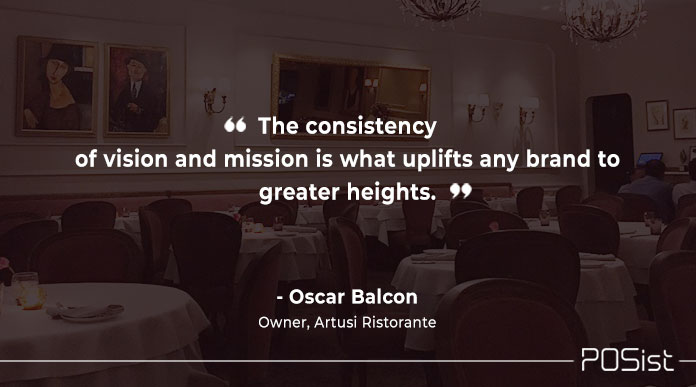 It is important to keep the vision of your venture in mind and align your business strategies to achieve your desired goals.  
Balcon has expansion plans for Artusi in the years to come, spreading the true flavors of Italy all around.