Being freshly minted out of college, it seems easy to imagine that one would know what students want out of a cafe in terms of food and pricing but Udit Khanijow, the founder of Big Yellow Door, knew that this is not the best way forward. He realised that primary and secondary research is necessary for every endeavour especially in the cutthroat food business where all his competitors were offering almost the same thing five years ago.
This is why he waited for the iron to get hot before striking. He worked for a while with Colgate after finishing his Masters in Business Administration from Mumbai's Narsee Monjee Institute of Management Studies. But, it wasn't long before he realised that he couldn't do a regular job and decided to strike out on his own in the restaurant business by opening the first outlet of a student-focused cafe in the heart of Delhi University's north campus in Hudson Lane termed Big Yellow Door in late 2012.
How Udit Khanijow Opened Big Yellow Door, The First Cafe in Hudson Lane
This was just the beginning of a long and arduous journey filled with challenges and achievements that has now led the cafe chain to become a household name amidst student circles who are looking for relatively inexpensive options to eat continental food that's both tasty and varied.
"I really wanted to do this for a long time, since I was in college. But when I was in college, I was interested more towards the healthy foods segment which wasn't prevalent in India as of then. I did all the research in my college and I took up this as my project as part of my curriculum. Then I realised that healthy food segment is just for the name. People are not ready to pay for healthy food, they are ready to pay for good food," he said.
The first cafe opened in Hudson Lane, Big Yellow Door was opened by him and Khanijow recalls how there were only seven restaurants in the market and all of them had an almost identical menu. He saw the gap and decided to bridge it by offering a new menu complete with continental and Italian offerings along with the cosiness of a small Mumbai cafe since he had studied there.
"I wanted to give the feel and cosiness of a cafe in Mumbai because there has been no shortage of space in Delhi. Everything's big here. There are restaurants rising up to two to four floors here. That's why we opened a small outlet which was a risk," Khanijow said.
The differentiator for Big Yellow Door turned out to be the availability of a different menu at relatively cheaper prices in markets where it would have been tough to find such offerings five years ago and that's the risk he took – which paid off rather well.
"At that time, you had to go to high profile markets like Khan Markets or Hauz Khas Village to have this kind of food. If you go there, you had to spend up to Rs 1500 per head so there was a huge gap both in terms of price and in terms of menu offered and in terms of the experience also," he said.
Creation of a Cafe
While there are many elements that go into the genesis of a successful restaurant, Udit Khanijow feels that location is the most important. While starting out, he didn't have much information about the industry but he knew his target audience were students in the north campus so the location was zeroed in on either Hudson Lane or Kamla Nagar market. However, Kamla Nagar had regulatory issues which left Hudson Lane as the only option.
"There were only two markets at that time, one was Kamla Nagar but it had some legal challenges due to which cafes can't operate there and those functioning there are illegal. That boils down to just one place which was Hudson Lane. It was a very big risk because there were only seven restaurants here. There was no cafe there, we were the first cafe there. We didn't have another option so we took the risk. It was a calculated risk but it paid off," he said.
After selecting the location came the difficult task of actually building and designing a space that students will appreciate as Khanijow's target audience is 18-35 years old. He looked for interior designers to do the job but failed multiple times as, according to him, the good ones don't work on smaller projects and those who are willing to work aren't as good.
This led him to pick up the pieces himself and he designed the first outlet with the help of his wife who is now an interior designer herself. Everything, he says, is handmade in the outlet which gives its own feel to the space.
Now, he has three outlets. Two in Hudson Lane – the second one was open to taking some load off the first one which always had to wait and long queues which were repelling customers, Khanijow said. There is another outlet in Satya Niketan where the south campus of Delhi University is situated. In the coming months, two more outlets are coming in Dwarka and Noida each as Khanijow plans to expand the reach of his brand.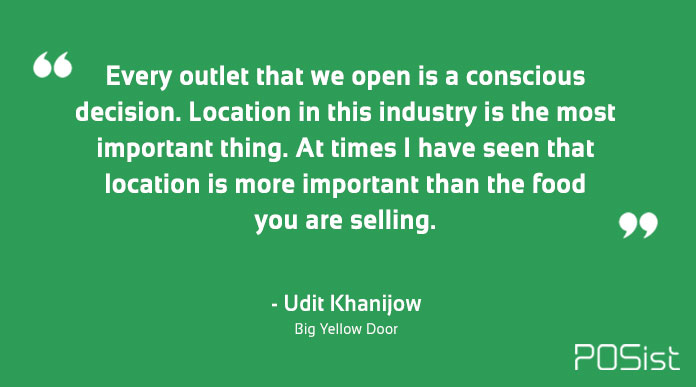 At the same time, he found himself on the streets looking for staff for his restaurant as he realised that the food industry wasn't as well organised and there were no real consultants who could provide good employees.
"I had no experience at that time so arranging staff was the biggest challenge at that time. The restaurant industry in India is a very unorganised sector. It is not as organised as other industries. There are no consultants as such who can provide you with manpower here. All the manpower that we use here is semi-skilled, sometimes illiterate or non-proficient with English etc which is a big challenge," he said.
Learning to Fly
At a point where there is a decent brand value for Big Yellow Door in the market and customers know it for its food and prices, Khanijow feels that the organic growth of his brand has been slower than it would have been with some venture capital funding or franchising model but he says it's a trap that he has carefully avoided over the last couple of years.
While he wants his restaurants to replicate the McDonald's or Starbucks' model of consistency of taste and value, he is not willing to ready to franchise his chain just yet.
"We are not looking to go for the franchise model yet but in future, yes. Currently, we are not franchise ready. 
At this point, his sole aim is to grow organically and maintain consistency of the taste in the food which he considers a big challenge for him as well as other restaurants operating in the industry.
"Food consistency is the biggest challenge that we face. It is the key here. If someone is investing money and coming into the market, we can expect them to make good food. Good taste can attract new people but consistency helps in building loyalty. It's a never-ending challenge." 
To achieve this, Big Yellow Door has one base kitchen where bases are prepared every day and delivered to all outlets early in the morning. At the same time, each item on the menu comes with a pre-written recipe so that the taste doesn't vary from outlet to outlet or when the staff changes given the high rates of attrition in the industry.
While this offers the chain a competitive advantage over others, it also means that the menu is largely stiff than others where things can be introduced or taken off more easily but Khanijow tackles this by continuously reviewing things which are selling or not selling and then replacing them throughout outlets. The process is slower but it definitely happens like a new product launch, he said.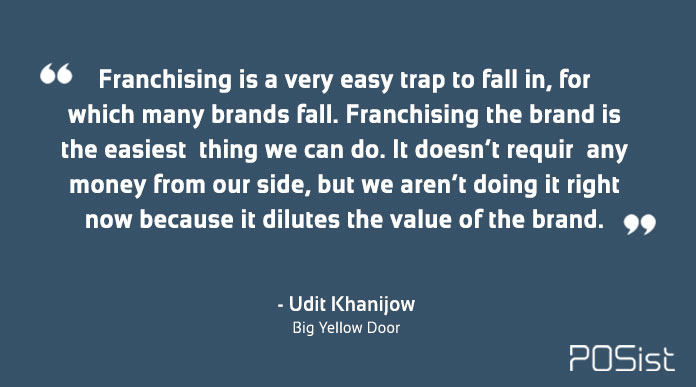 Adding that technology is playing a big role in businesses which are looking to expand rapidly, Khanijow stressed that his chain relies a lot on technology but said that it's not a prerequisite for a lot of restaurants which just want to operate one or two outlets.
"People who want to expand, yes, technology is playing a very very big role for them. For those who want to run just one or two restaurants, they can cut down on the technology part. For us, it is playing a big role. If your aim is to one or two restaurants, why would you invest in technology and that's a recurring expense," he said.
So how does Big Yellow Door manages to pull people inside apart from word of mouth? Like most other restaurants, it is milking the benefits of social media in the smartphone crazy nation where youngsters are hooked to Facebook and Instagram. Khanijow said that print media doesn't work for outlets like theirs and it is impactful only for expensive fine-dining places while having a dedicated social media team has helped them produce results.
What Should New Entrants Do to Succeed?
Differentiate. While it sounds like a cliche that gets passed on from entrepreneur to another and so on, Khanijow actually puts faith in research more than gut feeling and says that anyone wishing to open a restaurant should think long and hard about what they are going to offer and how is it different from what their competitors are already doing.
"Restaurants should not think that if someone is selling something they should also sell it. Where people lack is the research part. People don't do their research. They just try to copy others and I have seen people failing like that."
While he suggests that location should be the top-most priority for a new business as it guarantees footfalls even if the food is relatively average, he believes that good research can make all the difference between a successful enterprise and a failed entity.
"I think the location is the most important thing. For example, Big Yellow Door is on the main road of Hudson Lane but the market doesn't end there. The market extends even in small alleys and roads where cafes can be opened but as you go inside the market, the sales drop drastically and the rate of your success is negligible, to be very honest," he said.