At a time when not only customers but also investors' community seem to be shying away from Italian towards more exotic cuisines such as Mexican and Lebanese, Cheelizza has placed its bets on serving Indian pizza. Started in 2013, the only 100% vegetarian pizzeria chain is currently having four outlets in the financial capital of the country, Mumbai.  
Led by Animesh Lodha, a Chartered Accountant by qualification but a foodie at heart, the chain has ambitious dreams of taking on Domino's and Pizza Hut and dethrone them from being the first choice of pizza lovers. Even as the outlets serve only purely vegetarian food, the team is betting on the quality and inexpensive pricing to play its part and make the restaurant stand out.
How Animesh Lodha of Cheelizza Is Creating a Growing Pizza Outlet Chain 
We, at The Restaurant Times, engaged in a candid conversation with Animesh Lodha, the man who has been burning the midnight oil since 2013 to reach a milestone that no one could imagine for an Indian pizza brand. He spoke freely about his initial struggles, expansion plans, especially about his decisions to open outlets right around their competitor's locations.
"Hailing from a small town of Rajasthan, I came to Mumbai with big dreams but without any plan. I completed my Chartered Accountancy course and worked as an Investment Banker in  Edelweiss for two years. However, my love for food made it happen," he said adding that the three co-founders wanted to come up with something which could have a mass appeal while still having top-notch quality.
Fighting for Location
However, it's not just about the quality when it comes to making a food chain successful. If one wants to provide customers a good dining experience, location becomes very important and Lodha believes that food industry basically runs on location more than anything else.
"Restaurant is a location-specific business. Location is one of the key factors in opening a restaurant," he said. "The first thing we look for is competition. We go in areas where there are a lot of food brands, we love competition. We believe competition is the best thing that can help you grow. Wherever there are options to eat, people from nearby areas will visit  that place out of curiosity and that's all you need, you just want people to come and see you once."
Even though location can bring in customers, the onus is on the restaurant and its services to retain them and make them hook to your brand. Undoubtedly, Cheelizza has a slightly different strategy which not only focusses on its pizza but also has an ever-growing side menu which doesn't cannibalize sales instead, improves the average order value.
"We have pizza, pasta, garlic bread. Not only that, we have a rich variety of rice (in 4-5 varieties) to satiate your hunger. We introduced nachos and mocktails, for which we got a tremendous response. Last but not the least,  we have garlic bread platters and desserts to sooth your sweet tooth cravings."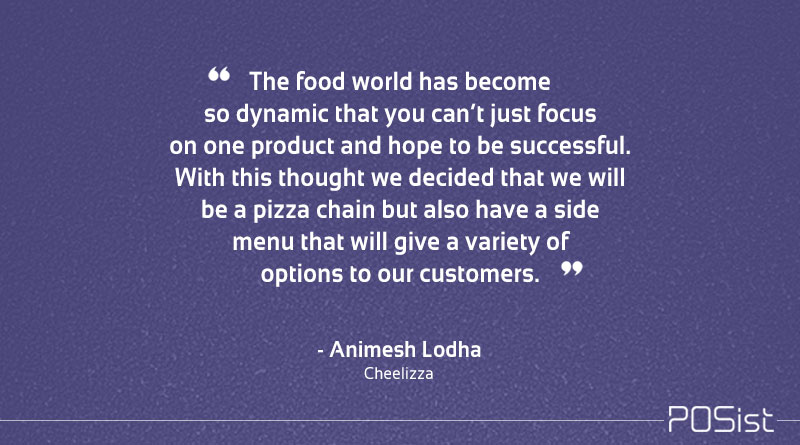 Talking about the company's expansion, the first outlet outside Maharashtra to be opened in the next few days, shall be in Rajkot (Gujarat). Two more outlets will open in Mumbai with a carpet area of more than 1,000 square feet each. By the end of this year, Cheelizza will have six new outlets taking the total count to 10. At the same time, after struggling in the first few years, the chain has doubled its sales in the last two years.
While it eyes fast growth in the future to take on Domino's and Pizza Hut, the chain has burnt its hands with the franchise model early on in its lifetime and doesn't plan to go back to it ever again.
Lodha further added that franchisees may not have the same passion or value systems for the company as its owners and that might lead to them doing it just for the money and that's a bad way for a company to grow because people could start cutting corners just to make extra bucks.
"If it's only about capital, then why don't you go slow and grow. Then you show your profitability to investors and expand with their money. We don't want any of our outlets to shut after opening. That's why we are very cautious when it comes to opening new outlets," he said.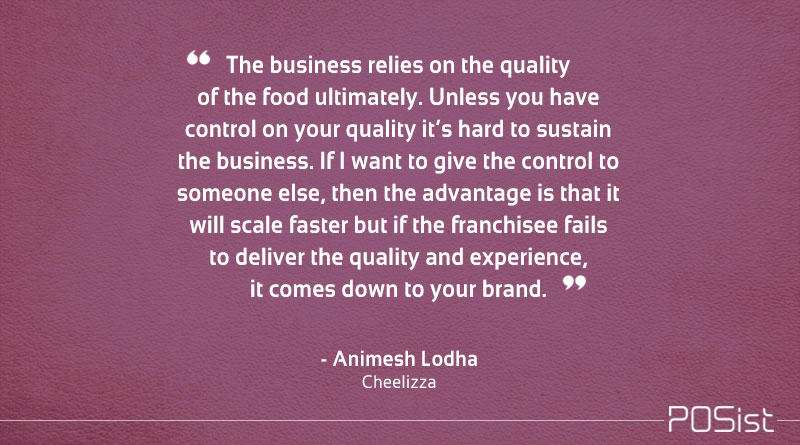 Personal Costs of Doing Business
However, Animesh Lodha didn't reach here just like that. The path to even starting the restaurant was full of challenges and the first few years after starting up were equally hard which took a toll on his personal life too.
Lodha said that his family didn't support him at all when he quit his job and kept asking him to get a steady job. Sticking to his guns, however, Lodha kept going and made his dream come true by starting the chain through a small restaurant in Kandivali, a small suburb, in Mumbai which exists even today and remains the best selling outlet of the chain.
"I had to borrow a lot of money with no repayment plan. The only hope was that the business will do well and it will become better. From 2013-2015, I was literally broke for almost every day of my life forcing me to cut down my personal expenses to a bare minimum. It was indeed tough and discouraging at first but I kept my spirits high in times of such adversity.. I wouldn't know what to do, where to go and whom to ask for help," he said.
These were not the only troubles that the pizzeria chain faced in its initial years. High rates of attrition in the restaurant industry came to haunt Cheelizza too as its chefs and staff kept leaving in the first two years of its operations.
"We didn't know how to retain staff as people were quitting. In outlet kitchen, delivery boys, etc, attrition remains high across the industry. International brands like Starbucks offered handsome salaries to employees along with lucrative employee reward programmes,"
However, he found a solution only after three years of being in the business. It involved changing the value system and treating all levels of staff as equals and giving them a say in the operations of the chain.
"I believed that hire and fire is a good policy but no, these things really matter a lot because they impact your business directly. Such decisions shape the future of an organization. And our industry, being highly people and relationship-oriented, a different approach had become inevitable. The treatment of my staff should be such that they feel like they are an integral part of the whole organization," he said.
Apart from this, the staff got other perks as well such as free movie tickets every month at PVR, rewards in cash and kind for the best employee, the best delivery person whose pictures are now displayed on the walls of the outlets. All such initiatives brought about a sense of ownership and team bonding among everyone.
Using Technology to Do Smart Marketing
Even though it seems like the chain is on track to challenge the giants in the industry, it didn't exactly have a smooth ride. Lodha admitted that he committed a grave mistake in the beginning of his business by assuming that he didn't need technology and that he could take care of everything through his Excel sheets.
 "Right now, our systems are end-to-end automated. Right from the time a customer places an order, till the time a marketing SMS is sent to him, we have automation."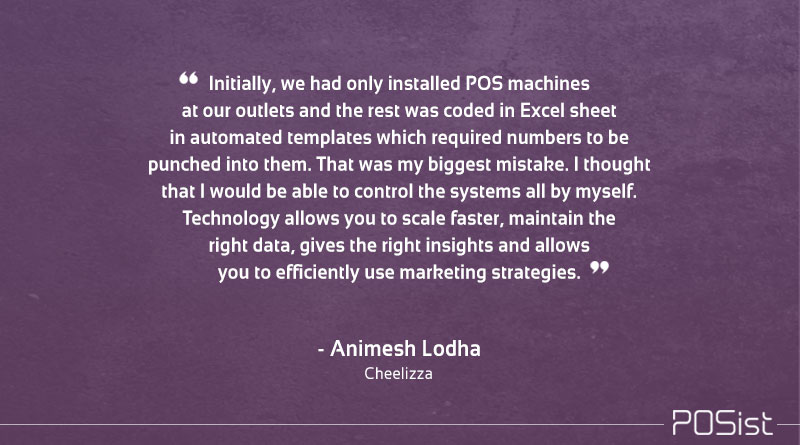 He detailed about another use of his automation system that allows them to bring in customers: "We have a bot based marketing system where a bot decides what a customer prefers, how much he spends on average, how many times he visits our outlet and so on. Based on that, the bot will prepare an SMS and send it without my intervention. This is the kind of automation that I had to bring in after my struggle."
Lodha said that the chain has not invested even a reasonable amount in marketing and branding so far and all the growth is purely organic and word of mouth so far.
"First of all, our budget is very limited so anything we do, we have to be very prudent with our resources. What I have been doing so far is sending customized SMS to my audience – those people who are coming to me, This exercise is being done after a careful and detailed analysis of the data collected by observing their food habits and order history. This leads to a highly strong and loyal customer base thereby leading to high retention rate," he said.
The chain, however, still does newspaper inserts twice or thrice a month along with social media marketing and an in-house loyalty programme that gives points to a customer on every order.
"I would like to conclude by saying that we have not even scratched the tip of the iceberg, but very soon a day will arrive when Cheelizza will be the market leader and a household name whenever someone will think about Pizza…."