The beer industry has been really special for India, considering the climate and consumer preferences. There has been a rapid change in what people are looking for, and their disposable income, bringing us to the rise of microbrewery business in India. The changes in trends in the brewery business or craft beer industry have made it possible for people to now enjoy beer like wine, focusing on its taste more than chugging it. We shall now look at all the possible aspects of this newly born industry, nurturing it for our own good.
Demand For Craft Beer Paving The Way For The Microbrewery Business
In the easiest words, any small-scale production of beer refers to craft beer that is produced in microbreweries. The industry as a whole is defined by the Brewer's Association, referring it to be independent and traditional. Since microbrewery as a setup can be easily accommodated in the traditional restaurant pubs and lounges, restaurateurs are now offering in-house craft beer to attract customers.
The beer sales have seen exponential growth from 2014 and even more from 2017 to 2018. The consumption in liters has seen a hike from 4.7 billion liters in 2017 to 6.5 billion liters in 2018. According to the Beer Connoisseur, an annual increase of 6.9% is predicted in beer sales between 2018 and 2022.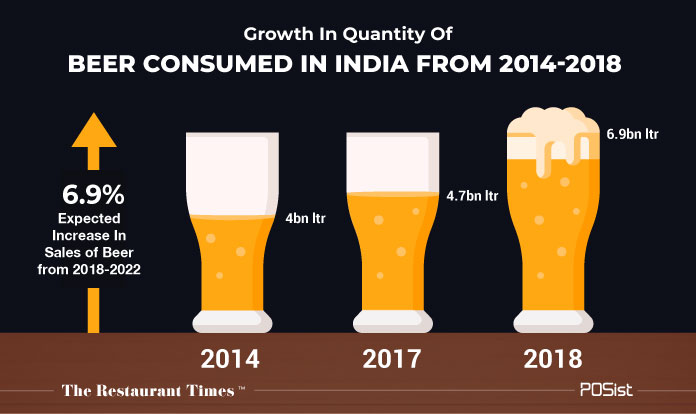 Currently, there are about 60 Indian microbrewers in India, with Bangaluru having a majority of them, followed by Pune and National Capital Region (NCR) The western culture and the quest for constant wanting something new have led to this huge shift, with millennials sitting on the driving seat. The younger generation loves the idea of authenticity mixed with flavor, and are willing to pay for it.
Why Is The Rise Happening?
With each change in the food and beverage industry trend, there is a big 'why' attached to it. Besides the better taste and the 'hype', there are a couple of reasons that have led to the growth of this industry at such an unmatched level. 
Bringing it straight from the expert's mouth, Suketu Talekar, co-founder of Doolally Brewing, a microbrewery in Pune, stated, "There is a possibility of creating about 2000 different varieties of beer. Indians are now seeking a wider choice and better quality that only microbreweries can offer. And since experience leads to education, Indians, especially in the metros, now have a better understanding of beer than before."
i) The New Cool Spots In Town
Consumers having a tendency to go out for beer and even more for finding a new spot in town has given a kick-start to the microbrewery business. The upcoming cafes and QSRs are now incorporating the brewery culture, putting in fresh craft beer flavors in their menu. These new spots have become major attractions in the cities, leading to all the more growth of the craft beer industry. 
ii) Increased Portability
In the huge rat race that humans are in, people are always running late with even lesser time for going out. Microbreweries have incorporated canned craft beers to handle the situation, thereby increasing portability. These canned new tastes of beer are actually going to be the next wave of the microbrewery business. 
iii) New Twists To Their Favorite Drinks
The microbrewery industry is now keeping in touch with the tradition but also adding in the spice of newness. Experimenting with the latest flavors using their creativity, restaurants have also made sure that they are able to give twists to their customers, attracting more and more.
iv) The Era Of Millennials
It is important to understand the driving force of a growing trend to completely understand. It is well known that millennials are the major target audiences for the microbrewery industry, as they are always ready to experiment with something new.
How Has The Microbrewery Business Started To Affect Restaurants?
We shall now look at how the rise of microbreweries has affected the restaurant industry in India. There are plenty of benefits that the newer trend has offered, which includes bringing in healthier food and loyal followers.
Microbreweries have made it possible for the consumers to now enjoy more variety by bringing a minimal change to their favorite restaurants, which in turn attracts more customers. Gaurav Sikka, MD of the Arbor Brewing Company, Bengaluru believes that the expansion of the craft beer market happened in the US, which is a mature market and is now invading India. Homebrewing inspired many brewers, some of whom set up brewpubs while others moved on to packaging the latter; either way, you can reach more people.
According to statistics, 500 more brewpubs would be seen popping up in India in the next five years. With the extensively increasing audience in favor to try all the fresh flavors of craft beer, we would also see other restaurants affected majorly by the same.
Beer sales in India have been predicted to grow by 6.9% in the next five years, with the stringent liquor laws being removed. There are well-established microbrewery businesses in Maharashtra, Haryana, Karnataka, Punjab, and West Bengal. Anybody wishing to step into the business can have their headquarters here.
Pubs and bars are now also incorporating craft beer into the existing space. Rahul Singh -the president of the National Restaurant Association of India and also the founder and CEO of beer chain Beer Cafe also believes in the power of craft beer and has incorporated craft beer into his chain.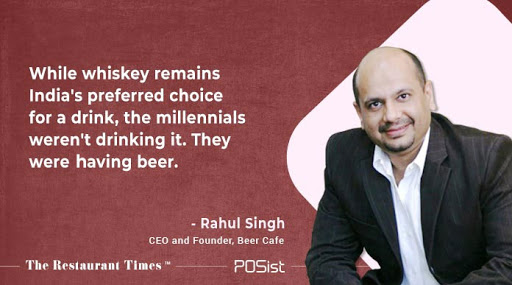 All in all, we are only saying that the microbreweries have risen, and are all set to conquer the world. The restaurant owners, retailers, and wholesalers have all made their way to increase profit out of the revolution in India, and maybe so should you!