With a Masters degree in Human Resources, Jyoti Ganapathi belonged to a non-FnB background, but since her teenage years, she had dreamt of being a part of the restaurant industry and having a brand of her own. Her love for the South Indian cuisine propelled her to open Dosa Inc, one of the few truck brands in Delhi that serve you the traditional South Indian meal worth every penny. Dosa Inc is famous for authentic South Indian cuisine, and Ganapathi brings the taste of her roots in the food they serve by using age-old family recipes.
Along with her husband, she has now scaled the food truck business and runs four food trucks in the country capital, a feat that not many have been able to achieve.
Jyoti Ganapathi Of Dosa Inc Reveals What It Takes To Run A Successful Food Truck Business
In a candid conversation with The Restaurant Times, Ganapathi shares her insights about the Food Truck business in India and what it takes to scale the business.
What It Takes To Start A Food Truck Business
Starting a food truck is like setting up any other restaurant venture; you start with the basics first. In the case of a food truck, you first start with the purchase and remodeling of the vehicle and then get the body fabricated.
However, this is where one needs to be careful. It is important to know the rules and regulations governing each type of vehicle that you're planning to use to open the food truck, mentions Ganapathi. Some of the permits overlap with what is needed for restaurants and catering kitchens.
"Licensing is an essential factor in getting a food truck started, starting from an FSSAI license, health trade license, a regular pollution check. Health department certificates, truck permits, and parking restrictions. Every town has its policies, so contact your local government to get the facts. The food truck business will be on wheels, so you need to consider some significant insurance costs as well," says Ganapathi. 
Before you start, you need to have a base kitchen, the right staff, and you need to decide the type of cuisine that you are going to serve. The type of cuisine that is being sold in the food truck is what creates a difference. The type of food is what makes one decide the shape and size of the truck, adds Ganapathi.
A food truck can be built with an investment as low as rupees 10 lakh which can go up to rupees 25 lakh, depending on the type of vehicle, and the equipment needed.
Deciding Locations For Food Trucks
The most different yet prominent thing about running a food truck is that one can pick the location and figure out the audience if a particular area is not working out for them.
We choose clusters of home and the neighborhood as our market. The idea is being close to customers as it helps to spread the word easily and generate a buzz that we are accessible, and the food is available in that particular area', says Ganapathi.
Nowadays, several food hubs such as food truck parks have emerged where a number of food trucks, food carts, and street food vendors offer their food for customers. Such clusters allow easy access to different varieties of food and give customers multiple options to choose from. According to Ganapathi, such parks and food hubs are a great place to introduce your food to customers and increase sales.
Challenges Faced While Running A Food Truck Business
Human resource management is challenging. The biggest problem is employing people, training them, and then losing them due to attrition. Therefore, it is critical to create a consistent interview process and stick with it.
"Start by creating a very definite job description that would attract the right talent. Including a very clear set of roles and responsibilities in the JD is the key to weeding out unqualified candidates," says Ganapathi. 
Weather is a significant challenge in the food truck business as the nature of the business is outdoor, so weather plays a key role. According to Ganapathi, even if one has the most efficient system for cooking food, if the weather doesn't cooperate, you won't sell a thing. Food trucks are at the mercy of the weather.
Traffic is another prominent challenge while running a food truck. Traffic is a serious issue in the country, so we have to plan around all the possible delays and detours due to traffic which makes it a little cumbersome and can hamper the business.  At Dosa Inc, we are always on our toes. We maintain a strict get-in and get-out time, adds Ganapathi.
The owners of any brand should be deeply involved in the operations on-site. Day to day involvement in the operations of the brand is the secret sauce of success.
Choosing The Right Marketing Strategies
With careful planning and thoughtful execution, advertising can get customers in the door night after night. Smart marketing helps flourish good influence and reach consumers who otherwise might never hear of you.
Marketing at Dosa Inc is at the informational level, and we rely on a traditional medium that is word of mouth, says Ganapathi. Word of mouth marketing will always be the best form of promotion for any mobile food industry.
According to Ganapathi, marketing to the existing customers presents a much higher opportunity for increased sales than spending big bucks trying to reach new customers. The current customers are a better source for attracting new customers than any marketing method for targeting people who haven't been to your food truck and aren't familiar with your menu.
Even the menu has much opportunity to upsell. According to Ganapathi, the menu should be designed keeping the customers in mind, and menu descriptions should be written in a way that tempts customers to order more. This automatically helps increase the ticket size of the order.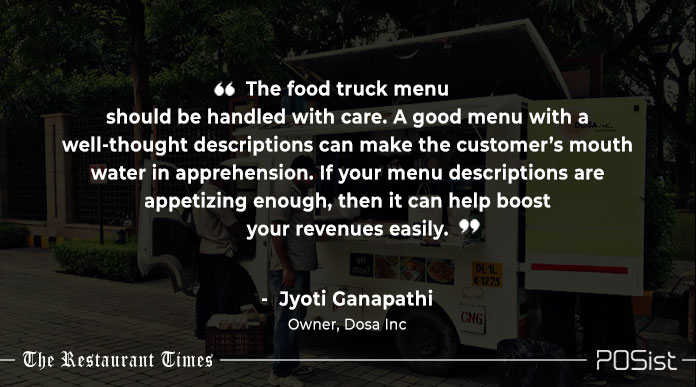 Role Of Technology In The Operations
Food truck sales are about agility and competence. The faster you can process orders at one stop, the quicker you'll be on to the next.
According to Ganapathi, the POS software holds an integral place in the operations for all kinds of restaurants as it allows interaction with customers and process orders faster.
"Posist allows us to use our iPad to browse product catalogs, process orders, swipe credit cards, and print or email receipts. It is especially beneficial for food trucks as we can use the software offline as well since we are always on-site. We can easily capture the customers' data from multiple sources into a central CRM, segment the data into buckets as per customer behavior and send personalized offers through engaging SMS and emails. Posist has made work very simple for us," says Ganapathi.
Ganapathi concludes by saying that she is now targeting different customer segments. Dosa Inc is now looking to expand its corporate presence in the future and will increase the number of food trucks from four to ten by the next year.