A visionary who loves introducing exclusive food concepts has alternated the way Delhi dines. He is the one who believes that the future of dining is essential guest experience, is credited with introducing unique brands with utterly different notions and approach. Inderjeet Singh Banga is the man behind three of the most popular restaurant brands of Delhi, Pirates of Grill, Prankster, and his latest venture, Pra Pra Prank. 
How Inderjeet Singh Banga Built Three Powerful Restaurant Brands And Made Them A Raging Success 
Banga ventured into the restaurant industry without any prior experience. In an exclusive interview with The Restaurant Times, he reveals how he made it happen with sheer dedication and hardwork. 
Building A Restaurant Brand
A lot goes into creating a great restaurant brand. All of Banga's ventures, be it Pirates of Grill, Prankster, or the latest, Pra Pra Prank, have become iconic brands in their domain. 
Pirates of Grill, Prankster and Pra Pra Prank cater to completely different divisions of society. While Pirates of Grill is a restaurant where both families and members of the corporate world would feel comfortable, Prankster attracts the younger crowd. Pirates of Grill serves, as the name suggests, grills and main course. Prankster's cuisine is more radical and displays progressive nostalgia. 
'Every restaurant has a story to tell. If a restaurant does not have a story or idea behind it, the essence gets lost. As an entrepreneur, if I don't have a story, people won't ever connect,' says Banga.
The names of Banga's restaurants are not only catchy but also describe the core concept of each venture. 
Pirates of Grill is a buffet with never-ending dine-in experience. Treasure hunt has always been associated with the pirates, and the theme of the restaurant inherently makes the customers feel that they are in a treasure hunt of food. It has been positioned as a value-centric family dine-in.
Prankster reflects fun and mischief and represents the frivolities of college life and youth. The name itself denotes how they surprise the customers with the food, ambiance, and service. Everything is designed to take the customer on a nostalgia trip. The menu consists of items that are readily available at the college and school canteen but with a unique twist. 
The ambiance of Pra Pra Prank oozes sophistication. Inspiration from diverse flavors reflects in the menu that attracts and delights customers at the same time.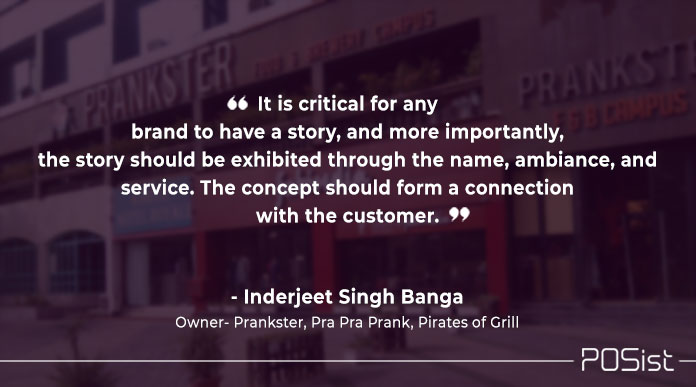 What Does It Take To Make A Restaurant Successful?
According to Banga, having the ideal location of the right size and proper negotiation for the rentals is crucial. Financial planning is essential; the money has to come first and then be spent judiciously. The top line and the bottom line of all the finances should be calculated correctly. One needs to position their product the right way, forecast the sales properly. All of these factors together help the business reach the breakeven quickly.
'I reached my breakeven for Prankster in 2 years. With the success of these three restaurant concepts, we are looking at closing this year with the revenue target of INR 125 crore.'
You need different mindsets to cater to different target consumers and having a clear understanding of each of the business models is important.
And for this, having the right team is essential. Putting a strong emphasis on staffing will translate into better customer experience and also encourage a deeper involvement of the staff with your business.
Your role as a restaurant owner doesn't just end here. In the first two years of opening shop, Banga was constantly on the floor monitoring the entire operations. 'It was a learning period for me too. Gradually, I learned that hiring people with the right attitude is critical, as it is your team who would be enforcing your brand ethos,' he reminisces.
However, you don't just need to hire and train your staff to make your restaurant successful; you also need to monitor them closely. 'Monitoring your staff and guiding them is all that you need to do. Ensuring the quality and consistency of the service and manpower are the two major challenges brands face,' says Banga.
Spreading The Word
All of Banga's restaurants have a strong brand presence among the customers, and according to him, social media and word of mouth are the most effective forms of marketing. Customer retention is one of the biggest indicators of an established brand. Pirates of Grill receives 80% of the business from repeat customers, which speaks much about the strength of the brand. Prankster and Pra Pra Prank also witness a sizeable repeat customer visits.
'Indians tend to talk a lot about food. Social media is the most effective medium to attract customers as word spreads automatically from one person to another. Customers click pictures of the food and post their experience on social media, which in turn, boosts footfall at restaurants,' says Banga. 
Banga's Secret To Success
Thinking like the customer, understanding what the customer wants and then concentrating on the touch points is what helped Banga be a pro restaurateur. Of course, his inherent inclination towards food and his passion towards the business contributed to his success.
'If you decide to open a restaurant, you first need to fall in love with the idea of your business model. From a distance, restaurants look like an easy investment, but one needs to understand the concept and work relentlessly to make it a success.' 
Another thing that Banga emphasizes is staying true to your own beliefs and getting the basics right first. "One of the most important things is never following someone else's path. Establish and plan your unique model, and do all that is needed to make it happen," says Banga.
Banga's ultimate dream is to open a Michelin star restaurant in India that is at par with the global culinary market. One can only imagine the level of customer service and innovations Banga is going to continue to bring in the days to come!