The women of our country have come a long way from being just homemakers and are equally matched against the most successful men in the hospitality industry. From leading global business giants to founding some of the most innovative food businesses, women have made a mark in almost any field one can think of. Women are doing a superb job striking a balance between their house and career. They have earned their rightful place in a male-dominated restaurant industry with their hard work and dedication. To celebrate their courageousness, we decided to profile the top 13 strong female entrepreneurs of the country who are an inspiration for aspiring F&B entrepreneurs 
13 Inspiring Women Foodpreneurs Carving Their Niche In The Restaurant Industry
Miti & Somi Jain Of Toro Churro
This duo co-founded Toro Churro, a  New Zealand based Churro brand and are currently expanding it across the world. Their entrepreneurial spirit has led them to introduce 'Churros' in Mumbai too.  It all started because they had a distinct passion each– Somi for baking and Miti for all things sweet and food. Running a dessert parlor is not a cakewalk, Miti and Somi had to face a lot of challenges while obtaining licenses and permits and also managing the employees. 
Both the ladies have successfully managed to maintain a balance between their work and education.  
Read their full story here. 
2. Chef Aanal Kotak of The Secret Kitchen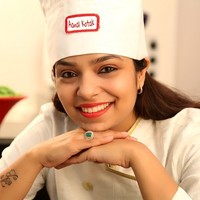 Celebrity Chef and proud owner of The Secret Kitchen, Aanal started her journey in the hospitality industry a decade ago. She has carefully curated, developed and managed the restaurant since its inception. She is better known as the 'Youngest Cooking Expert' after she won the cooking show on Colors Gujrati at the age of 20. Her accolades include a world record for the biggest Christmas plum cake in 2018.
Redefining the Indian hospitality industry with multiple offerings such as The Secret Kitchen, Akshada and The Baking Couture, Aanal has put her heart, soul and business acumen into building a distinct identity for herself. 
Read her full story here. 
3. Sweta Shivani of Waffle Bites
Sweta Shivani is the co-founder of Waffle Bites, Bhubaneshwar. Launched in 2017, Waffles Bites offers a range of novel waffle varieties. Along with her husband, she wanted to redefine the customer experience by bringing in innovation and delivering high-quality products. Being the pioneers of waffles in the Bhubaneswar market, Sweta enjoys the first-mover advantage. 
Since its inception, Sweta has been instrumental in expanding the Waffles Bites franchise across the city and aims to expand the brand to new outlets. 
Read her full story here. 
4. Swati Upadhyay of Concu
After identifying a gap in the dessert market of Hyderabad, Swati Upadhyay along with her husband founded Concu. A self-funded venture, Concu is an elegant patisserie offering a range of signature desserts, cakes, and beverages in a cozy, European-like ambience. 
Despite heavy competition in the F&B market in Hyderabad, Concu had made its mark in Hyderabad. From fancy customized cakes, cookies, packaged products to all varieties of quick bites, Concu offers the best of both worlds!
Read her full story here. 
5. Meghna Vakada of Barley & Grapes Cafe
Barley & Grapes Cafe has a fiery passion that has stemmed from Meghna Vakada's ambition to come up with a casual-dining eatery in Bangalore. Apart from B&G, Meghna along with her husband also owns Andhra Kafe and Blyton in Bangalore
Barley & Grapes is a pocket-friendly cafe which is high on flavor and offers a selective beer and wine bar menu. Meghna believes that in order to succeed in the F&B industry, a restaurateur must get their hands dirty and strategize beyond the day to day operations.
Read her full story here.
6. Pavithra Priya of Big Momma's Eatery
Equipped with years of experience in marketing and restaurant consulting roles, Pavithra Priya completed her hospitality management degree from the Welcom Group Graduate School of Hotel Administration (WGSHA), Manipal. Passionate about the F&B industry, she started with a home-based venture along with her partner and within a few months, it soon pivoted to a full-fledged café model with an expanded menu. 
Coming from a family where food equals love,  Big Momma's Eatery offers gourmet dips and customized catering for small events, special occasions, and parties.
Read her full story here.
7. Puja Bhatia of The Conical Twist
Clearly an ace at multitasking, Puja Bhatia is a qualified chef turned entrepreneur. She holds a degree in culinary management and lives by the motto "Always only quality and everything else follows".
Her venture, The Conical Twist, offers delicious cone pizzas, with the tagline 'In Crust We Trust'. It is a fairly new concept in the Indian market and Puja strives to make her pizzas more yummy and simple.
Read her full story here. 
8. Twinkle Keswani of Toro Toro
Twinkle is  Executive Vice President at Silver Beach Entertainment & Hospitality and also the founder of Toro Toro, Goa. She has previously worked in the banking sector, before joining the hospitality industry. She has in-depth expertise in handling restaurant operations. 
Toro Toro is a tropical heaven set amidst the hustle and bustle of Baga, serving delicious  Goan, Continental, and Asian cuisines, besides seafood. 
Read her full story here. 
9. Minu & Preeyam Budhia of ICanFlyy
Minu Budhia, an entrepreneur is a psychotherapist and counsellor by profession. Along with her elder daughter, Preeyam Budhia, this pair of geniuses started ICanFlyy cafe and an institution for special needs children.
Drawing motivation from her younger daughter who is a special needs child, Minu established ICanFlyy, an institute for special needs. The institute provides vocational training in a secure and professional environment for mentally-challenged people. Their purpose is to empower the differently-abled and show the world how truly gifted such children can be. 
Read their full story here. 
10. Neha Sethi of Sweetish House Mafia
The force behind Sweetish House Mafia, a brand that claims to be the 'secret purveyor of all things sweet', Neha established her first outlet in 2013. She began by selling cookies in a Nano car. Soon, her cookies were so popular across town that she started with her own outlet. 
A finance degree holder from the Wharton School of Business, Neha's love for bakery couldn't stop her from experimenting. Within 5 years of its operations, Neha along with her brother-in-law has opened more than 20 outlets across 4 cities.
Read her full story here. 
11. Saloni Brahmachari of Tandoor Box
Saloni Brahmachari, a serial – entrepreneur started  Tandoor Box in 2016. Her passion for bringing Delhi food to Bangalore influenced her to start  Tandoor Box. The brand is all about the easy, smokey, broiling goodness of food cooked in a tandoor. Later, they started another brand serving Indo-Chinese food named Dragon Box. 
Together, they cater to more than 300 unique customers daily with a repeat customer base of more than 65% over 4 stores in Bangalore.
Read her full story here.
12. Monica Raju of Nau Se Barah
Monica Raju is the co-founder of Nau Se Barah- The Movie Bar. It has acquired fame for being a movie-bar, a filmy-themed restaurant offering a wide range of food and drinks, letting consumers experience Bollywood like never before. They also sell Bollywood influenced mugs and pillows.
Nau Se Barah is certain to make a buzz.  She believes that the key to repeat business is consistency in both what you offer and how you deliver it.
Read her full story here.
13. Akanksha Tiwari, F&B Consultant
Akanksha Tiwari, a seasoned hospitality professional who has been in the hospitality industry for more than 7 years now. Working as a consultant with One Point Management & Consulting, she has consulted with a number of brands in the south.
She has been instrumental in scouting for the ideal locations to facilitate smooth expansions, executing & monitoring training programmes, meeting international  standards 
Read her full story here.
Happy Women's Day!