One of the biggest challenges that the restaurant industry faces is attracting and retaining the right talent. The employee attrition rate is notoriously high in this business. In this article, we will take a look at what is it exactly that makes the industry so hard to work in, and give the unsung heroes of the restaurant business, the restaurant staff, their due attention.
The Challenges of Working in The Restaurant Business
The restaurant business is tough. Period. While much is talked about surviving the industry in terms of breaking even and profitability, the actual struggles of the doing the groundwork is often missed. Here we have listed the top challenges of working in the restaurant business, that the restaurant staff undergoes every day. 
Wrong Working Hours
Working in the hospitality and food service industry can be the most satisfying. And when you have a genuine love for food and an intent to make people happy, working in a restaurant can be very fulfilling. However, even the best of your staff will have one common complaint that surpasses everything else: wrong working hours. This is one of the major challenges of working in the restaurant business.
Restaurants are infamous for their notoriously long working hours. But, as most of the people working in the restaurants will tell you, it is not the long working hours that are difficult, its the wrong working hours. A typical restaurant starts its operations later in the day, post-lunch, and stays open till late in the night. This gives the restaurant staff little time to spend with their family. Also, the weekends and the holidays are the busiest days of the week; taking off on these days is next to impossible.
Dealing with Bad Customers
In the hospitality business, you encounter customers of all types. While not all customers throw a tantrum and demand free food, there are always a few customers who can be very difficult, to say the least. From complaining about the food to being a nuisance, customers can often be a pain to handle. Here are some handy tips for dealing with difficult customers. 
Minimum Wage
There is a lot of unskilled labor involved in the restaurant business, which results in low wages. Even for the jobs that require skill and experience, the average salary for the restaurant staff remains quite low. 
Poor Working Conditions
No matter how much we decorate and design the interiors of our restaurants, the sad truth remains that the working conditions of the restaurant staff are still abysmal in most of the restaurants. There are few restaurants that actually have a designated area for the employees to take a break or which provide wholesome meals.
Unorganized Sector
According to the NRAI food services report, the unorganised market is expected to fall to INR 2,93,950 crore (59% of the total market share)  by 2021 from INR 2,07,635 crore (67%) from 2016. Although this is a progressive indicator, the restaurant sector for most parts still comes under the unorganized sector and will continue to do so for the foreseeable future. There are usually no HR policies or a clear hierarchy structure. This lack of staff management policies and processes leads to dissatisfaction among the restaurant staff.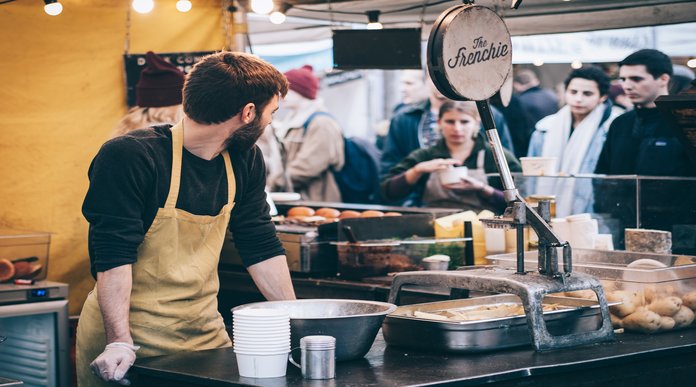 Why You Should Give Due Importance to Your Restaurant Staff

When someone talks about swelling restaurant business, or when one looks at a massive restaurant empire, one generally talks about how good the restaurant concept is, or how well the management of the restaurant is. However, the main lifeline of the restaurant is often forgotten: the restaurant staff.
No matter how good your restaurant food,  menu, location, or theme is, if you do not have the right number of and competent restaurant staff in place, your restaurant is most likely to fail.
In the tumultuous territory of the restaurant industry, the unsaid heroes, the restaurant staff are the ones who are mostly neglected. They work relentlessly, behind the scenes and are often very easily forgotten. Most of the times, they are not paid well enough, not given much attention to by the restaurant management, and made to work long hours in low salaries and they are hardly appreciated.
A well-trained restaurant staff = smooth operations
Considering the sheer number of restaurants that are cropping up, there is no dearth of jobs for the restaurant labor force. For this reason, the junior level staff especially is known to switch jobs without any hesitation, and often without serving a notice period.
Although the staff may be easily replaceable, this sudden disappearance on a busy day is sure to cause a dent in your operations. Add to that the time and energy you spend in training each resource. A well-trained staff who is well versed with your restaurant operations will be more efficient in his work and lead your restaurant to success.
Your restaurant staff plays a crucial role in customer retention
Apart from this, a band of loyal employees not only does their job well and work to build your business better, but they also play a crucial role in customer retention. A regular customer often looks for their usual server while placing the order. The server also gets familiarised with the customers' preferences and is able to build a better relationship with them. This not only drives better customer engagement, but it also opens an opportunity for upselling.
Happy and motivated restaurant staff is more dedicated
It doesn't need to be said that loyal, happy, and motivated restaurant staff will be more dedicated towards their work and will continuously strive for the betterment of the restaurant. When an employee feels connected to the organization, they work not only for their growth but for the restaurant's growth and success.
How to Keep Your Restaurant Staff Happy
It doesn't take much to keep your restaurant's lifeline happy. Good pay as per the industry standards and good treatment is enough. However, to inculcate a feeling of belongingness in your restaurant staff you'd have to go the extra mile.
Once your restaurant staff feels that they belong to your restaurant, the services provided by them will automatically be better. You as a restaurant owner must also understand, that everyone, might not be at their optimum best, from day one. Hence, give them time to come out of their shell. Training them right, and investing your time and resources in them is going to make them feel enabled and empowered. Even then if you see that some of your restaurant staff is not performing well, you can personally talk to them, ask your manager to make them go through the training process once more. Keeping restaurant staff happy should be every restaurateur's priority.
Your main aim should be to identify the issues that reduce the productivity of your staff and then taking steps to rectify the problem.
Appreciating your staff is just as important. Arrange regular meetings with an agenda to not just review their performance, but to also appreciate and incentivize them. Also, be open to feedback and suggestions from the staff as well. Taking their reviews and giving them due consideration will make your restaurant staff feel valued. Once you can establish the fact that they have played a role in the success of the restaurant, they will with all their energy and strength work further to bolster your efforts.
Here are 10 golden ways to keep your staff happy and motivated that is sure to boost your employee productivity.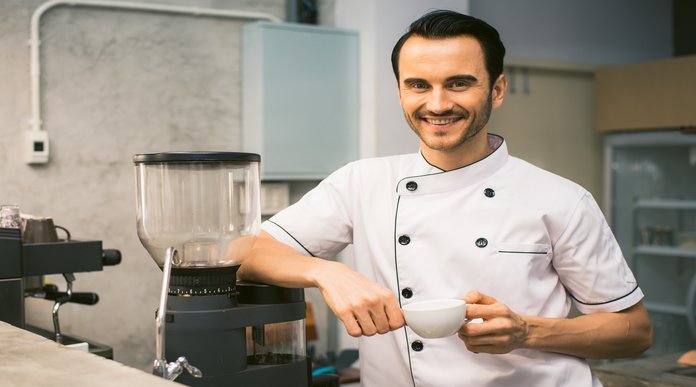 You as a restaurant owner are responsible to establish this system and processes in your restaurant. Do not leave it only for your manager to tackle the restaurant staff. You must take an active part, and set the process yourself. Remember, no matter how well you are able to attract customers, if you do not have the right number and a  competent workforce, you can hardly appease your customers. So, take all the necessary steps to reduce the attrition of employees by keeping them happy.