With global cultures combining and lifestyle trends changing, customer demands from restaurants are evolving at an increased pace. The newest hit in the industry is Soup Meals. Expanding outlook of millennials has turned soups into wholesome meal options which is why as a restaurant owner you should evolve and hop on the soup wagon.
Why You Must Not Miss the Soup Meals Calling
Soups have lately become more popular than ever! With globalisation and cultural integration at a rise here is why soups are not to be taken lightly anymore!
Being the Trendsetter
The food industry is an ever-changing business where trends change as per the whims of restaurant goers. The millennial generation values soup as a wholesome and nutritious meal that keeps up with their diet charts and hectic schedules alike but sadly has only a few options when it comes to ordering soup which is basic and so after a point becomes undesirable. A restaurant that has an evolved soup menu with soup bowls, fusion soups and basically better variety of it is sure to garner more footfall and set a trend that millennials are dying for.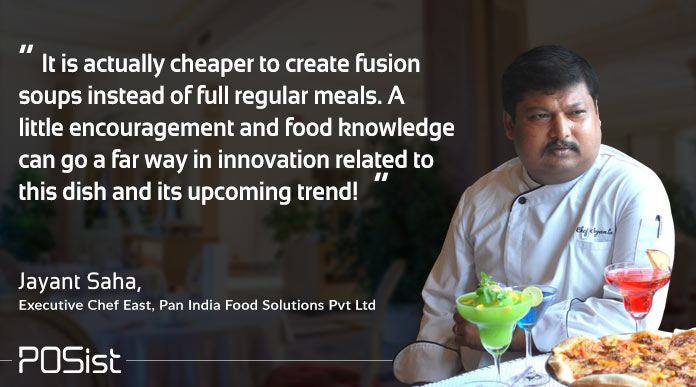 Keeping Up with the Lifestyle Trends
While a change in diet and lifestyle trends of the consumers is enough to give any restaurant owner nightmares, they also create opportunities for restaurants to grow and experiment with their food. The current trend is focused on fitness as more and more people of all age gaps are getting health conscious. Soup is thus taking the limelight as the perfect meal option especially for dinner since it is light, fulfilling and tasty all at the same time. Experimenting with this underrated genre will help you tap into both minds and the weight-conscious and turn them into your regular customers. As more and more people are entering the organised sector, time is turning into a luxury. While one can splurge on a weekend on most days working professionals prefer dinner that is tasty, full of nutrition, light and fast served and eaten. Soup meals tick all these checkboxes and is turning into a necessity in the upcoming world.
Global Reception of Soup Meals
Changing diet and lifestyle preferences though major are not the only reason we suggest you should include soup meals on your menu. Soups as they inherently have a great scope of flavour and experimentation are simply tasty and well received internationally. Hence it is easy to use them as broth and couple them with solid foods to create better and newer dishes that are unique in flavour and nature but even then are familiar enough to serve an international audience. Evolution of soup has literally become the need of the hour but although soups have long entered palettes of Indian consumers has not yet been properly tapped by Indian restaurants.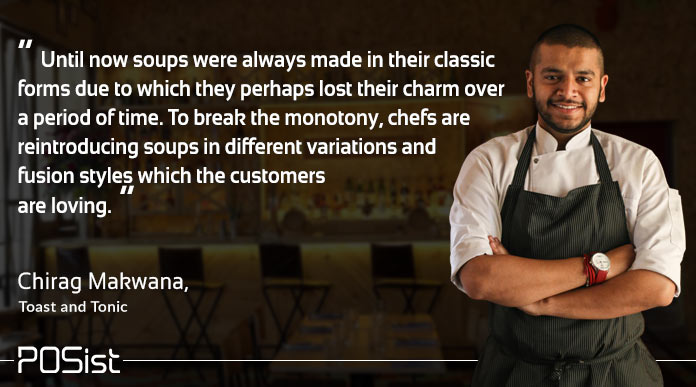 Chirag Makwana of Toast and Tonic has been innovating and creating fusion soups like the T& T Pho, Crab Bisque and the Monsoon Bone Broth which the customers are loving!
All across the world soup is undergoing a revolution with speciality soup chains coming up. Some restaurants in India offer the luxury of unique bowls of soup meals but sadly they are limited both numerically and geographically. India is at this point an apex market for a change in soup meals trend with both the demand and consumers being an all-time high. The restaurants which sense this and take advantage of this opening at the earliest are sure to fare well and anticipate an increase in both popularity and profits.