Technology has been used in the restaurant industry for long, but it has become indispensable with changing times. The restaurants that have been quick in adapting to technological advancements with changing times have acquired and retained more customers. From systematic online delivery to dining in a fully automated restaurant, technology innovations have set high customer expectations. As the year 2020 is fast approaching, technology and automation will continue to accelerate in the restaurant industry. Digitization and improved restaurant tech services would set new standards in the F&B industry on the whole. Restaurants will invest in technologies that provide them with an edge to better adapt to the needs of the customers. 

Top Technological Trends In Restaurants For The Year 2020
In the upcoming year, the restaurant industry is likely to witness trends that would revolve around innovating food tech, providing a seamless experience to the customers thus streamlining the entire workflow of operations. 
Let's look at the upcoming Restaurant Technology Trends for the year 2020.
Voice Technology 
"Alexa, please add burger in my existing order."
Virtual assistance is no longer a distant reality in the restaurant industry.  Well known chains like KFC, Pizza Hut have enabled voice-activated ordering to provide a seamless experience to their customers. In-app voice assistance or integration with major virtual assistants like Alexa, or Google Assistant provides easy navigation to customers for placing orders using voice commands. Voice assistance is one of the most promising technological trends and will influence the future of the restaurant industry. 
Tabletop Ordering System
Tabletop ordering systems provide diners with the ease of scrolling through the entire menu digitally and give orders. There is no need for servers to physically take orders from each table. Orders placed through digital menus are directly transferred to the kitchens. Some systems are also integrated with entertainment features to engage customers while their order is being prepared and delivered at the tables. These systems decrease the table turnaround time, serve more guests and ensure better service delivery.
Chatbots
Unlike traditional dine-in experiences, placing orders on digital platforms lacks a personal touch. To provide a personalized experience to customers while they place orders on online platforms, interactive chatbot assistants could become popular in 2020. Large restaurant chains like Burger King and Taco Bell have already introduced chatbots which are turning out to be an effective tool for engaging the customers. They are programmed to carry out tasks like answering FAQs, processing orders, sending targeted promotional messages and directing customers to website or payment getaways. 
Chatbot technology is well integrated with social media platforms such as Facebook, Whatsapp, inbuilt mobile app and website. Overall, chatbots will continue to evolve as a wonderful marketing tool that would deliver more value and enriching experience to customers.
Self-ordering Kiosks
Large Quick Service Restaurant (QSR) players like McDonalds are setting a new trend with kiosk, which has been a less explored area of guest-facing operations in the restaurant industry. Kiosks are small standing digital systems that let the customers place orders themselves. They speed up the service with a significant reduction in order taking time. Kiosks are versatile systems that enable customers to customize their orders and pay for them via their preferred mode of payment. Kiosks cut down the long waiting time in queues even during peak hours and direct more customer traffic. This results in an increase in sales. A full display of the entire menu in a single click and the ease of convenience in placing orders also helps in upselling. 
These systems also provide real-time insights about customer preferences. All the data is well synced with the POS terminals. Restaurateurs can easily determine what is working well and further, brings improvements in overall services.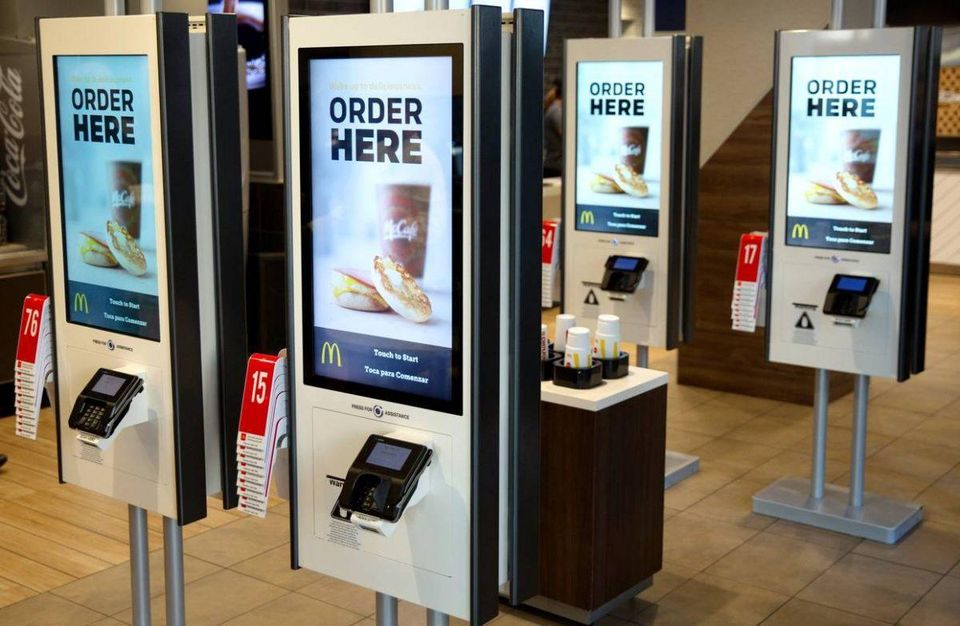 Handheld Order Taking Devices
With more restaurants understanding the importance of handheld devices for order taking, the traditional pen and paper-based order taking will soon fade away. Handheld devices such as tablets and mobile billing apps save a significant amount of time with each order. The orders taken by the servers directly reflect in the POS systems. As these hand-held systems are well integrated with the overall restaurant management platform, servers can also avail the entire order history of specific customers. 
Order taking on handheld devices decreases the table turnaround time drastically.  In turn, restaurants are able to take more orders. This has two major benefits. Firstly, servers do not need to manually relay KOTs to the kitchen. Secondly, chefs can begin preparing the dish in question as soon as the order is placed, improving both serving time and staff utilization.
Restaurant Owned Mobile App 
According to the 2019 National Restaurants Association of India (NRAI) report, 44% of consumers said that they placed a food order using a restaurant app or website during the past year. This explains the importance of creating a mobile app that enables the customers to place orders as per their convenience. Mobile apps not only increase the number of orders but also increase brand awareness.
The many benefits of in-built Mobile Apps include better audience reach, enhanced customer experience, targeted customer offers,  hassle-free order management and improved return visits. 
Many restaurant chains that serve in-house liquor have made it easier for customers to order drinks from their dine-in ordering apps. Mobile technology is also beneficial for restaurant staff. It ensures transparency, accuracy and ease while managing the operations. This is one top trend that the restaurateurs would not want to miss in the year 2020. 
Kitchen Display Systems(KDS)
Kitchen Display Systems have gained popularity in the restaurant industry for their immense contribution to maintaining consistency and efficiency. This technology enables an effective flow of communication between the restaurant's Front of House staff and Kitchen Staff. All the dine-in and online orders from the website/mobile app or third-party aggregators are directly pushed into the restaurant management system. Modern-day POS terminals are well integrated with Kitchen Display Systems. This powerful integration ensures that consistency levels in food preparation and inventory remain constant across the entire restaurant chain. With Kitchen Display Systems in place,  restaurants can rest assured that service, speed and consistency are never compromised. 
Marketing Automation 
Over the years, restaurant marketing has become more analytical and data-driven. With better restaurant management software, targeting potential customers will not only be intuitive but also supported with data.  A restaurant CRM software that consolidates customer data from all platforms can provide invaluable insights that can be utilized to develop customer-centric loyalty programs. The restaurants will also be able to attract more customers through targeted marketing campaigns using email, SMS, website, and social media channels.
Robotic Chefs
While robots in the kitchens could someday automate the entire meal preparation process, they are currently not being employed to replace human chefs. Instead, robotic systems in restaurant kitchens will fasten order management and enhance the overall performance of the restaurant. With an effective combination of human skills and automation, restaurants can effectively optimize order delivery time and speed up the entire chain of events from order placement to food production to service delivery. Automation in the kitchen would provide an impeccable customer as well as employee experience and a competitive edge to pace well with growing customer demands.
With automation setting in, the food industry will certainly become more efficient. From accessing the entire status of your restaurant operations in a single click to employing robots in its kitchen, technology solutions have the potential to change the entire restaurant business for the better. The evolving technological trends in restaurants will improve efficiencies and expand the customer base without disrupting the core functionality of your restaurant.