Running a standalone restaurant is a quite tedious and time-consuming task in itself, and managing multiple outlets of a large restaurant chain becomes even more difficult. The most prominent challenge restaurateurs face while running chain restaurants is monitoring the business of each outlet. Since it is not possible to be present at all the outlets to control the operations, you should make use of a robust restaurant ERP software to manage your restaurant chain.
A cloud-based restaurant ERP software provides end to end management of all the outlets and allows you to control the operations from one central point. In this article, we will walk you through how you can manage your restaurant chain with the help of a restaurant purchasing software and the top features to look at while choosing one for your restaurant enterprise.
Restaurant Management Features to Look for in a Restaurant ERP Software
Although managing a restaurant chain is a problematic affair, you can do it just right by employing the right restaurant purchasing software. Once you have the right technology in place, it will help you to manage your restaurant chain seamlessly. 
1. Detailed and Multi-level Reporting
If you are running a large chain restaurant, one of your main worries will be how to have tight control over all your restaurant operations even when you are not present at your restaurant. Employing the right restaurant purchasing software will ensure that you have real-time reports of all the activities of your restaurant. These reports include the number of bills generated, the discounts offered, the footfall in each of your outlets, the stock available and the stock used each day, the performance of each staff and such other related information.
You will also be able to have a comprehensive and comparative report across all the outlets. With these reports, you will be able to judge how the different items are performing in the various outlets and make appropriate changes in your menu to bolster your sales.

2. Strong Stock and Inventory Management
Apart from the cash counter, another section that is notoriously known to drain the restaurant by increasing its expenses is the stock and inventory. If you do not keep tight control over your stock and inventory, you are likely to incur huge costs from the generation of kitchen waste and theft and pilferage. Keeping track of the stock consumed daily of each outlet becomes tedious if you collect the reports manually from each outlet. A cloud restaurant purchasing software gives you the consumption report and the stock requirement of each outlet. 
This restaurant ERP software will send you

real-time reports of the stock available

, the reports at the beginning and the end of the day about the stock used and the stock available.

You can check the

variance between the ideal stock that should be consumed during the day and the physical stock that is available at the end of the day.

The variance report will help you to keep a

check if any misappropriations are happening in the inventory section.

If you are having a base kitchen from where raw materials get circulated to the various outlets,

then the stock requirements of the multiple outlets will be shown in the central POS

, from where you can keep a track to see if the circulation is happening accurately.

You can also set 

real-time alerts for whenever a particular item reaches its reorder level

. You can even manage the shelf life of the items, especially the perishable ones.

You will receive notifications whenever an item reaches its expiration date.

This will also ensure that you're kitchen never runs out of stock or an item is ordered which is already available in stock.

Maintaining consistency across all the outlets should be your primary concern. Checking inventory and maintaining the consistency of the recipes are interlinked. With the right POS, you can update the central recipe management which will be instantly shared with all your outlets. This will ensure consistency in the food items offered.

Recipe Management feature automatically deducts the amount of stock consumed based on the number of orders.
3. Central Kitchen Management
If you are running a restaurant chain then setting up a base kitchen becomes a necessary prerequisite. Once you have set your base kitchen, it will automatically help you ease out your operations, however managing a base kitchen from where the raw materials will get circulated to the other outlets isn't easy. This is where restaurant purchasing software will come in handy.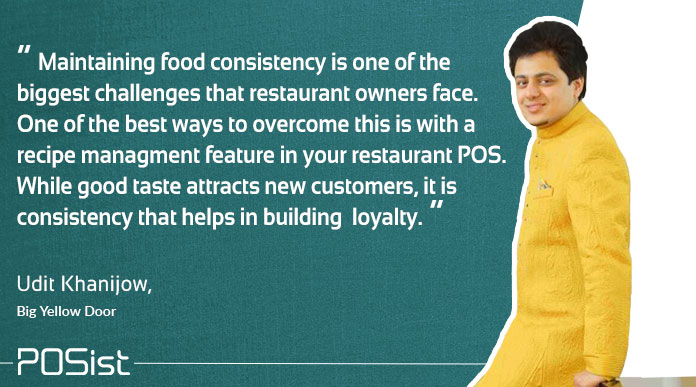 The ways by which comprehensive central kitchen management will help you have tight control over your food production in various outlets are –

(i) Managing the Yield
A restaurant ERP software with a smart Central Kitchen Management feature will allow you to calculate the yield of your stock. This would help you to view the yield of each item of the inventory automatically. 

Once you have the yield of each item, you can order stock accordingly and this will ensure that you don't order more than what you need and will also reduce your food cost.
(ii) Controlling Food Cost
A base kitchen will help you to view the food cost incurred in various outlets over a period. This way, you can compare the costs and analyze the performance of each outlet.

 You can also view the actual food cost and ideal food cost of finished goods for a specific date range, and then c

ompare them by calculating the variance.
(iii) Maintaining a Consistent Recipe
Maintaining consistency in taste and quality is critical when you are running a restaurant chain. Having one uniform recipe for all items will ensure consistency in taste, quantity, and quality of your dishes across all your outlets.

A restaurant ERP software helps you keep track of the amount of stock consumed in the preparation of each item with the help of intermediate recipes.
(iv) Forecasting in Advance
Depending on last month's stock consumption report you can estimate the amount of stock needed for the upcoming month.

Estimate the number of stock items needed to cater to the inventory requirements of each outlet.
(v) Managing your Warehouse
Distribute the processed and semi-processed raw materials based on outlet stock requirements.

Issue the raw materials for various outlets based on the indents raised.
4. Vendor Management 
A variety of raw materials and ingredients need to be obtained for a restaurant kitchen. Some items can be purchased and stocked on a monthly and weekly basis, while certain perishables need to be procured daily. Now, these items are purchased from different vendors and keeping track of all the vendors, and their details become a difficult task. A restaurant ERP software simplifies vendor management quite easily. With the help of an integrated Vendor Management feature you can:
Manage vendor profile of multiple outlets at the central level.

List out all the contact details and information of the vendor such as  PAN Card details, ID proof, TIN and the like.

View and manage the price of different vendors of multiple outlets from one panel.
5. Centralized Marketing Control
Restaurants collect data every day, yet they are not able to make proper use of the data. A cloud-based restaurant ERP software provides a central customer database that can be used by all the outlets of a restaurant chain. For instance, a customer who has dined at a restaurant in one city need not provide his contact details if he visits a brand outlet of the chain in another city. The entire customer ordering history and contact details are saved in the central CRM and can be used to run targeted marketing campaigns.
Running targeted marketing campaigns is something that restaurant chains have been struggling with for a long time. Since the customer demography differs for different outlets, the marketing campaigns need to be devised to suit the customers of that particular region. With the help of a restaurant ERP software, you can create outlet level marketing offers and run custom campaigns. For instance, if the sales of a particular outlet are going down, you can generate a discount offer specifically for that outlet.
Also, an integrated ERP software lets you run targeted SMS and email campaigns based on the customer ordering history and behaviour. Targeted efforts help you get a better ROI on your marketing efforts as well.
6. Assigning User Roles and Permission
No matter how much you try to control and manage your operations all by yourself, the fact remains that you cannot run a restaurant enterprise all by yourself. You will need to instate staff for different roles and designate them with specific responsibilities. However, this does not mean that you have to depend solely on the restaurant managers of each outlet. With the help of a restaurant ERP software, you can very much monitor the operations of each outlet with the help of real-time and detailed reporting. A smart restaurant ERP software allows you to create user roles and permissions designate responsibilities to the user.
This also helps create a sense of accountability in the staff who has been assigned the task. These user roles let you designate the jobs, and also gives you a bird's eye view of the entire restaurant operations.
Managing a restaurant chain is indeed a daunting task. There are various ways through which you can lose money, and your business can encounter failure. Hence, look for restaurant ERP software that comes in-built with all of the features mentioned above for smooth restaurant management.
This exhaustive guide talks in detail about the essential features of an Enterprise POS software.