"The era of mobile apps is over" is a tall statement to make. While mobile apps are indeed more comfortable to use, their sheer number is now discouraging users to uninstall the apps and opt for the mobile-optimized website instead. In the current age where almost everyone is equipped with a smart device, it is essential to look for ways by which these devices can help you take your restaurant forward. While the sales keep offline, having a fast restaurant website should be a top priority to keep the numbers rolling online.
Find out how to create a beautiful website design that helps you increase Online Orders here.
According to the Posist PRIME Report, restaurant operators received 43 percent of online orders via direct channels. The majority i.e., 57 percent of orders still come from food aggregator platforms. Out of the 43 percent who choose direct channels- half of the respondents prefer ordering via WhatsApp or the Mobile number of the restaurant. A mobile-optimized restaurant website is a better option than taking your way to a mobile application as:
A website also caters to the users who have not to download your restaurant's app and thus targets a broader consumer base.
Users don't like to download applications without knowing exactly what they will get.
Heavy apps often slow down mobile phones and discourage users from having too many apps on their phones.
Without having a good pool of customer data, application marketing is tough. It is better to acquire customers and their data through your website and going to a mobile application in the future.
Starting with a restaurant website to create a name for your restaurant and gathering customer data is the best choice. After a significant period if you have a big data roster then you can decide to launch a mobile application that should act as a secondary tool for marketing, the primary still being the website.
Why You Need a Mobile Optimized Restaurant Website
Restaurant website optimization is crucial for elevating the customer experience even before they visit your restaurant. Let us look at the reasons that make having a mobile-optimized restaurant website indispensable for your restaurant.
1. Online Presence
The most significant purpose of a restaurant website is to have an online presence and accept Online Orders. While almost half of the population of the world is connected to the internet, staying online can prove to be a business booster for your restaurant. Not only can it be the primary source of your online orders, but it also acts as an online spokesperson for your restaurant business. Therefore, restaurant website optimization from time to time is essential.
2. Connecting with the Customers
A restaurant website lets the users be in direct contact with you via a virtual connection. They can get in touch with to give a suggestion or notify you about a problem they faced in your restaurant or make an inquiry about your restaurant. Be it any reason; a website acts as an online bridge between you and your customers or possible customers.
3. Collecting Reviews
Restaurant reviewing system has been there for quite a while now, and people nowadays tend to post accurate reviews with details about their experience with restaurants. Integrating these reviews on your website is an excellent way to let the customers know that you don't have anything to hide and it also helps the customers see all your reviews in one place.
4. Increasing Sales
Uploading your menu on the website along with an option to order then and there can get you, potential customers. Running promotional offers only for the people who order through your website can get you to help you in gaining new customers as well as retaining the old ones.
What Features to Include in Your Restaurant Website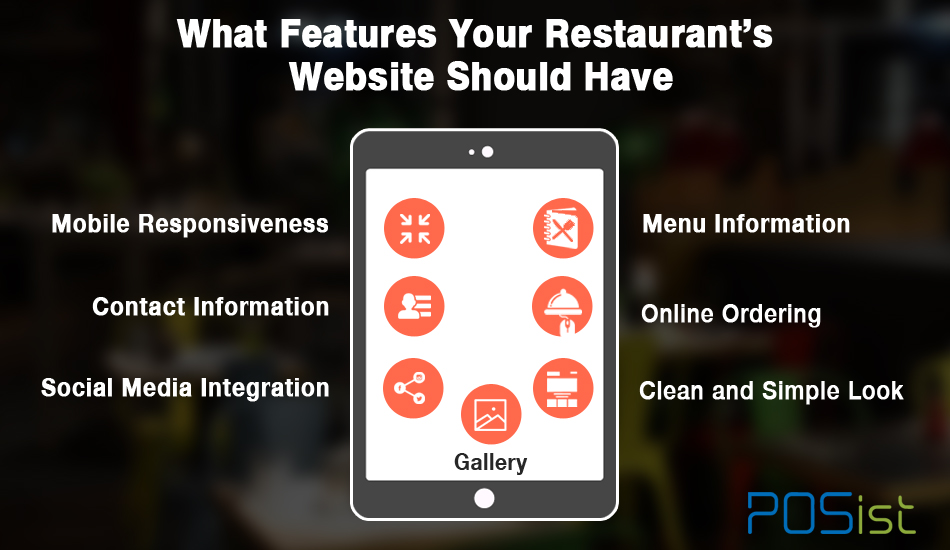 1. Mobile Responsiveness
Almost 50% of the users surf the internet using a handheld device such as a mobile or a tablet and if your website isn't mobile compatible or is slow when viewed through a handheld device, you straightaway lose half of the potential and existing customers. Restaurant website optimization includes making your website mobile-friendly. Having a mobile responsive restaurant website is very important. Customers should be easily able to view and surf your website on both handheld and desktops. It is important to make restaurant website user-friendly.
2. Contact Information
Sharing your appropriate contact information which is monitored regularly is essential as it can help the customers get in touch with you. Active phone numbers for ordering and queries, a valid email address and exact address should be given on the website. Integrating a Map on your restaurant website will be helpful as well as customers can use the maps to reach your restaurant easily.
3. Social Media Integration
Your website should have links to all the social media websites you have a presence on. Simultaneously your social media handles should publicize your website. This will increase the visits to your website and the engagement on your social media handles. Both, in turn, will help you acquire new customers while retaining old customers. It also makes the restaurant website user-friendly and more interactive.
4. Menu and Online Ordering Option
Your website should have the complete and updated menu on your website to let the customer know what exactly will they get when they order or walk in your restaurant. If you are a restaurant which doesn't print their prices on their menu cards, then the website should be updated with the whole item list, so the customer knows the cuisine and what to order. Letting the customer order from your own restaurant website is a great way to enhance the user experience.
This article will tell you how to build a landing page that will get in more online orders.
5. Gallery
Having a Gallery section is very important on your website where you can upload pictures of events, parties or simply customers having a good time in your restaurant. Letting the customers upload on the website through their social media accounts is a great marketing technique too.
6. Promotions and Newsletters
If someone is visiting your website, make sure they are informed of the latest offers and discounts on the front page itself. If the users register with their e-mail ID, it is a good gesture to send them promotional offers but spamming them is not the correct option as too many e-mails will only lead to a lost customer.
7. Clean and Simple Look
Your restaurant website should be easy-to-use without too much information lined up on the front page, making it look cluttered. A heavy website will not work swiftly as it has too heavy files to load up while the information-overloaded webpage gives off a bad impression of your restaurant. Make restaurant website user-friendly and easy to read.
Your restaurant website is your marketing manager online and should be well organized and updated regularly. The key to a successful website is continuous monitoring as well as responding actively to every query you get. The customers should feel know that the restaurant owners pay attention to their questions.