Thanksgiving is one of the most celebrated festivals in the USA, and people are in a great mood to splurge and dine out on this day. According to research by the National Restaurant Association, one out of ten adults plans to eat at a restaurant on Thanksgiving. Traditionally, the sales of restaurants shoot up on Thanksgiving and Black Friday, and the Average Spend Per Customer also tends to rise during this time, making it a very lucrative time for the restaurants in the USA. Thus, it only makes sense that you come up with a smart restaurant marketing plan for Thanksgiving to attract more customers and make the best of this time of the year.
Restaurant Marketing Ideas To Drive More Sales This Thanksgiving
Thanksgiving is an excellent time for restaurateurs to bring in guests that will enjoy the food and have the potential of becoming regular customers.
Here are some restaurant marketing tips that will help you attract new customers, retain existing ones, and upsell your food to drive more sales.
1. Jazz Up The Menu
It is essential to incorporate fall flavors like cinnamon, pumpkin, etc. into your menu during Thanksgiving. Diners relate to these flavors, and it makes them nostalgic. To make it even more special, come up with a Thanksgiving menu which comprises of sumptuous meals and drinks.
Make this menu time-limited and have only the most traditional Thanksgiving food such as Turkey, mashed potatoes, gravy, and pumpkin cheesecake.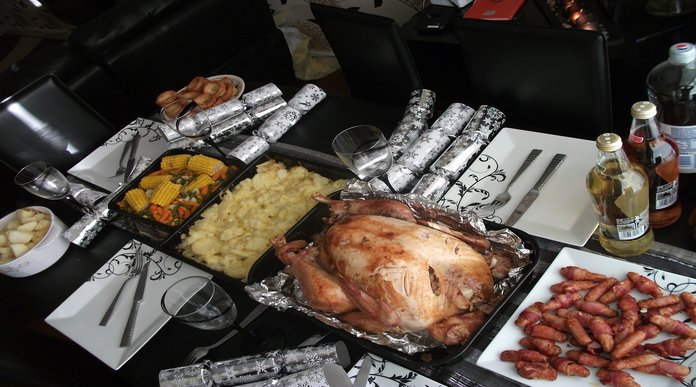 It is essential to have a separate menu as it is a great way to reach out to people looking for traditional Thanksgiving food.
Just remember to advertise this exclusive menu on social media, window display, etc. to attract customers. Also, train your staff to upsell the special dishes.
2. Host Events
This is one of the best restaurant marketing idea for Thanksgiving. Holding a traditional Thanksgiving feast for brunch or dinner is a great way to attract the holiday-makers.
Since people are in a charitable mood during this time, you can host a charity event and collect donations for families in need.
Hosting an event would give your restaurant great publicity, and this publicity will help you gain more customers in the future.
While hosting a Thanksgiving event, you need to ensure your restaurant is well equipped. Make sure the inventory is well stocked, as it won't be good for your restaurant's reputation if you run out of turkey on Thanksgiving!
Forecast your sales, go through the previous year's Thanksgiving turn up, this would give you an approximate idea of the number of people you can expect this Thanksgiving.
Use a smart stock and inventory management system that will give you real-time alerts if particular raw material is running low.
Also, you need to ensure you have enough staff at your restaurant to help make the Thanksgiving event a success.
3. Run Competitions
Running competitions on your social media is a good way of engaging your customers. Thanksgiving is all about food, and the families spend hours preparing the best meals for the Thanksgiving dinner. You can run recipe competition on your social media profiles before the Thanksgiving event and encourage people to share videos and photos of their recipe and the one with the highest votes can be rewarded a discount coupon or a free meal. This way, you engage with potential customers who are not dining out at Thanksgiving and give them an incentive to visit at your restaurant later on. 
Come up with a unique hashtag for your restaurant and encourage people to use that whenever posting a picture related to your restaurant.
Everybody likes gifts; therefore you can expect colossal participation!  This is an effective way of making your restaurant brand popular.
4. Leverage Your Existing Customer Base
It is essential for the success of the event to spread a word, you can send emails and SMS to the customers who have dined with your before, as the chances of them coming for the event is more as compared to a new person.
According to the NRA, 31% of people prefer to visit the restaurant they usually dine at during Thanksgiving, and 30% dine at the restaurant they typically go to during a special occasion.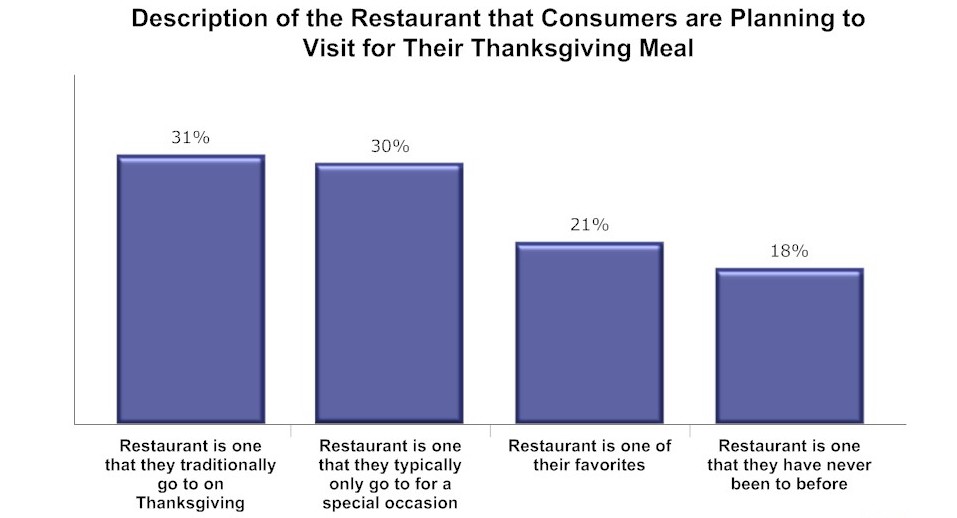 Thus, you can leverage your CRM to engage with your loyal customers. Go back to your CRM reports and review the list of the customers who had previously dined at your restaurant during Thanksgiving last year. You can then offer a special Thanksgiving discount and promote it through personalized SMS and emails make sure that they dine at your restaurant this year as well.
5. Festive decorations
Get into the festive mood and decorate your restaurant with fall accents that would add to the holiday cheer. It is essential to make your place look in sync with the event and the festivities, as people would be delighted to see a restaurant going an extra mile to create a festive space. If your restaurant is beautifully decorated, people will start talking about you, and this is an excellent way of attracting more customers. The festive decoration is a great way of increasing sales and is one of the most popular restaurant marketing technique.
6. Spread The Word
Whether you are hosting an event or planning to come up with a special Thanksgiving menu, it is imperative to let people know. Take help of your social media platforms and let people know about the special Thanksgiving event that you are hosting or you can send out a pamphlet with every takeaway order offering a discount for the event.
Festivals are a great time to increase restaurant sales; therefore it is essential to have a good restaurant marketing idea in place. Festival brings in a lot of opportunities for a restaurant owner to make profits, make sure you make optimum use of this time and yield maximum benefit. This article aims to provide a comprehensive guide that will help you strategize excellent restaurant marketing ideas that will further boost your restaurant business.