Even with the availability automation, technology, and sophisticated software, operating a restaurant in a market like the United States is a complicated task. Labor is short, customers are demanding, profits are razor thin and traditional POS software offer no help. Ironically, at the same time, innovations in restaurant technology have been on the rise. Cloud-based restaurant POS systems may be the answer you need to improve your restaurant efficiency.
In this article, we will discuss how a cloud-based restaurant software can take your operational efficiency to the next level, given the way the restaurant industry operates in America. 
What Is A Cloud-Based Restaurant POS Software
Cloud-Based Restaurant POS System is the new age Point of Sale system which runs on cloud technology. It is hardware independent, Point Of Sales system which can be accessed from any device, in any corner of the world through your unique login credentials. All data fed to and all information stored in the POS software is saved in Cloud making the process of accessing, tracking and using the information hardware and location independent. The basic restaurant POS that was initially just used for billing purposes has evolved to become a complete restaurant management system providing enhanced features such as Stock and Inventory Management, Customer Relationship Management, Detailed Reporting and Analytics and more. 
In a country like the USA, where most people are comfortable with using smart technology and gadgets are designed to be user-friendly, restaurant owners can draw maximum benefits from installing cloud-based restaurant POS software.
How A Cloud-Based Restaurant POS Systems Streamlines Operations
Cloud-based POS software work with a degree of automation, thus reducing the need for manual labor, saving time, improving table turnover rate, adding to customer satisfaction and bringing overall ease in performing various front-end and back-end operations. 
Below we will discuss some operations possible only through a cloud-based POS software and how they automate corresponding restaurant functions, thus improving the overall restaurant efficiency.
1. Automatic Billing
Billing is the most basic feature of any POS software, so you may wonder how a cloud-based POS software can generate bills differently. It does not exactly create bills differently; it can just do a lot more with billing which makes the entire system more comprehensive, centralizes different operations and smoothens the billing process as a whole. 
A cloud-based POS software can generate bills as the items are being ordered. Once the customer is done with the meal, the software will automatically and instantly generate the bill without you having to manually feed the items since it is already synchronized with tablet ordering feature mentioned above. This enables the billing process to be faster, more concise and free of any errors.
As soon as the order is placed into the POS, the order is instantly reflected in the Kitchen Display System (KDS). The KDS displays the order like a digital Kitchen Order Ticket (KOT) which includes the entire order details. The kitchen staff no longer needs to wait for the KOT to be delivered manually to start preparing the order, thus reducing any delays.
The POS software also generates detailed reports of the bills created and the discounts given. You will receive comprehensive reports of every order placed and item wise reports within the order as well. This will control on counter thefts and also give you access to information necessary for sales forecasting and menu optimization.
2. Tablet Ordering
As mentioned earlier, most US citizens are pretty gadget friendly. Since a cloud-based POS is hardware independent and works in a virtual space, it enables a feature like 'Tablet Ordering.' A Tablet Ordering System is a direct table to kitchen ordering system that allows your servers to take an order and send it directly to the kitchen through your POS software. Each server will have a Tablet where the entire menu will be displayed. As a customer places the order, the server will select the items, add customizations and send the order digitally. The order will get updated in your POS system automatically and simultaneously without any special requests and customizations being lost in the process.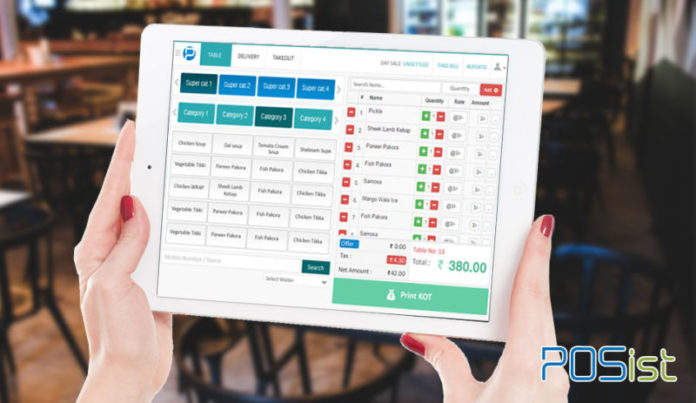 The feature automates the entire process of taking the order, delivering it to the kitchen, adding it to the POS, coming out with the order again, serving the guests and communicating special requests. Now your wait staff does not need to run in circles, and the entire process of taking an order gets so efficient that it impacts restaurant profitability, customer satisfaction, and even your employee turnover rate. 
3. Queue Management
Queue Management, or a Table Reservation Software, is a must-have technology, that can optimize your entire table reservation process. It will enable you to manage customer reservations easily, and make the entire experience a delight for your customers.
Your customers will be able to book a table of their choice ahead of time, and you will be notified regarding any such reservations. Hence, no reservations will be missed during rush hours.
Even if customers who have not booked their table in advance walk in, all they need to do is state the need of a table for their party size, and the next free table of the size can easily be assigned to them using the POS software directly.
Even pre-orders can be integrated and coordinated with the kitchen staff on the arrival of customers directly through the POS system. This leaves your wait staff with more than enough time to attend various customers instead of running around coordinating front of the house and back of the house operations for a single party.  
4. Inventory Management
Inventory management is the backbone of any restaurant. You never stop managing your inventory, it is an ongoing process tracked weekly, daily, hourly and if possible even on a minute to minute or order by order basis. It uses up time, energy, and manual resources and even after all that, discrepancies in stock can occur, internal thefts are possible, and accounting errors with inventory numbers are almost expected.
Here is where a cloud-based restaurant POS software with an inventory management feature steps in. It automates the process of tracking inventory based on the opening numbers fed to the POS software. Hence you can track your inventory in real-time, all the time.
Since the software knows the opening numbers of each ingredient in stock, it automatically tracks these numbers based on the orders being fed to it on a daily basis. The technology works as an integrated, synchronized unit which means that as orders are billed for, the POS system will automatically update inventory count based on the information. It will even give you the variance between the ideal and actual stock consumption.
Hence, you can track your stock levels in real time. Re-order levels can thus be set in the software itself and vendor details saved. As that is done, as soon as an item hits the re-order mark, the system will automatically raise a re-order concern and notify you. The same can be set for the expiration date of perishable raw materials.
5. Maintaining Consistency
A restaurant's identity is based upon the food it serves. Thus it is necessary for you to be consistent in the quality and the quantity of the food that you serve to your customers. Easier said than done, maintaining consistency as the kitchen staff changes shifts or as the restaurant expands is a challenge in itself. Hence arises the need for a recipe management software.
Using the software, you can store the exact recipes for every dish in the software. These can be accessed only by authorized personnel at any time and from anywhere. The recipes will contain precise instructions on cooking a dish, the quantities of raw material to be used and even the portion sizes. The staff can be trained to recreate these recipes, regardless of where the outlet is located. Thus, no two cooks will produce different tasting dishes and your time and energy in training the staff will be saved. 
The food space in the USA has been growing rapidly and extensively. Competition is on an all-time high, customers are demanding more, profits are thin, but in all this, efficiency can be achieved in restaurant operations. This efficiency will not only bring you a greater amount of profits but also optimize the way you run your restaurant and ensure your survival by giving you an edge over your competitors. Don't wait too long, upgrade your restaurant POS software and see how far technology can take you.