Restaurant automation technology is rapidly changing the way restaurants operate and function. For example, Self-Ordering Kiosks are changing the way orders are placed at quick-service restaurants with high footfall. Self-ordering kiosks work very well at fast-food restaurants, quick-service restaurants, and casual dine restaurants where the footfall is high. This article discusses why adding self-ordering kiosks is a great idea for your restaurant business in the UK. 
How Self-Ordering Kiosks Can Benefit QSR Business In The UK
Mentioned below are 5 ways how implementing self-ordering kiosks can provide better returns on investment and reduce operating costs for QSR business in the UK. 
1. Reduced Ordering Time
It often takes time to place an order at a QSR due to long queues, especially during peak business hours. A self-ordering kiosk helps in diverting some of the people away from the counter which reduces the order taking time. It also helps customers navigate through the menu easily and make quick payments.
One can collect the bill generated from the kiosk and collect the food from the counter when it's prepared. Therefore, installing a self-ordering kiosk will help you cater to more people and take more orders as it prevents any delays in the total service time.
2. Reduced Labor Cost
Not installing a kiosk at your QSR means you will have to hire more people to take orders at the counter. Kiosks boost operational efficiency by changing the front-of-house structure and lowering the labor cost. Kiosks are a one-time investment since you need not pay for their services every month. Installing a kiosk would also let you reallocate the restaurant staff to areas where they can be more productive, like in the kitchen.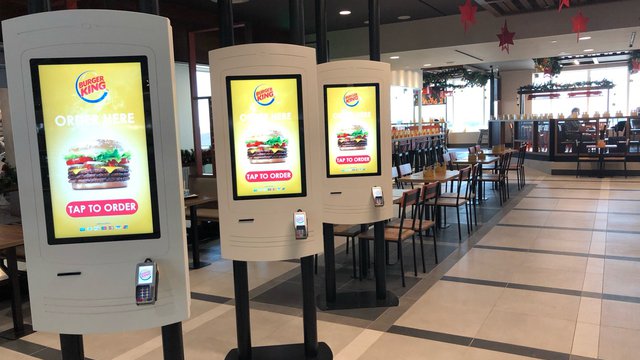 3. Ensures Order Accuracy
There are high chances of human error when accepting orders the traditional way. Even though the servers are trained to reconfirm orders with the guests, comprehension errors are inevitable. Especially at high footfall places during the rush hours, the chances of errors while placing the order are pretty high.
A self-service food ordering system lets the customers place an order at their own pace. It gives them the time to check through the selected menu items and place the order instantly, along with instructions for preparation such as low-fat, extra seasoning, etc.
Kiosks come in handy when you have a customizable menu. The customers can customize their meal as per their own wish and get a confirmation before payment and order submission.
4. Helps In Targeted Upselling
A self-service food ordering system enables the restaurateurs to display multiple messages based on customers' purchase behavior. Kiosks let you display pictures of the food items that make the dish look enticing and people are more likely to order it.
These systems take up very little space and can be placed at strategic locations such as the foyer or central aisle to tempt customers into buying more profitable items. Make sure to use attractive, full-color imagery and compelling item descriptions. This helps in increasing the sales of the most profitable items by increasing the average overall check totals.
5. Improves Customer Satisfaction
Installing a self-ordering kiosk decreases the order time and lets people place their orders swiftly, even during busy hours. They have a lot to offer. For example, they make it easier for your customers to place an order by providing the full menu at their fingertips. They provide payment versatility, allow patrons to make a payment via cash, card, or mobile wallet. The kiosk also provides the customers with adequate information about the food such as nutritional value, ingredients used, etc.
Self-ordering kiosks are fast, adaptable, and offer a great customer experience. Install a self-ordering kiosk in your restaurant and make it easy for your customers to place orders!