Over the last few years, the food and beverage industry has drastically changed in UAE and so have the marketing strategies. According to FBMG, the UAE's F&B market will grow from $11.3 billion (Dh41.5 billion) in 2015 to $13.2 billion in 2018. People no longer are dependent on the traditional word of mouth marketing even though it is the easiest and the cheapest form of marketing but, marketing through word of mouth takes longer to build the reputation of your restaurant hence, people are shifting to more advanced restaurant marketing plans.
Many restaurant owners are taking help of print media, billboards, etc to generate awareness about their business but, is that enough?
Every business model is unique and has different requirements hence, the marketing plan should be exclusive as well. What might work out of others, might not work out for you. 
Here are some restaurant marketing ideas that you will need in order to identify which marketing strategy is best suited for your business. 
A Quick Guide to Master Restaurant Marketing 
As a restaurant owner, you can hire the best chef to prepare the best dishes but, it all goes to waste if enough people are not there at your restaurant to enjoy it. Therefore, having a marketing plan for a restaurant is imperative! 
The success of any business is dependant on its marketing strategy. The marketing plan you choose determines how well your restaurant would function.
We have broken down the process of selecting the best restaurant marketing plan in two major points. 

Offline Marketing

Online Marketing
These points will help you decide which marketing strategy you should be adopting in order to promote your restaurant business successfully.
Offline Restaurant Marketing 
Offline marketing is the oldest known form of marketing. It is still being used by several restaurant owners in order to promote their business. Offline marketing uses offline media channels like a newspaper, magazines, pamphlets, etc to spread awareness about their restaurant. It is very efficient if you wish to market to the mass as well as the local customers. Your marketing plan for a restaurant should include offline marketing strategies along with online platforms. 
Some of the top offline restaurant marketing strategies that have been known to be really useful for restaurants are –
1. Print Media Marketing  
Print media marketing requires no introduction, it is a well-known form of marketing and the most widely used as well. According to Khaleej Times, the print media is here to stay and would continue to dominate the Gulf regions.
Digital marketing might be on its boom but, print media is not dead! There are several print mediums available to reach out to your potential customers such as –
(i) Newspapers
Advertising through the newspaper is the oldest form of print marketing and gives you several options to choose from. You can advertise on a local, regional or a national newspaper. It all depends on your budget and the audience you wish to target. Including newspapers in your restaurant marketing strategy is a good move!
If you have just started your restaurant business, you can start by placing your advertisement in a local newspaper. This would help attract the people living close to your restaurant as the chances of them visiting your restaurant are more.
You can buy different advertising space and also, choose from the type of ad (text only, display ad, classified, etc) you wish to publish.
Advertising on a leading newspaper can cost you an average of, AED 150 for advertising on the main page and AED 135 for the business, sports or entertainment section.
(ii) Magazines
Magazines are a good and effective way of advertising as magazines are content-specific. Therefore, featuring in a magazine is an essential restaurant marketing strategy. You can select a magazine which exclusively talks about the food and beverage industry. This would help you reach the right audience.
Again, like newspapers, you get an option of placing your ad in a magazine that publishes weekly, monthly or quarterly. Based on your budget you can also choose to advertise in a local or a national magazine.
The average cost of advertising through magazines can be AED 3,000 to AED 12,000 monthly.
2. Billboards and Posters
An eye catchy billboard or a poster can help attract more customers. You can reach out to the customers on the move. They work best when placed on a busy street or locality.
Advertising through billboards and posters can be a little expensive depending on where you wish to advertise.
Putting up billboards or posters on a busy street, mall, etc can cost you an average of AED 150,000 per month up to AED 600,000.
They help you reach a large number of consumers but, they could be irrelevant as they can't be used to target a specific audience group.
3. Taxi and Bus Advertisement
Taxi and bus advertisements are one of the most common forms of restaurant marketing in UAE. The rate of the advertisement depends on the number of taxis or buses used to advertise, if the vehicle is fully covered and if the vehicle transits between a busy route.
This form of advertisement is quite popular in the UAE because they help you reach more number of people as the vehicle is mobile and keeps roaming around in the entire city.
4. Pamphlets
Distributing pamphlets is one of the common forms of advertisement to reach out to your customers. You can hand out the pamphlets to the people directly or you can team up with a newspaper company to distribute the pamphlets for you along with the newspaper but, in UAE it is very important to get permits to distribute these advertisement pamphlets. According to  Dubai's Department of Economic Development(DED), it is necessary to have the consumer protection logo on the flyers or the pamphlets. 
On average, the cost of printing the pamphlets can range from AED 6,000 to AED 20,000, depending on the number of fliers or pamphlets being printed
5. Advertising on the Television or Radio
Advertising your restaurant on the television or the radio is also an effective way of reaching out to your potential customers. You can advertise your business on a local or on a national scale, depending on your requirements.
If you are just starting off with your restaurant business you can advertise on a local network this would help attract customers from nearby locations.
Advertising on the television or radio can approximate cost you AED 30,000 to AED 100,000 per month depending on the number of shoots.
Almost every household has a television or a radio hence, it is a great way of advertisement to reach out to more people but, keep in mind that this would not help you reach your target audience as you are serving the ad for everyone, people might be or might not be interested in your services.
When advertising through an offline medium you should take care of the placement of your ad. Correct placement can help boom your business, make people notice your advertisement, the display or the text that you use for the advertisement should be appealing and eye-catchy. Restaurant marketing ideas and trends keep changing but, offline marketing is here to stay! 
Online Restaurant Marketing 
If offline marketing is not your cup of tea and you are looking for alternatives, online marketing is the way to go!
With people always available online it makes sense to reach out to them through digital platforms. Digital marketing strategies are based on the different goals and the audience you wish to target hence, it is more effective in reaching out to the desired customer base. You can cover different aspects when advertising digitally.
1. Social Media Marketing
Social media marketing is one of the biggest platforms for advertising your restaurant business. There are millions of people engaged on social media in UAE, approximately 7.75 million on Facebook and 5.01 million on Instagram, etc. hence, chances for you to reach out to your potential customers automatically increases as people spend hours each day on their social media profiles.
Social media marketing has helped several leading food and beverage brands gain popularity in the UAE. For example, Zaroob, a pocket-friendly restaurant has won Time Out Dubai award for the quality and regularity of posts on photos on social media
At the time of Eid, Zaroob was running the following campaign on their facebook page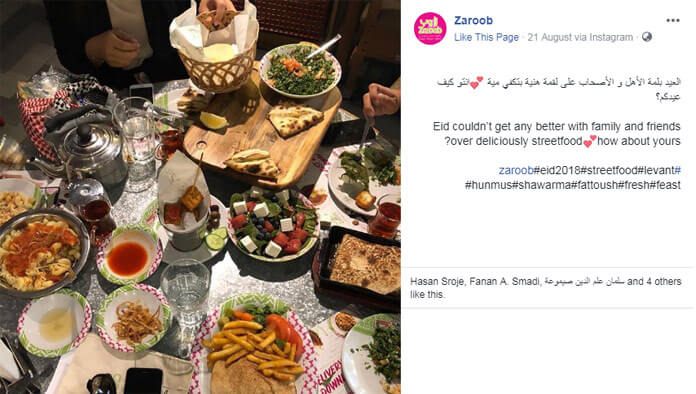 There are various social media marketing tools available that give you real-time reports and help you analyze what more is required hence, social media marketing is one of the most effective forms of marketing.
Influencer Marketing
Another effective way of using social media is by seeking help from food bloggers and by asking them to talk about your restaurant since the people following them on various social media platforms are the ones interested in the food and beverage industry. Food bloggers do not merely write about your restaurant like a newspaper advertisement but talk about the experience. This gives your restaurant a personality for people to relate to and an image even before they visit it.
Video marketing
Digital marketing is not just limited to texts or display advertisements, you can also post videos on various social media platforms. Video marketing is very effective as it helps your customers relate more to your content also, it helps to represent your brand better. If people find your video to be interesting they tend to share it on their social media accounts, this works something similar to the "word of mouth" advertisement but better!
You can create a longer video and post it on YouTube and provide links to that video or post shorter versions of that video ad on your restaurant's Facebook or Instagram page.
Video advertisement is being widely used as they help your customers retain information better and are more persuasive than normal text or image ad.
Everyone has image or text ads, video ads help your restaurant business stand out!
Pay-per-click (PPC) Advertising
As the name suggests, PPC advertisements are those kinds of advertisements that charge you whenever someone clicks on your ad. You pay for each click that your ad receives on the social media platforms. Facebook and Google are the two major players who offer you this facility. They have tools available that you can use in order to manage your ads and how much you pay when someone clicks on it.  
You have complete control over the budget you wish to spend on advertising on the social media platform and the people you wish to target on the basis of their interests. This would ensure that your advertisement is reaching the correct audience and the money you are utilizing for advertisement is not wasted as your ads are shown only to the people you have targeted. You can advertise about any upcoming events or exciting offers people can avail of your restaurant. Doing this through social media would help you reach your customers in real-time also, it is much easier to add or edit an event on social media unlike offline marketing like newspaper advertisements, etc.
Since targeting gives you full control over who sees your ads, it is highly unlikely that someone who is not interested in your services would click on it also, PPC advertisement is a good option because you are charged when someone clicks on your ad and shows interest in it, this way you are not spending money aimlessly.
2. Email Marketing
Email marketing is known to be one of the most popular and effective forms of restaurant marketing. The first and the most important step of email marketing is building your customer's email database.
You can achieve this by taking feedbacks from your customers and asking them to provide you with their email address. An easy way of taking feedbacks and building your database is by using a new age feedback app that would help cut down the manual work. Make the email attractive, add images and appealing content. You can also add a call to action button along with your email text if required, a call to action button would help your customers interact with your email.
You can use a CRM(central customer management) software to keep your customers updated through email. These software help schedule your emails and help send customized emails to your customers.
Email marketing helps in spreading a word about new offers or special discounts your customers can avail. This is a very good way of reaching out to people who have previously interacted with your restaurant and to have them coming back.
3. SMS Marketing
Just like email marketing, SMS marketing is also a good way of restaurant marketing. It has been around for some time now. SMS marketing has high visibility and opening rate. It is the best way to reach out to your customers in real time as this kind of advertisement is usually used to communicate time-sensitive offers. You can send out SMS regarding new offers or deals at your restaurant.
People now are more attached to their phones than ever hence, the chances of them interacting with the SMS you send out automatically increases.
You can automate both your SMS and email campaigns with the help of a marketing tool. It would allow you to schedule your campaigns beforehand and let you send highly targeted and personalized messages. 
4. Online Listings
Another way of restaurant marketing is listing your restaurant on popular restaurant listing sites. Listing your business on these sites becomes even more important since Dubai witnesses an influx of tourists from all around the world, and the easiest way for people to discover restaurants is through the online listing and review sites. 
Listing your restaurant on the leading sites would mean more people would come across your restaurant business. You can mention the complete details about your restaurant on these websites along with the contact details and address.  
Online listing sites also allow your customers to rate you and if you have a good rating more people would prefer visiting your restaurant over others. You can encourage people to write reviews about your services online also if someone was to leave a bad review you can rectify it then and there.
Some of the popular websites in UAE for listing your restaurant are :

Roadmenu

G

uidepal

Zomato

Talabat
As a restaurateur, you are continuously trying to increase the visibility of your restaurant. An effective restaurant marketing plan helps you achieve that. You might be serving the best food in town but, without the correct marketing strategy in place, you just wouldn't have enough people to experience it.  
Your restaurant marketing plan should help inculcate a feeling of trust within your customers. UAE is an ever-growing market with new restaurants opening up every now and then hence, it becomes very important to stand out and use the correct restaurant marketing plan as it would help build brand awareness. Make sure to look out for new restaurant marketing ideas and trends!