Technology has become an indispensable part of streamlining and running restaurant operations seamlessly. The restaurant Kitchen Order Ticket (KOT) is a small, yet critical aspect of the restaurant ordering system. KOT is a note which is forwarded to the kitchen and billing division, as soon as an order is placed while one copy is retained in the system for future reference. Kitchen Order Tickets primarily contain details related to the items ordered, table number, and the quantity. Having an automated restaurant KOT reduces the scope for manual errors, saves time, helps with real-time reporting of all the orders at your restaurant, and reduces monetary discrepancies. This article explains how an automated KOT System improves restaurant ordering and kitchen Operations and why restaurants in Saudi Arabia must consider shifting towards it.
How An Automated KOT System Will Improve Restaurant Ordering And Kitchen Operations In Saudi Arabia
Traditional KOT generation is a slow, manual process, having much scope for errors, and gives little room for monitoring and tracking the orders. Thus, it is important to switch to an automated restaurant KOT application that not only saves time and increases efficiency but also reduces your costs in the long run.
A smart restaurant POS provides instant KOT generation and helps manage other operations such as customer relationship management, inventory management, detailed reporting, etc.
An automated KOT system is easy to use and install. The entire process can be broken down into three simple steps:
Install KOT printers in the kitchen and bar.

Make sure that the kitchen prepares and supplies food, based on the printed KOT. Train all your staff accordingly.

Install the

POS system at

the foodservice desk.
Shifting to an automated restaurant generation process can have a lot of benefits. These are the various ways in which an automated restaurant KOT generation process can smoothen your restaurant operations:
1. Ease Of Use
The method of accepting orders into the POS is straightforward. After punching the orders into the system, one can automatically generate the restaurant KOT. Due to its touchscreen interface, it becomes easy for the servers to operate the KOT system. Even for the restaurant staff that is not very tech-savvy, a simple and automatic KOT generation process makes it much easier to process the orders. 
2. Accelerates Restaurant Services
The food service process is accelerated as the order is punched on the shop floor, whereas the KOT is printed in the kitchen in real-time. In the traditional KOT generation process, there is always a requirement to handover the KOT manually.
This arrangement also saves time as it allows the automatic capture of data. It reduces the overall table turnaround and the time taken to serve the customers. This has a direct impact on customer satisfaction since it takes less time for your staff to communicate, prepare, and deliver the orders.
In case operators are looking for ways to further automate the restaurant ordering system, they can digitize the entire KOT generation process too. A Kitchen Display System (KDS) comes in handy as instead of printing a paper-based KOT, the orders are directly displayed on display screens along with the order details. KDS not only improves efficiency in your restaurant kitchen, but it also saves substantial time and helps improve the customer experience.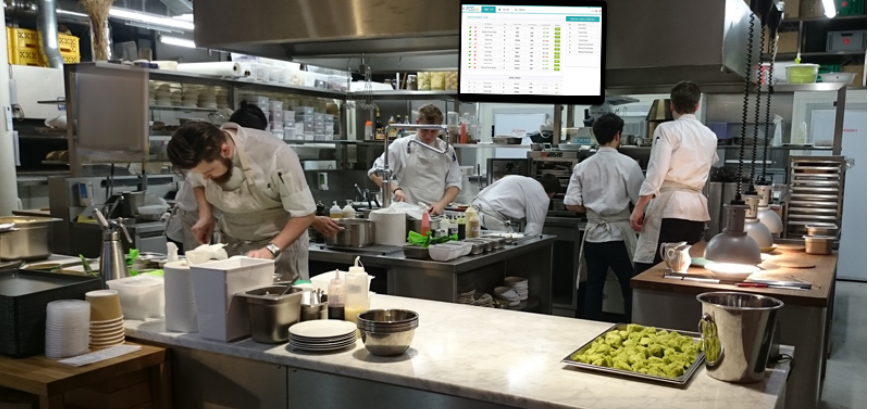 3. Integrates Seamlessly With Online Ordering Platforms
One of the biggest challenges that restaurateurs often face is streamlining the food delivery orders from online ordering platforms such as Talabat, UberEats, etc. Unless your restaurant ordering system is automated, there are high chances that the online orders may get delayed or missed while sending them to the kitchen for preparation. An automatic restaurant KOT application system ensures that online orders are directly accepted at the POS, and the KOT is generated immediately and printed in the kitchen.
4. Reduces the Scope for Discrepancies
Restaurants can have complete control over their business through real-time monitoring, even if they have outlets at multiple locations. Live analytics allow you to view the number of KOTs generated and enable you to monitor your restaurant operations at all times, from anywhere.
As one can easily access daily sales and stock details, it helps in minimizing revenue leakage. When restaurant operators in Saudi Arabia can monitor the entire information related to raw materials, whether in stock or items that need to be ordered, etc. there will be fewer chances of duplicate orders. One can also exercise theft control because you can keep a tab on the inflow and outflow of materials in real-time.
5. Reduces Dependency On Manual Entries
In the manual KOT generation system, the wait staff always checks or rechecks the KOT. Automated restaurant KOT system not only reduces the manual tasks at hand but also lowers the labor costs. Besides, it also cuts down the wrong delivery problem as it contains the token number, which is also present on the bill. 
New-age cloud restaurant POS systems are easy to install and do not require much space. When the billing apps are integrated with the KOT feature, restaurant operators do not need to invest much. These are usually affordable and bring an overall improvement to the business and the revenue earned.
An automated restaurant KOT application will not only help you accelerate your restaurant operations but will also help in reducing your operating expenses to a great extent. Invest in an automated KOT generation system and increase the efficiency of your restaurant operations in Saudi Arabia.