In the restaurant industry, revenue management is of utmost importance. One of the primary goals of restaurant revenue management is to maximize the overall sales and focus on decreasing the costs. It involves using tools such as a robust POS system and tracking reports to analyze the sales data to accurately predict future demand. This greatly helps make vital decisions about menu price, service capacity, and table turnover to boost the overall revenue and profits. This article covers a list of reports that restaurants in Saudi Arabia must track to keep a check on revenue management. 
Comprehensive List Of Reports That Restaurants In Saudi Arabia Must Track For Efficient Revenue Management
The integration of multiple reports on a single platform helps in making better business decisions. Tracking these reports will help your restaurant to compare the business performance against your business goals. 
Sales Reports
Your restaurant's success is primarily reflected in its costs and sales data. Sales data is an indicator of your brand's growth. Here is how a robust POS system should display the bifurcation of sales data:
Top-selling/ worst selling item: Provides an idea about the best selling vs. the least selling menu item. Restaurant operators can track this data and either introduce offers or discounts, upsell or eliminate the items depending on the requirement.
Outlet-wise Sales:  Accessing real-time inputs on sales, inventory, staffing, and several other operational aspects help manage each of your outlets individually. 
Sales data by employee/ product/ department: This report provides an overall idea about the efficiency of each employee or product. They help effectively in defining performance targets and incentivizing your staff. 
Outlet Level Menu Reports: In the case of multiple restaurant outlets, the sales data and menu item performance varies. This is why it is essential to have a comprehensive report of each menu item's sales at different outlets. Based on this data, you can boost up the particular outlet's sales.
Most commonly returned items: These reports help in rationalizing your menu. Restaurant operators can either eliminate the non-performing items or upsell them in order to increase sales. 
Profit & Loss Calculation Reports: These reports provide a clear indication of your restaurant business growth. Handling P&L calculations daily indicates the health of your new outlets. Restaurants can also boost their sales by applying different marketing strategies.
Growth Reports: These reports offer a comparison between two or more selected time periods or products. For example, if your restaurant provides multiple cuisines or items, you can filter sales by viewing unit-level or outlet specific food costs and revenues to determine whether the menu item is profitable. 
Based on each outlet's demographics, restaurants can plan marketing and service offerings, keeping in mind the purchasing power of that particular area. 
Here's how your daily sales report should look! 
Tax Reports
Tax reports are of utmost importance for restaurants having multiple chains or outlets spread across several locations. As taxes could vary for each outlet, depending on the location, the entire process needs to be streamlined.
The tax summary report provides an estimate of the total sales and their breakdown for the specified period. Settlement reports offer clear details about the volumes of bills processed. This helps your cashiers to arrive at the correct sales figure on a day to day basis. 
Bills on hold reports cover the total number of bills settled, including discounts, tips, split payments, etc. Apart from paying off taxes for each restaurant outlet, the removed taxes report enables you to see a compiled list of bills wherein the taxes have been exempted from the bills.
Payment Reports
With payment reports, restaurateurs can monitor their daily cash inflows and outflows. The massive amounts of data produced on different mediums require proper segregation and analysis. This is why an integrated restaurant reporting system that tracks cash events, refund reports, voided sales, reports on coupons, etc. is so crucial for sustainable growth. 
Robust POS systems make it easier to access these reports in real-time and provide restaurants with complete visibility about their businesses' financial position.
Inventory Reports
Inventory management is one of the most crucial aspects of running a restaurant. Inventory reports such as raw ingredient procurement, inventory tracking, inventory reorder, etc. are of massive importance to the purchasing managers who have to maintain an inflow of raw materials on a daily basis.
These reports further help track food costs, which, in turn, decides the overall profit for your venture. Tracking inventory effectively reduces food costs and enhances your overall brand growth.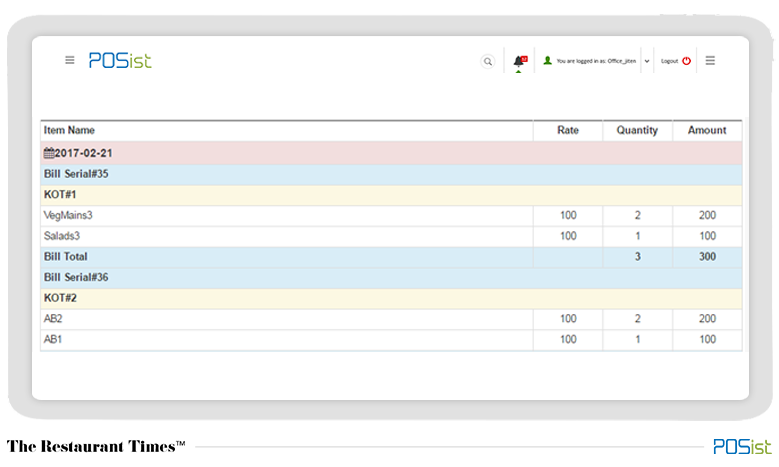 Audit Reports
Audit reports are essential for the restaurant owners to understand staff efficiency, any leak that occurs during a typical day, and the overall working of an outlet. Utilizing this information helps to make better decisions related to your operations and staff.
KOT Detail: These reports provide details of every order received on a particular day. A KOT number with item details reflected in the report helps in prioritizing your kitchen operations. 
KOT Tracking: These reports help track order chits by bill number, which further helps organize your order preparation and delivery. 
Purchase and Return Histories per Customer:  These reports enable you to understand the purchasing pattern of a customer. The average spend and most preferred orders by customers are also reflected in the same report that helps in upselling when they place repeat orders.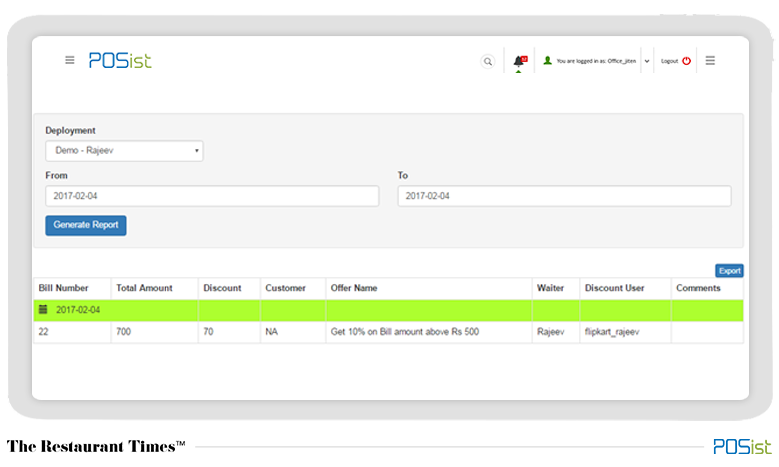 Staff Reporting
The success of a restaurant is typically judged by how happy the employees are. Large restaurant owners attribute their restaurant's success and growth to the loyalty of staff. This is why taking care of restaurant staff becomes crucial. Multiple staff reports make it easier to understand what happens at your restaurant outlet. 
An ideal restaurant POS must provide reports such as attendance reports, performance reports, etc. Streamlining restaurant reporting will help you incentivize your staff better, and thereby retain them for a longer time.
This is how a typical staff report looks like.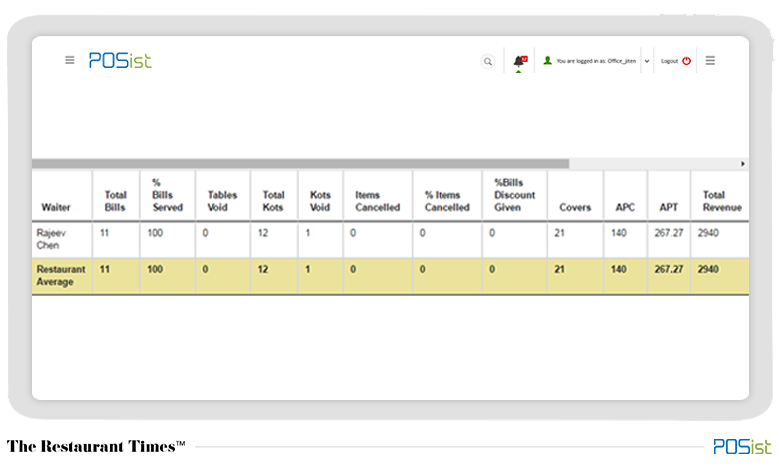 As revenue management is the backbone for restaurant expansion, investing in good technology solutions, and utilizing its reporting tools can boost your overall decision making. Track these restaurant revenue management reports and take your business in Saudi Arabia to new heights.