The restaurant business is highly dynamic. Despite being a lucrative industry, it is also prone to several challenges. Stiff competition, high rentals, increasing the cost of labor, inflation of food prices, decreasing margins, the slowdown in consumer spend, etc,  are just some of the reasons why most restaurants shut down within the first year of operations. Thus, running a successful restaurant business is quite a tedious task owing to the adverse conditions. Considering the predicament of the COVID situation in the restaurant industry, running a restaurant has become even more difficult. However, with careful planning and smart execution, you can master the art of running a successful restaurant business.
Stellar Tips On How To Run A Successful Restaurant Business
If you want to keep your business thriving and run a successful restaurant, here are some golden tips to follow.
1. It's All About the USP
Give a solid reason for customers to visit your restaurant, continue their patronage, and even spread the word about you in their social circle. Your USP could be your signature dish, a star chef, price, pet-friendly access, or the overall theme that stands out prominently through the menu, interiors & staff uniform. All successful restaurants have been known to have a strong USP that draws customers to the outlet.
2. Choose Your Location Wisely
The location of your restaurant plays a pivotal role in your restaurant's success. An easily accessible area that is visible to the customers helps draw in customers without much effort on your part. It is essential to do market research before you finalize your location.
Remember to identify your potential customer base and choose your location to target them. However, with stiff competition and sky-rocketing rentals, the ideal location of your restaurant can come at an exorbitant price.
Here are some tips for choosing the right location that would help in making your restaurant successful.
3. Keep Your Restaurant Costs In Check
Restaurants incur fixed (rent, staff salary) and variable (electricity, food of vegetables & other food ingredients) costs. The trick to run a successful restaurant business is optimizing your margins to reduce these costs, without compromising on the quality of your restaurant.
You can source the ingredients from a vendor who provides a good discount or choose a location that has plenty of natural air and sunlight, saving a considerable amount on your electricity bill. You can employ temporary staff during the non-peak hours and keep your permanent staff engaged only for the rush hours.
You may not have much say in the rent of the property, but try negotiating with the owner to give you ample parking space or exclusive use of an alternate elevator for the guests in the same amount of rent. Due to high rentals, restaurant owners are also opting for Cloud Kitchens and Food Trucks.
Learn the expert tips to control your restaurant costs here.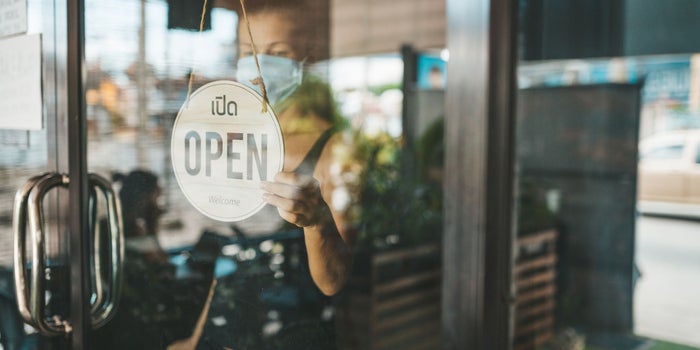 4. Keep An Eye On Your Stock & Inventory
Your restaurant's inventory need not only be well-stocked but it should run smoothly. Maintain an inventory sheet that should be updated daily, weekly, or twice a week, depending on the size of your restaurant. Make a list of fast and slow-moving food items during peak as well as non-peak hours so that you can replenish the goods without overstocking.
You may be surprised to know that even using faulty weighing scales or not updating the latest market price of a particular food item could increase your inventory cost significantly! You should keep your inventory in check to run a successful restaurant business.
This article will tell you all you need to know about inventory management.
5. Train Your Staff And Keep Them Happy Too
Your food, decor, and seating arrangement may be great, but if your staff is discourteous or not following the basic hygiene parameters, it may create a negative impression in the minds of your customers. At the same time, if there is no demarcation of responsibilities and accountability, staff management can cause chaos in the restaurant kitchen. This is how you can manage your staff:
Ensure a clear allocation of duties and instructions for each activity – serving tables, dishwashing, table cleaning, kitchen cleaning, inventory management, food purchasing, invoicing, etc.
Train your staff to make the guests feel welcome through a smile, polite behavior, and neat dressing.
Your staff should also know how to handle emergency situations (fire, electricity outage) and customer complaints.
You have expectations from your staff, but so do they. Like in any other industry, it is crucial to keep your employees motivated and happy. Treat them like your partners in value creation. Offer them a competitive salary, sanitary working conditions, ample work holidays, performance incentives, and career progression opportunities. This will improve staff productivity and help you run a successful restaurant business.
Check out these effective tips on keeping your restaurant staff happy and productive here.
6. Leverage Restaurant Technology For Operational Efficiency
You need to act swiftly to integrate your restaurant with technology if you want to stay on the top and run a successful restaurant business. Some of the most important technical features popular among customers today are contactless dine-in and delivery, online reservations, free wifi,  online/mobile ordering, third-party integrations, contactless payments, etc.
Restaurants are today investing in high-end technological tools which is helping them run their backend efficiently.  A POS system can not only manage your day-to-day operations such as inventory, invoicing, staff scheduling, cash flow, and payroll but also reduce human errors and paperwork.
7. Remember, The Customer Is King. Always!
There may be times when your customers are not happy with their experience at your restaurant. They may communicate their displeasure through the feedback form, on the spot complaint to the wait staff/manager, or posting a negative review on social media. You can't afford negative publicity.
Make sure that you promptly address the issue by talking to the customers and understanding their grievances. Do not hesitate at all in apologizing and rectifying the mistake immediately. You can appease them by waiving off the bill, offering a free meal on the next visit, a VIP pass to your next event, or sending a bouquet of roses or a box of chocolates.
These expert tips will help you to deal with demanding customers. 
8. Keep Your Licenses In Place
There are several statutory and regulatory compliances that restaurants need to follow – shop & establishment license, food business operator license, food standards & safety act, employee rights act, etc. In case you do not adhere to the legal rules and regulations, your restaurant has a high risk of closing down. For instance, Real Poseidon, an underwater restaurant in Ahmedabad was sealed by the municipal authorities because it did not seek the building use permission.
9. Don't Be Ashamed To Scream 'I am the best!'
The restaurant business is a game of showmanship. If you don't advertise who you are and how good you are, your restaurant will witness empty tables on most days. Develop a robust restaurant marketing strategy to create a buzz about your restaurant. Social media is the most powerful marketing tool – post a picture of your special dish, customers having a great time, special events, or chefs. If your budget permits, you can print advertisements in newspapers, distribute flyers, or create a radio jingle offering discount coupons.
10. Don't Miss The Finer Details
In spite of taking care of all the above, your restaurant may fail to impress customers, creating a dent in your reputation. The reason could be the fine details that you didn't consider essential to your restaurant's success or probably didn't pay attention to on a particular day but irked your customers enough not to come back. These could be –
Soiled linens and cutlery
Greasy fingerprints on the menu card
Unhygienic conditions
Dirty washrooms
Cutlery, paper napkins, or salt-pepper set missing on the table
11. Be Data-driven 
The secret to running a successful restaurant business is being extremely data-driven about all aspects of the restaurant. You should be looking at the following data points religiously –
Total sales being generated on a daily/weekly/monthly basis
Best time and day of the week where you're generating most sales
Most and least selling menu items
Food Cost and the Variance between Total Physical Stock and Ideal Stock
Apart from these, you should also be measuring and optimizing your restaurant staff performance, analyzing your customer retention rate, and feedback reports.
Your POS reports will give you all these details and help you make better data-driven decisions for running a successful restaurant business.
Check out this case study of Asia's largest brewpub BYG Brewski, which talks about how it employed data for restaurant growth and efficiency.
Lastly, nothing could beat your own critic review of your business. Just step into the shoes of customers and find out what is so great & not so great about your restaurant. If the bias clouds your judgment, conduct surprise audits, or invite mystery customers. That should work and help you in running a successful restaurant business.