As the restaurant space becomes more competitive and more innovative new strategies are making their way and breaking through the dynamic restaurant marketing scenario. The latest trend is video marketing. Though not new, video marketing is gaining greater impetus and preference now with Youtube becoming the largest video search site, the second largest used platform and Facebook, Instagram, Whatsapp, and Snapchat all moving into the video world through lives and stories. Video marketing for restaurants is the need of the hour. 
As a restaurateur, you may wonder then how you can incorporate videos into the marketing strategy of your restaurant. Here we have covered everything you need to know before entering the domain of videos for your restaurant marketing and some quick tips on how you can tap into it.
Why You Should Include Videos in Your Restaurant  Marketing Plan ASAP!
Videos are the current big hit and can help your restaurant marketing goals reach a new top. Video marketing can produce results equal to or even more than content and picture marketing put together. According to Google, about 50% of web searches look for a video before making any purchase decision. Therefore, it is safe to say that video marketing for restaurants is quite helpful when it comes to attracting more customers. Here are some reasons for including videos in your restaurant marketing plan.
1. Videos Have a Greater Impact 
Videos employ both the faculty of watching and hearing along with understanding and deciphering. A single picture leaves a greater impact on a person when compared to written content and a video in itself is multitudes of such pictures. Thus, videos have a tendency to absorb its audience and stick in their minds. Restaurants hence can benefit to a greater magnitude by engaging in video marketing. Ensure that the restaurant videography is top-notch and the quality is perfect. 
2. Future Course of Advertising
The advertising universe is a highly dynamic one and keeps changing and filtering itself as newer strategies are born. Video marketing is the next-gen of advertising and will see greater engagement from start-ups as well as well established companies. Before this strategy becomes too common and consequently out dates itself, grab enough attention through video marketing for your restaurant.  
3. Videos Communicate Brand Personality Better
Written and pictorial strategies are indispensable tools of marketing but their shortcoming is the fact that they are too momentary. The persona they create is time-bound which does not solve a restaurant's purpose as a part of what they are selling is the ambiance and experience. Videos capture the personality of the restaurant and along with other things communicate the vibe that the restaurateur has built as a part of restaurants USP.   
4. Videos Develop the Brand Image
Along with communicating the personality of a restaurant, videos can also be a tool to brand them. In a video, you can specifically choose the image you want to create and work the film around that with background tools like lighting and sounds. The brand image that you want to build finds a physical visual in videos as compared to just content and pictures that still leave space for imagination.
5. Greater Engagement
Mostly whenever we talk about something going viral, we almost always mean a video.  The attention span of the masses has reduced greatly, and people prefer watching a video rather. A well made and timed video communicates a lot more than a blog and also has the tendency to go viral.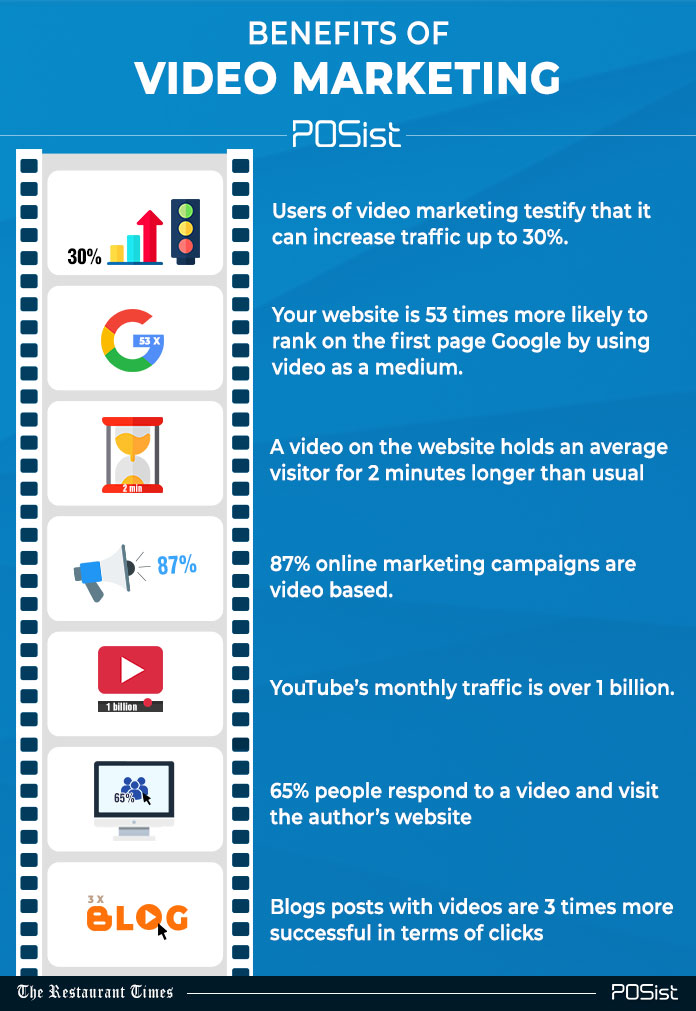 3 Things to Consider Before Venturing into Video Marketing for Your Restaurant
The next phase is understanding the video universe so that you can effectively employ video advertising as a marketing tool for your restaurant. Before actually making a video or outsourcing it to another company there are somethings that you must definitely know.
1. Distinctions and Types of Videos
From stories and entertainment to educational and creative, there are hundreds of videos that dominate the marketing universe. To employ one for your restaurant marketing you first need to understand the basics of these distinctions. While it is impossible to stop at any basic category and there are even videos who do not fit any fixed categories, from the audience point of view you can start with these four most basic types of videos. Apart from stories, these are the four basic types of videos people usually watch:-
What-I-Am-Into Videos- 53% online video watchers watch videos to be inspired or entertained.
I-Want-To-Know Videos- 70% of millennials watch online videos to learn something.
I-Want-To-Do Videos- How-to videos are up 70% as compared to the previous year.
I-Want-to-Buy Videos- 50% of people refer to online videos before making a purchase decision.
2. Video Platforms
Not just Youtube even social media platforms like Facebook and Instagram are changing their platforms to accommodate the rising video culture. There are as a result in multiple ways which you can use to engage in video marketing. You have story options given by Facebook, Instagram and Snapchat, the Live option on Facebook and Instagram but these are mostly real-time options. You can have an introductory video on your website which will make it more engaging or shoot proper concept videos for your Youtube channel and use other social media platforms to distribute them.
3. Budgeting Your Video Marketing  
The last thing is to understand is the cost of making a video. Stories and live videos are in made in real time and so virtually unscripted and free. They can be made with any phone that has a good camera. As far as conceptualized videos are concerned once you know your image and concept you can either go for it with basic understanding or outsource it depending on the cost, budget, and scale of promotion. But make sure the budgeting shouldn't hamper the quality of the restaurant videography. 
How to Engage In Viral Video Marketing For Your Restaurant
Now we come to the final part which is how to actually engage in video advertising for your restaurant marketing strategy. While the video itself can either be outsourced to an external video agency or handled by an in-team expert there are requisite steps that you will have to take before actually shooting the video. Restaurant video production should be done keeping in mind the aesthetics of the restaurant and the target audience. 
1. Target Audience Analysis
First and foremost is analyzing the behavior of your target audience. This will constitute two things, first what your target audience thinks and is attracted to in your restaurant and second, what type of videos do they engage with the most, and what all platforms are they active on.
Remember when we said that a video can ascribe personality to a restaurant? You need that personality to be right and your customers know the vibe and image you set up better than you. Unless you are looking to rebrand yourself, take a customer survey to understand your perception in their eyes and work around that since it is obviously what is drawing them to you.
Once that is done, analyze the video-centric behavior of your target audience so you know where to and how to communicate your video. What sort of videos does your target audience engage in, where do they spend the most time watching videos, which videos are they likely to share and what sort of content would they ignore? For example if your target audience is mostly students and your restaurant is a sports bar or club, your video content should definitely include stories on all social media platforms and your concept video would be something young, energetic and happy focusing on the experience, music and social aspect as opposed to a cafe who will focus on aesthetics, silence and creative energies in their video.  
2. Platform Analysis
Next step is analyzing what content works on which platform. Snapchat is great with raw, organic real-time material that carries the true essence of your restaurant. It does not require perfection or extensive setups. Same is the case with Instagram and Facebook stories. For live videos, you could do different innovative things like Staff interview, chef interview, just showing the general working of your restaurants or behind the scenes. The funnier and more real they are the better as they will make your audience believe that they know you and increase their brand loyalty.
For proper concept videos, Youtube is ideal but based on your target audience behaviour do share it on your other social media and website. Just make sure that the video is ideally under 4 minutes and if more is necessary then it must never exceed 10 minutes.
Videos have completely taken over the market and have emerged as the go-to restaurant marketing strategy for branding and better engagement with the customers. Try out these tips to get started with videos as an essential restaurant marketing strategy.