Ahmedabad, the city of culture and heritage, attracts many tourists from around the globe, wholly reflecting in its authentic tastes and vegetarian dishes. Access to the Internet and the millennial generation has given Ahmedabad a whole new flavour. Restaurateurs are now picking up on new strategies to increase restaurant sales in Ahmedabad.
Ahmedabad is home to two major educational institutions, IIM and NID. Students from all over the country come to study here. Incoming of students from all parts of the country is another reason for the food-evolution that Ahmedabad is experiencing. A series of new restaurant formats have come up in the city.
In this blog, we cover the following:
How Are Amdavadi Restaurateurs Increasing Their Restaurant Sales?
Restaurants like Eleven 11, Wok On Fire and I Contrast Ice Cream are becoming the new stars of the city with their fantastic ambience and more modern cuisines. Apart from the emerging restaurants, existing restaurants are also working their restaurant formats around whats trending in the town to hype-up their appeal and relevance. Since there is a major shift from the prevailing casual dines to QSRs, which are becoming the new favorites, there is also a major change in the way the restaurants are marketing themselves.

i) Increase Table-Turnover Rate: How?
Encourage customers to place their orders while they are waiting for their turn to occupy the tables. This will decrease the time it takes to service one table enabling you to serve more customers during peak hours.
Another thing to be noted here is staff training. The staff you hire directly impacts your table turnover rate. The better your team can manage the work, the more is your table turnover rate. Thereby training your staff becomes essential for a simple reason of higher productivity. Streamlining operations and procedures through technology would help you prepare your team in turn! Win-win.

Aanal Kotak, a celebrity chef and restaurant owner in Ahmedabad, realized while recruiting staff locally, the candidates lacked the basic etiquette which service staff usually follow. "I asked them questions related to hospitality, but no one could answer the questions. They did not use hand gloves in the kitchen nor the chef cap. There were no basic rules they would follow", says Kotak. 

ii) Integration With Online Food Aggregators 
Online food aggregators are spreading to tier-II and tier-III cities more rapidly than we imagined. Since these giant players exhausted the city clients, they are now focussing on expansion in the smaller cities. With these platforms making a mark in Ahmedabad, restaurants should gear up to invest in tying up with them. It will not only increase restaurant sales but help them grow their brand exponentially. 
One downside of these collaborations implies to the budding restaurateurs, which is to pay a hefty amount of margins. 
According to Kotak, Restaurant delivery services can be beneficial for both the customers and the restaurateurs, but there are a few downsides to consider as well. For small scale restaurants, who do not get sufficient dine in, it is an excellent opportunity to opt for the online delivery partners as they help the restaurant to boost restaurant sales. 
Kotak tells that the most significant nuisance is the steep discounting game which has started to hurt margins. It is ruining the society and also, the restaurant industry. The patrons get used to such deep discounts leaving the restaurateurs with no other option than compromising on the food quality to continue providing such discounts.
Fixing the margins issue and still keeping a check in the food costs is something that a restaurant still needs to be working at in Ahmedabad. 
iii) The Changing Food Trends At Ahmedabad For Your Restaurant Menu
Ahmedabad is a city of festivals and celebrations. People love to celebrate the little festivals like kite festivals and Garbas with full force. The locals are also incredibly proud of the food that is served at these festivals, and we are not just talking about Dhokhla, Fafda, and Thepla. The Ahmedabadi cuisine has gone over a roll in the past few years and Amdavadis accepted it with the most humble gesture. 
Here are some new food trends of Ahmedabad that were seen in 2019. As a restaurateur in Ahmedabad, you must be aware of these to be able to incorporate a few of these new food items into your menu and offer promotions accordingly. This would surely have a hike in their restaurant sales as well as make their brands more attractive. 
a) Ice-Cream Trends: An entirely different range of ice creams have been introduced in the city, and people are quite fascinated by them. Be it Gajar ka Halwa ice cream or a Rasgulla Kulfi; the new favours have been the talk of the town. 
You can start by putting in ice-cream flavours in your menu like Charcoal, Paan Masala, Doodhi Halwa, Rajbhog and Gulkand. Maintaining the authenticity of the city and also adding a modern touch to the ice creams, you can increase your footfall as well as revenue.  
b) Japanese Food Trends: Apart from the authentic tastes, the Asian and continental cuisines have also been on a roller coaster ride in the city. You could attract a lot of people who are health-conscious and workaholic by adopting Japanese cuisine on your menu. Many people are already looking for Matcha tea, matcha ice-cream, and well-made sushi. 
c) The Growing Breakfast Trends: The Breakfast trends hit Amdavadis quite recently, and they seem to love it. Call it, on the early working hours of the corporate lot, or the students wanting to have a low-budget breakfast, picking up on this trend will surely help to boost up restaurant sales in Ahmedabad. 
iv) Amdavadis Love The Experience. Is Your Restaurant Ambiance Ready To Create Wow?
Apart from the quality and variety of food, one major reason why people like to come back to a restaurant is for its ambience.
Picking Up On Fancy Themes at Your Restaurant: Indian Swag is one such restaurant where the restaurant owner incorporated a robot to serve the customers. The restaurant sales have reportedly gone up by 60% since the experiment.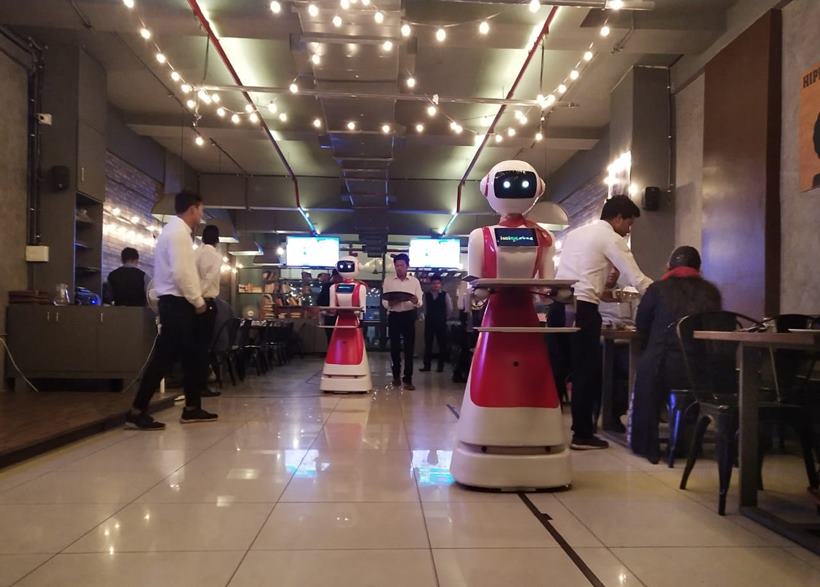 Source: www.indianexpressonline.com
Another example of such a fancy themed restaurant in Ahmedabad is the New Lucky Restaurant, where people eat with graves and coffins. And yes we are not exaggerating, the people seem to love it. M.F. Husain had himself been a regular customer of the restaurant. Guess it's time for you to pick up a fancy theme to attract new customers. 
v) Offer Special Occasion Meals
No matter if it's Iftaar or Diwali dinner, you can always expect a blast when it comes to the food in Ahmedabad. Restaurateurs are incorporating different occasion meals and promotions to ensure that their restaurant sales are enhanced. Here is one such example from Puffizza, a restaurant in Ahmedabad.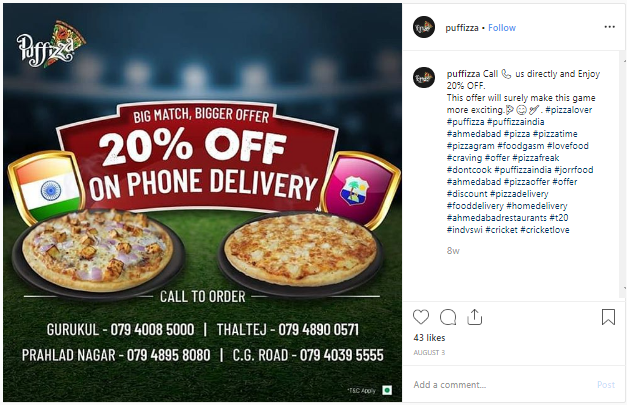 vi) The Ahmedabad Restaurants That Are Using The Internet Well Are Gaining Popularity
India in 2019 witnessed a revolution called JIO. Internet penetration and data consumption have put us amongst the top 5 Internet data-consuming geographies on the planet. A striking online presence is critical. 
a) Website Presence: Create a website that engages your customers. Consistently update it with new offers. It must also have a contact-us page, for the customers to be able to find you when they are impressed enough. Also, it would help if you took care that the website is SEO friendly, for it to rank better.
Here are two beautiful examples of Amdavadi restaurants, with a fabulous online presence: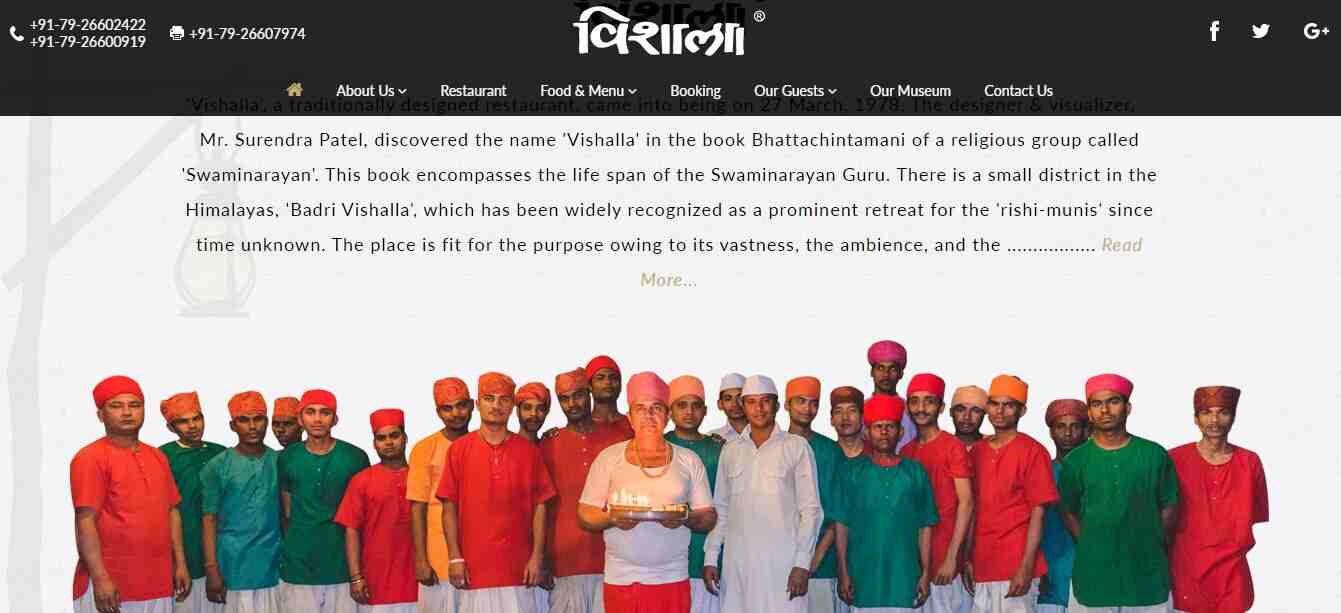 Look at how beautifully the restaurant depicts their story on their website. It would attract a significant chunk of people from Ahmedabad since the brand now has built a trust factor within their customers. Another example here depicts the branding of different restaurant formats all on one page, to educate its customers about the variety it offers.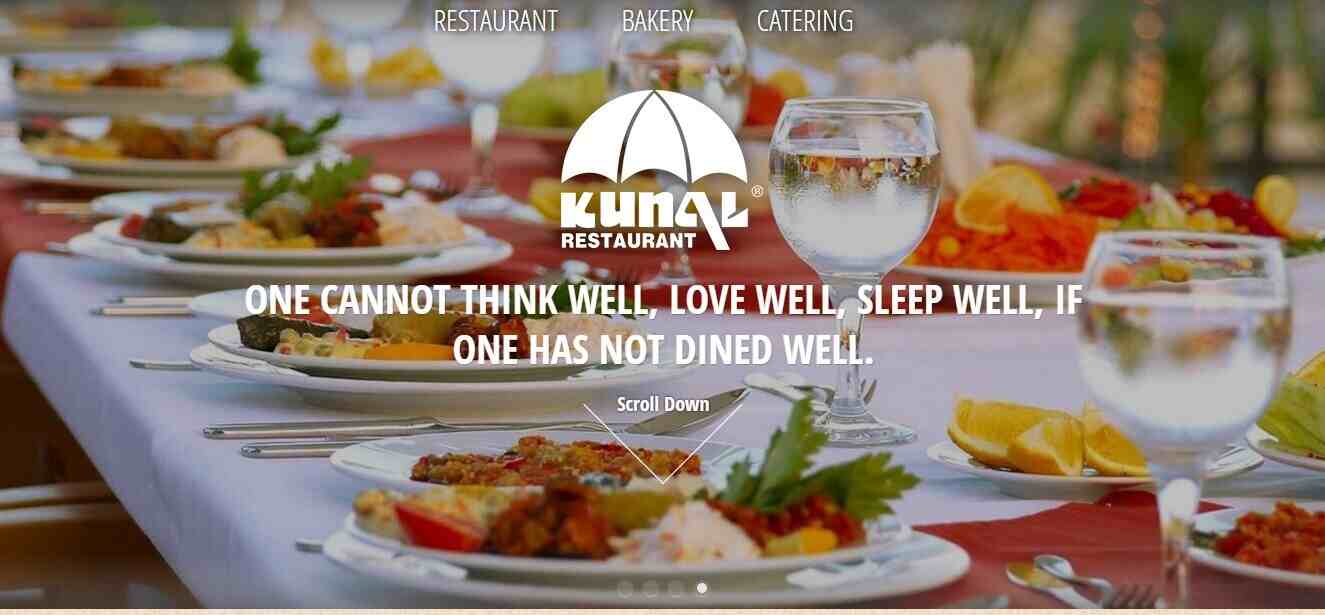 b) Blog: Keeping a blog alongside a great website could take your restaurant sales to another level. The millennial generation is all for food pictures and food stories. Your blog could contain accounts around your restaurant, the restaurant industry in India, the primary food trends, and the 10 Not to-do lists. 
c) Google My Business listing: Another way to enhance your online presence is to be a presence on Google My Business listing. The right kind of image would give you just the proper publicity to increase restaurant sales in Ahmedabad. 
Apart from these, there are many other platforms where you could work on to increase your restaurant profits in Ahmedabad. Make sure to reply to reviews on Facebook and engage with customers. Also, try getting more and more online presence for your customers, on Quora or Linkedin. 
vii) Reaching Out To Food Bloggers 
Food blogging is making a remarkable impact on the restaurant industry of Ahmedabad. Branding your restaurant by engaging genuine influencers will sure help you create more validation and trust.
Some of the famous social media influencers in Ahmedabad have been curated for your quick view.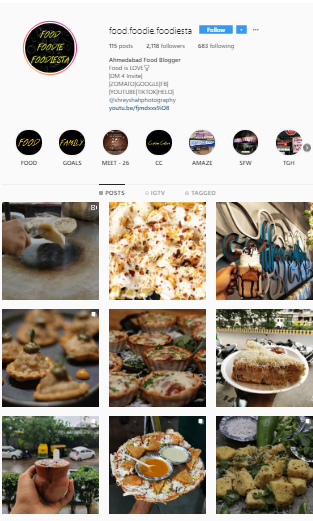 Dinewithfoodie, mr.foodlover, devilsredtongue, and thestarvingstunner are a few of the examples of top-performing food bloggers in the city.
viii) Use Technology To Increase Restaurant Sales
Having talked about the growth in the restaurant industry of Ahmedabad, it must be mentioned that technology is the back-end of this growth. 
The restaurateurs of Ahmedabad now understand that an ideal POS software is the first and a critical step in managing their restaurant better.
Many heritage restaurants and food joints that have been running for many generations in the city still use paper bills and manage everything manually. Not only it is highly inconvenient, but it also takes many workforces to keep things in place. Keeping in mind the growth that stands right in front of the restaurant business, restaurateurs must start thinking about investing in restaurant technology. 
Apart from billing and streamlining order taking operations, here are some benefits that a POS provides you with, to directly increase your restaurant sales. 
Analyze reports and records

 to ensure that there are no backlogs. Your inputs, your staff's performances and everything that you put in your restaurant can now be quantified through technology. 

Recipe management to reduce costs

 and thereby increase revenue. StandardizationStandardization of such operations helps to cut down on your food costs, directly contributing to an increase in revenue generation. 

You could upsell your customer's orders using CRM

. For instance, there is a customer that has ordered a few times, and he/she is calling back again to order. By searching his details, a restaurant POS will be able to tell you about his past orders. You can, therefore, suggest to him about his favourites from the previous orders visible, thereby have a better chance of upselling. 

Run marketing campaigns

 to bring your customers' attention to your outlet. Since marketing campaigns specific to the customer brings in more leads, you should start targeting your regular customers to make sure you retain them. 
Although a restaurant management software helps you in many other ways to increase your restaurant sales, the ones listed above are a few of them. 
"We were the first ones to used Posist in Gujarat. I am usually out of town and having multiple outlets makes it difficult to keep control of everything. But Posist is indeed a blessing for us. I can access all the reports on my phone at any time. The anti-theft module is one of the best modules; it gives me timely notifications whenever a bill is void or if any fraudulent activities take place," 
Says Aanal Kotak, a celebrity chef and restaurant owner of The Secret Kitchen, Ahmedabad. 
ix) Communicate With Your Customers and Build A Trustworthy Brand – Feedback 
Unlike earlier times, when the people dining out were not asked enough about the food, restaurateurs of the new restaurant formats have made sure that they take enough feedback from their customers. Having excellent communication with the customers makes it easy for the restaurateurs to build a rapport with the customers, and even retain them. 
A restaurant management software can help you communicate with your audience better by creating a proper feedback form. These feedback forms are made continuously specific to the customers. For instance, if a customer ordered Shahi Paneer and Dal Makhani, the automatically generated feedback form will have questions like "Did you like the Dal Makhani?" or "Rate Dal Makhani according to your likes.". Having such detailed feedback would help you to do rectify precisely what's going wrong.
x) Participate In Food Fests 
Emerging cities like Ahmedabad are beginning to see the craze of food festivals, and it's a perfect opportunity for restaurateurs to enhance their sales. A lot of restaurants and cafes take part in these food festivals, where Amdavadis come in considerable numbers to taste different cuisines. An unimaginable footfall increased the restaurants' sales, and a better brand name are all in store for restaurateurs taking part in the food festivals of the city. 
xi) Host Events At Your Restaurant 
Hosting new and exciting events at your restaurant is always a great way to boost your restaurant sales. 
Unlocked Cafe of Navrangpura hosts a Board Game Night every Friday to attract customers with its Pictionary, and carrom games, at just a cover charge of 100 bucks! 
One such example of an event is from the BBQ and Grill Food festival hosted by the fortune hotels. They used nothing but the winters to run a campaign around their bestsellers!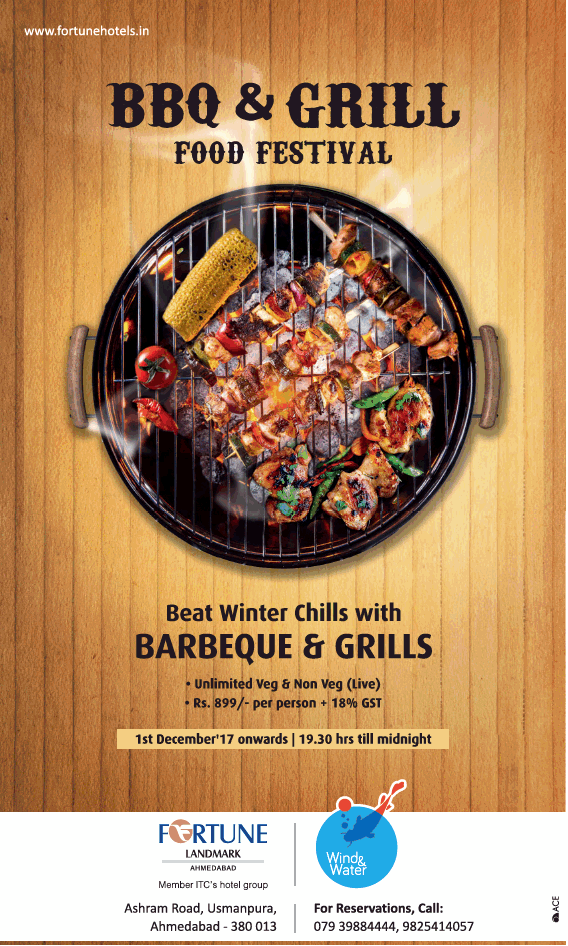 We loved doing this post on the evolution of the restaurant industry in Ahmedabad. It is incredible how the city retains its history, culture and the always steady charm. At the same time, it is evolving to an Ahmedabad of the future.
If you are a restaurant owner in Ahmedabad, we would love to hear your story.