A grand restaurant opening is your first chance to make a grand splash in the community. It is an opportunity to introduce the facility, the food and the atmosphere to potential customers. New restaurants crop up every day, and you must just get lost in the crowd unless you make an impact with a grand opening. In this article, we will walk you through some innovative restaurant opening ideas that will help you leave an everlasting impression on your customers.
Restaurant Opening Ideas That You Must Swear By
If you have a solid list of the restaurant opening ideas in place and if you execute them right, then you may never have to spend a penny on marketing, ever. On the contrary, not having such elaborate restaurant opening ideas and you might have to market yourself out of a hole for a very long time. Hence, restaurant opening ides that you must implement under all circumstances are:
1. Plan For Your Restaurant Opening Ideas Well In Advance
Considering that the opening of your restaurant will be your big day, you must plan well in advance. You possibly cannot think that you will start the preparations a week in advance and you can sweep your customers off their feet. Hence, plan at least a month in advance if nothing less. Prepare a Plan Calendar, where you should put your plans in full detail. Schedule your calendar well. It should include what you are planning to organize, on which day, the discounts that you will be offering, the special menu and the special guests you are planning to invite on the main day. Once you have your planner ready, what you need to do is abide by it and make all the arrangements that will lead to a ravishing execution of the plan. It is heavily recommended that you get on board an event planner who would take care of your restaurant inauguration for you. 
2. Soft Restaurant Opening Ideas That You Must Not Neglect
The soft opening should be the first step of your planner for your grand opening for your restaurant. This is essentially the period when you introduce your restaurant, the menu, the decor and everything to your family, friends, vendors, and influencers on the community, who will give you unadulterated opinion about your restaurant and will spread the news of your arrival in the vicinity. Remember to keep your target audience in mind, and include a few people from your target customer base. 
Remember to ask the feedback from the guests as it will help you bring the necessary changes that will further hone your restaurant business. You can create a focus group that would help you get a diverse opinion. 
With the gathered feedback, you can then bring about all the necessary changes that will help to further hone your restaurant business.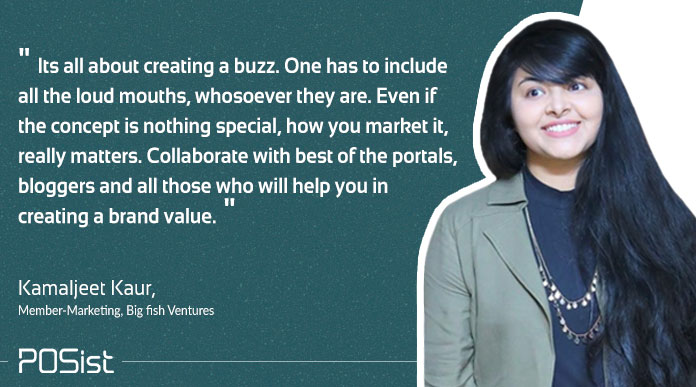 Since this is your last chance to spread the news of your arrival, it will be imperative for you to reach out to every single blogger, Tweeter, Facebooker, author, speaker, reporter you can find. Since, it is they who will inform people about your restaurant, through their social media posts or by flashing it on the local newspapers. It is always better to be the talk of the town before your big day!
3. Market On All Levels
A grand restaurant opening must always be supported by smart marketing. In fact, you must start the marketing campaigns even before you open the gates of your restaurant.  Although online marketing is the new trend, this should not prompt you to miss out on the huge potential that offline marketing holds for you. Put up hoardings, distribute flyers and pamphlets in the entire vicinity, and make your presence felt in the local newspapers. You can even put up a small stall for a day or two, in your if your restaurant location, where people can taste some of your starters. If a customer like the taste of your food, be sure to see him around at your restaurant again.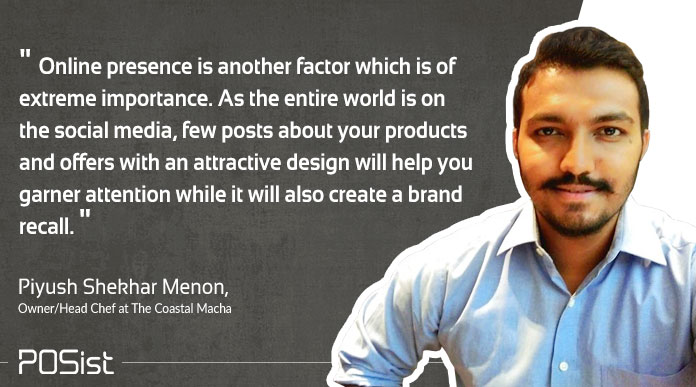 Apart from the offline marketing strategies, you must create a website and online pages on all the social media pages. Here you can start putting up pictures and videos of the process how your restaurant is building itself up from the scratch to entice its customers. This will help in creating a lot of apprehension amongst your customers. Post about the offers and discounts that you will be providing on the initial days, post videos where your chefs talk about the speciality dishes that will keep your restaurant ahead of all your competitors. Since mostly everyone spends a considerable time hovering over their social media accounts, being present here means that you are always in sight and in mind of all your potential customers.
4. Host A Grand Party
If you have done your soft opening right and followed all the restaurant opening ideas that you included in your planner till now, then you just don't need to be worried about your grand opening. You are sure to receive an influx of customers, managing whom will be a task for you. Decorate your restaurant especially for the D-Day. Bring in some well-known DJ, who will drive your guests crazy on the main night. Celebrities are always known for attracting the crowd. Hence, include them in your guest list, and see how both customers and media buzz around your restaurant!
Some restaurant opening ideas that you must remember and swear by on you 'D' Day that will decide the destiny of your restaurant are:
Deals And Offers to Attract More Customers: Deals and offers are a sure thing that will attract customers.

You might offer a free dish, dessert, for example, or a free drink, a slice of pizza, or a coupon or voucher which they can use when visit your restaurant the next time.


You need to start generating revenue, so don't do a completely free offer and make your restaurant run into a loss, hence make sure that you provide buy one get one free type of offers. Your existing customers will spread the news of the discounts that are being offered, and

 this will introduce your restaurant to a host of new potential customers.

 

Menu It Right: 

Your customers must be given the chance to try a range of dishes on your

menu

by offering a special menu for your grand opening.

While deciding on the menu for your grand day, remember what you served your close ones on the soft opening and what feedback they gave. Never make the same mistake twice.
Let The Media Spread The News Of Your Arrival: If you haven't already, now is the time to reach out to media and influencers who can cover the opening of your restaurant. Let your media personnel speak about how good your restaurant is, about how good the ambiance, food, service of your restaurant is

. Nothing will beat their words which will make your restaurant credible to the masses at large.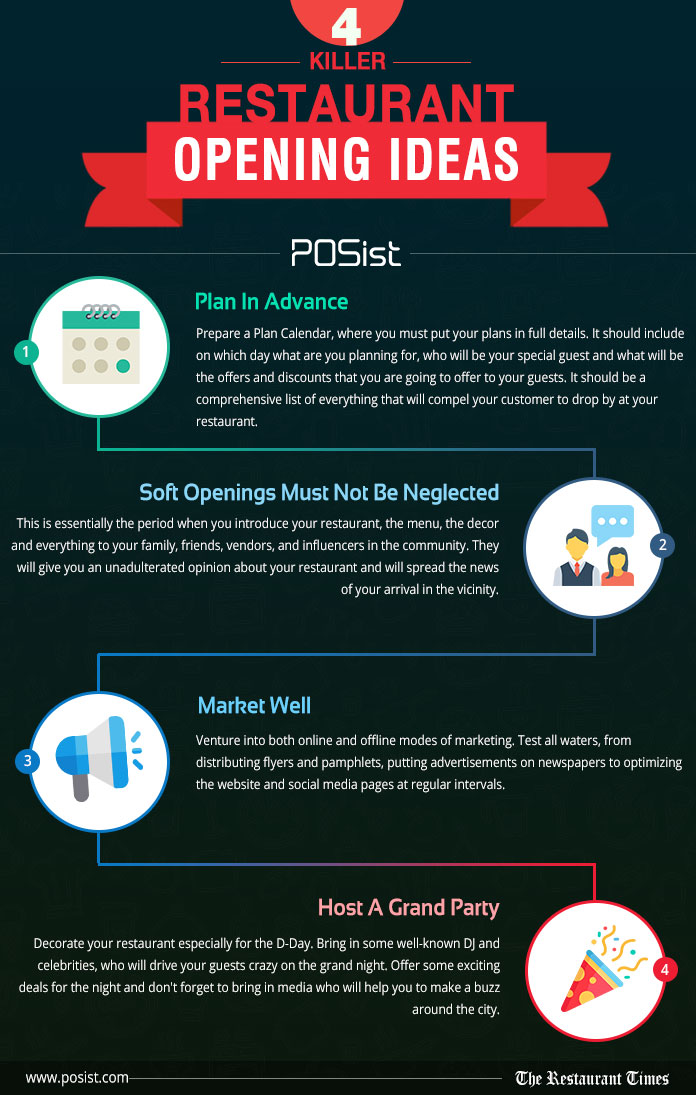 You must always remember, that how you start your restaurant will have a massive impact on the future of your restaurant. Make sure that you are not at all lazy about this phase of your restaurant's life. Have a list of restaurant opening ideas and make sure to make a grand entrance into the industry. 

Bring in innovative restaurant opening ideas, and implement them right away. If you do your opening right and promote your restaurant well, then you will not have to worry about the future of your restaurant!