While starting a new restaurant business, there are a lot of factors that need to be considered, ranging from deciding the restaurant concept and design, menu engineering, to hiring and staffing. If you are not from an F&B background or don't have prior experience of opening or running a restaurant, you will undoubtedly face some troubles.
Read the most common mistakes made by first-time restaurant owners and how to avoid them here.
To avoid these mistakes and make sure that your restaurant business runs into as few troubles as possible when starting its operations and in the future, you may need the services of a restaurant consultant. Thus arises the need for Restaurant Consulting. Even if you are not a first-time restaurateur, a restaurant consultant will give the perspective regarding the business and format for a particular area, and help you in setting up the restaurant business.
Restaurants Consultants are the people with experience and expertise that they have gained over the years working with different restaurants. This article talks about the specific areas where a restaurant consultant becomes a must while starting a restaurant and how the said restaurant consultant will help you in these areas.
What Do Restaurant Consultants Do?
While hiring a restaurant consultant, the question that restaurant owners mostly ask is, "What can a restaurant consultant do for the restaurant?" In simplest terms, restaurant consultants are professionals who are hired by owners of restaurants and other food establishments to help them thresh out issues in various aspects of their business.
A restaurant consultant will not just enable you to run your restaurant smoothly but also ensure that you do not end up making fatal mistakes, which can lead to restaurant closure. With diverse experience in the industry, restaurant consultants bring to the table expertise regarding the functioning of various departments of a restaurant, which can make sure that as a restaurant owner, your venture will be a success. Some of these services include:-
Guiding you regarding your concept and format
Guiding you regarding proper and viable locations
Selecting the right property for your restaurant
Enabling smooth hiring and training of your staff
Menu development, menu engineering, and menu pricing services
Financial planning and accounting services
Restaurant design services
Specific Areas Where You Need Restaurant Consulting
The role of restaurant consulting varies from providing expert advice on the concept, design, finance and location, menu, and other factors related to the success of your restaurant business. The following are the areas where a restaurant consultant plays a significant role.
Brand and Concept
Hiring and Training
Menu Design
Restaurant Design
Restaurant Finance Planning
Social Media/Marketing
1. Need for Restaurant Consulting in Deciding the Concept and Location
(i) Concept and Format:  When any restaurant owner is beginning with their new venture, the restaurant consultant will help you in developing the concept for your restaurant and whether the location and the concept are in sync. Based on the concept, the restaurant consultant enables you to decide the restaurant design, develop the menu, and the pricing.
(ii) Location: Location is also a critical component that plays a significant role in the success of the restaurant. Based on your restaurant concept, format, and budget, the consultant can help you pinpoint the ideal location of your restaurant after doing market research specific to the existing competition and target audience.
With the help of restaurant consulting, you will be able to do a demographic survey to understand the potential customer base and their eating preferences. Restaurant consultants are aware of which location works best for a particular restaurant format and has an already built-in customer base for a higher footfall.
(iii) Shop & Property:  The need for restaurant consulting also becomes essential in selecting the right property for your restaurant. Basic amenities such as the parking space, regular water, and electricity supply are a must in any restaurant. Your customers should be able to reach the restaurant without much difficulty and park their vehicles; otherwise, they might choose another restaurant over yours. The consultant will also help you in analyzing that there are desired amenities already available in the building of your restaurant.
2. Need for Restaurant Consulting in Hiring and Training
Your staff is the biggest asset to your restaurant business, and hiring and training them is one of the most critical aspects of running a restaurant. There are several categories of personnel required in a restaurant business, such as managers, cooks, servers, dishwashers, hosts, and bartenders. Hiring an HR team for single standalone restaurants can be too much of a task and also will cost you a lot. Many restaurant consulting firms can help you set up the entire restaurant staff and also train them.
In the process of building the kitchen and team, the staff is given the recipe and ingredients, and then there are a lot of trial and error sessions. The training of staff members is usually completed in 2 weeks.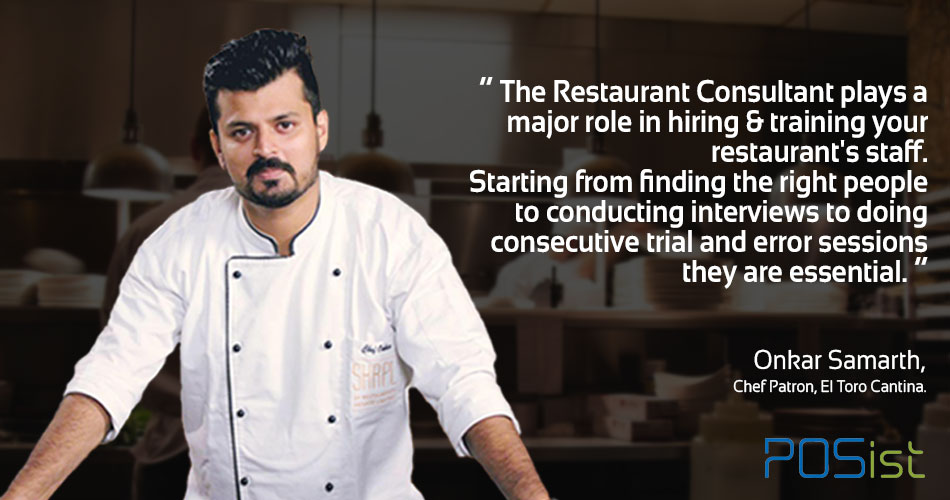 3. Role of Restaurant Consulting in Menu Design
One important thing that is generally understated is the restaurant menu design and layout. Any menu if appropriately designed, can be used as a tool for persuasion and influence your customers to order more. As a restaurant owner, menu development should be an essential part of your marketing strategy as your menu items are what will ultimately fetch profits and repeat customers.
Your menu is, in fact, the most powerful tool for your restaurant marketing if used judiciously and so it should never be executed in haste. Here arises the need for customized services of a menu consultant.
For boosting the revenue of your restaurant business, hiring a menu consultant becomes very important. If any restaurant's menu is not working well, even simply redesigning the menu, incorporating basic menu engineering techniques, and exercising menu development can bring in significant changes in your restaurant's performance and you can see a hike in the profits.
Your menu design should be able to reflect your restaurant's concept and brand. In addition to this, there should also be budget lines for professional copywriting, printing, and production, and potential for new food photography and any new brand elements that may be introduced both to the menu and overall brand platform.
(i) Menu Design & Layout
A restaurant menu consultant will help you decide the design and layout of your restaurant menu. The menu should be in sync with your restaurant format and also work as a branding element for both the menu items and your restaurant. Following aspects need to be considered while deciding the menu-
Colour & Font: The color combination of your restaurant menu needs to be in sync with your restaurant's format and concept. For example, for a fine-dine restaurant, you can go for warm and earthy shades which are calming and graceful in general, while for quick-service restaurant reds and yellows are considered ideal as they increase diet and impulse buying and also add urgency to the subconscious mind of the customer, so the table turnover rate is maintained.
Font: Make sure that the font used in your restaurant menu is clear and easy to read. The size of the font must be neither too big nor too small. Decide the font based on your target audience, if they are mostly over 30 or 35, a font that is clear and classy but not so huge that it feels kiddish will be ideal. On the other hand, if your target audience is kids, you can make the font as cute as possible while for college students and young office employees, you can experiment with funky font styles.
Size & Template: The size of the menu should be handy and easy to hold. One of the biggest mistakes that restaurateurs make is that they decide the size and template first and then plan the menu according to the size. Ideally, the case should be reversed. Yes, the size of the menu and the design it follows is important but not more important than the dishes on the menu.
Menu Description: The menu description for each item on the menu needs to be crisp, descriptive, yet be written well enough to tempt customers to order more. This article will guide you on how to write tempting menu descriptions.
Menu Paper Quality: The restaurant consultant will help you choose if you want to have waterproof paper for your restaurant menu or have a laminated menu. The paper quality needed will also change based on your restaurant format and target audience. A restaurant consultant will help you zero in n the factors you need to pay attention to make these decisions.
The restaurant consultant will do some study around the areas like the menu of the existing restaurant and the existing competition and then guide as to how the menu can be made unique by adding new dishes that will be appealing to the target customers.
Onkar Samarth, Chef/owner, El Toro says,
(ii) Menu Pricing and Menu Costing
Food cost and portion control are two ways to help price your menu correctly. Creating the right price point for your menu is an essential part of menu development to keep the costs down and the sales up. The menu consultant can help you in understanding the role of portion control, food cost; price points will help to create a restaurant menu that balances customer expectations with an affordable kitchen inventory.
Your restaurant menu should be of the right length. The consultants can help you in hiring chefs for your restaurant as well who will care about your food and menu starting from its preparation to its plating. The restaurant menu consultant will guide you on how to make accurate recipes and take food cost out per portion which is essential for pricing your menu.
The ideal menu of food cost should be 28-30% of the Selling Price of the item. If the final selling price of the item is too high, then with the help of restaurant consulting, you will be able to decide if your target customers are willing to spend that much on an item and whether or not it would be a good idea to include that item in your menu. However, a few exclusive items can go for a higher price.
4. Role of Restaurant Consulting in Financing
Restaurant Financial Planning is one of the most important components of opening a restaurant. Restaurant consulting will enable you to analyze the performance of the restaurant on the parameters of Profit & Loss, Cash Flow Statement, Cost of Sales, and Cost of labor. After assessing the data, operators can evaluate their finances and establish systems and structures to keep the restaurant performing.
Restaurant Financial Consultants work with the Restaurant Owners and set financial goals for their restaurants; decide upon the viable options for investment, move money into those investments, and keep an eye on their finances with their critical thinking.
With the help of Restaurant Consulting, you will be able to create a budget for your restaurant which will help you with a 5 year or ten years projection. Restaurant Financial Consultant can give insights to a startup or even an existing restaurant as to what would be required for fulfilling the goals.
Your Restaurant Financial Consultant will guide you in the following areas:
Space allocation for all your functional areas.
Interior cost assumption
Restaurant, Bar, Kitchen equipment, and machinery costs budget.
Pre-opening expenses, admin expenses
Restaurant and Kitchen profit loss account
Revenue projection and play of key drivers of occupancy and costs.
Uniform system of accounting for restaurants
Identify the index of variability for all drivers of your cost.
Identifying depreciation.
A simple cash flow statement
Cost of Capital- the creation of your restaurant WACC.
Review of your restaurant project using tools like IRR, NPV, ARR, ROI, and Payback.
Staffing plan and their salary projections.
Restaurant Financial Planning for an existing restaurant will create budgets by identifying key drivers and their index of variability for each item. Budgeting works well with our Planning for the profits process.
The Financial Plan for your restaurant will include:
Risk Analysis & Mitigation Plan
Sales Forecast Break-Even Analysis
Profit and Loss Statement
Cash Flow Statement
Balance Sheet
5. Role of Restaurant Consulting in your Restaurant Design
The entire process of restaurant designing and planning is the most important component of restaurant concept development, and this is the area where you need restaurant consulting.
Restaurant design requires an in-depth understanding of how restaurants flow, how employees will interact with the design, and how the architecture and layout of your restaurant can impact the design. Refer to these guidelines to get a deeper understanding of restaurant design.
A restaurant design consultant understands anthropometrical viability before creating a restaurant design and floor plan and does the optimal utilization of the space available required for human sitting and movement.
Both the consultant and an architect can help you with your restaurant design and floor plan. The architect will be able to come up with spatial configurations and draw up the floor plans to make sure that the layout is safe and successful in the long run.
The role of the consultant will be to be able to guide where and how to build a wall, design a staircase and how to structure and collaborate various elements and principles of design in generating a harmonious and functional floor plan.
You would also need a contractor who would be responsible for supervising the construction. The contractor can implement the design and guarantee the on-time completion of the construction work. However, at the same time, the restaurant owner has to ensure that there is coordination between the architect and the contractor.
It is undisputed that the success of a restaurant is primarily dependent on the customer service you provide. However, what attracts your customers to your restaurant and retains them will depend not only on the food but on your restaurant's interior design as well. The idea is to create an atmosphere or environment that puts the customers at ease while they have the most amazing dining experience. Your restaurant's interior design should be according to your restaurant format and concept.

6. Role of Restaurant Consulting in Marketing of your Restaurant
Several restaurant consulting firms also help in the marketing and branding of restaurants. For one single restaurant, hiring a PR team can be too expensive on the payroll. Various outsourcing agencies/advertising companies can efficiently handle Marketing and PR for your restaurant. All of your social media platforms are handled by them.
Even if the consulting firm doesn't handle the marketing part themselves, they have a fair understanding of the target customer base and can help come up with the best marketing strategies to attract and retain customers. They come up with their promotion and build a brand strategy that will be suited for your restaurant.
For making any restaurant a success, the product has to be good. A restaurant consultant can help you in various ways, but the owner should know what type of business he is choosing. When you are in a customer-centric industry, people's perception matters a lot, and a restaurant consultant can help you understand the demand of your target audience. With the help of restaurant consulting, you will be able to improve the overall performance of your restaurant including customer service and dining experience.