Diners today are exploring new experiences that not only offer them a unique variety of food options but an exceptional ambiance as well. Theme based restaurants are the latest to have gained popularity among diners. With over 87,650 restaurants, the financial capital of India, Mumbai offers a multitude of theme-based dining options that attract a huge number of customers. This article serves as a guide that you can use to explore some of the best theme restaurants in Mumbai.
11 Theme Restaurants In Mumbai That Are A Must-Visit
We have compiled a list of 11 top theme restaurants in Mumbai. Take a look at them!
1. Village-The Soul of India
Village-the Soul of India has beautifully captured the experience of village life in a metro city. As the name suggests, the theme of the restaurant is that of a rustic village setup that reflects the authentic charm of earthen handicrafts and decor. Along with the charismatic decor, regional activities such as dance, folk music, and entertainment shows enlighten the place. The restaurant offers a magnanimous spread of unlimited meal options of over six different cuisines with an in house handicraft shop for customers to eat and shop.
 Where: Kandivali and Vashi
Price: INR 1000 for two
2. Poush-Essence of Kashmir
Poush is one of a kind restaurant that has ingrained the essence of Kashmir perfectly. The restaurant serves authentic Kashmiri cuisine and is famous for its exotic ambiance. The beautiful houseboat seating arrangement like that of a Shikara with beautiful curtains creates a unique experience for the diners. The authentic taste of Kashmiri cuisine and ambiance makes this place a must-visit.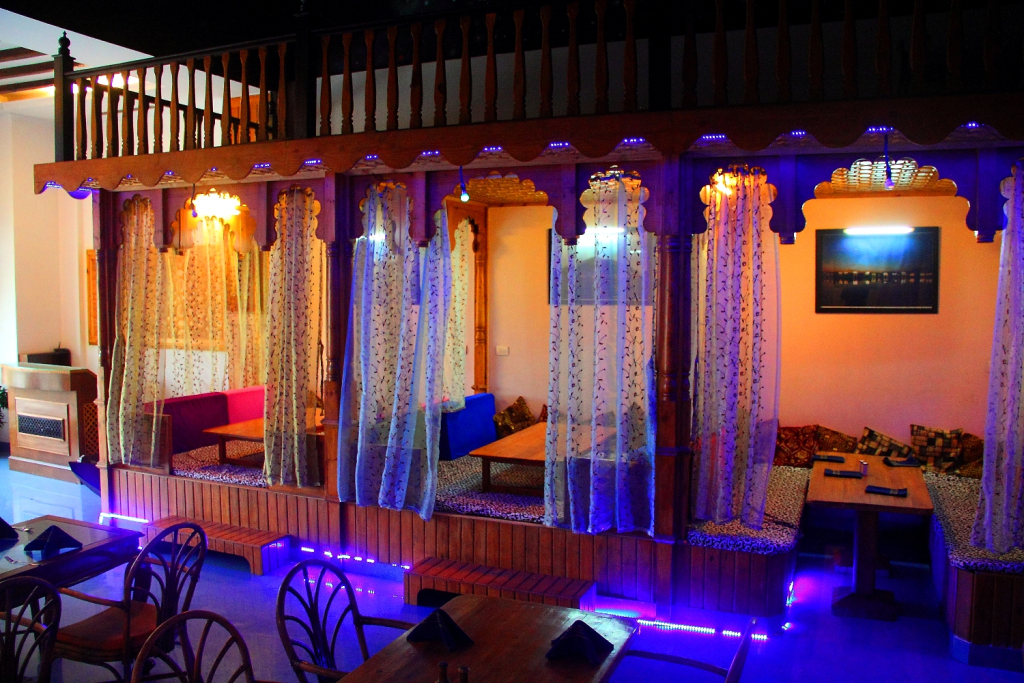 Where: Malad and Kurla
Price: INR 1500 for two
3. Chenab
The perfect dining place for Punjabi food lovers in Mumbai, Chenab brings the taste of authentic North Indian delicacies to its patrons. The unique Dhaba style ambiance of the restaurant is well decorated with traditional wooden style seating arrangements complemented with dim lights and an earthy touch. For an open-air rooftop Dhaba experience with mouthwatering Punjabi dishes, head towards Chenab!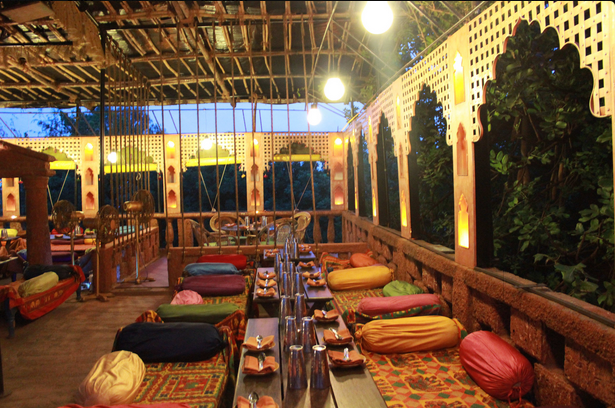 Where: Near Sagar Vihar, Sector 8, Vashi, Navi Mumbai
Price: INR 1200 for two
4. Rainforest Restobar
Rainforest Restobar in Mumbai offers a unique forest-based theme experience to its diners. The ambiance of the restaurant offers a visual experience with waterfall, dim lights, huge trees, and the peaceful sound of running water & chirping birds which seems nothing less than a musical symphony. A dining experience that offers delectable food options with an atmosphere of forest life in a crowded city is pure bliss!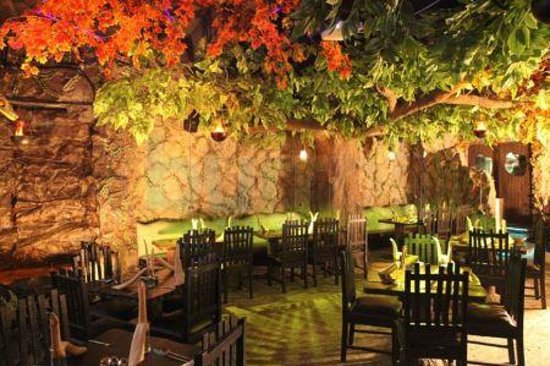 Where: Multiple Outlets
Price: INR 1800 for two
5. Cat Cafe
A perfect destination for all cat lovers, Cat Cafe Studio in Versova, is one of the first cafes in Mumbai that allows diners to eat and play around with cats. Though the cafe doesn't allow patrons to bring their own cats, it has a dedicated cat area with over 20 cats that are medically treated and put up for adoption. The cafe's cozy ambiance provides free access to wifi, books, board games, and also hosts entertaining artistic events.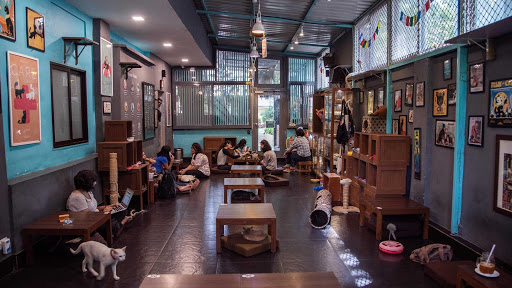 Where: Bungalow No. 63, Harminder Singh Rd, Aram Nagar Part 1, Versova, Andheri West, Mumbai
Price: INR 500 for two
6. Koyla
Located in the heart of Colaba, Koyla is one of the most beautiful rooftop restaurants in Mumbai. Reminiscing the Shamiana theme, Koyla offers a breathtaking view of the sea and has a remarkable intimate vibe. The exceptional seating arrangement of the place with white and tawny hues adds a charm to the overall ambiance. The dim lighting with candles and lanterns makes Koyla a perfect hotspot for spending an evening with your loved ones.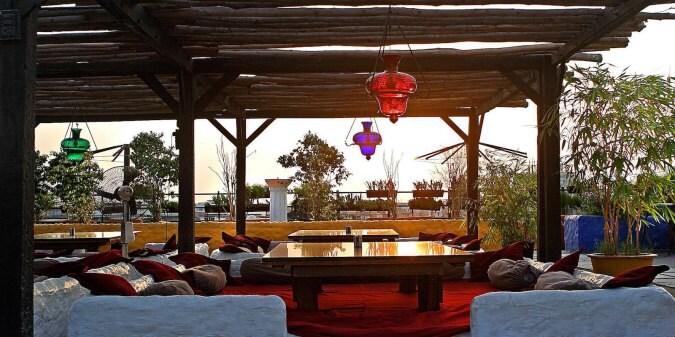 Where: 3/23 Kamal Mansion N.A. Azmi Road, next to Radio Club, Apollo Bandar, Colaba, Mumbai
Price: INR 2000 for two
7. House Of Thanos
Named after the popular Avengers Movie Character, Thanos, this cafe in Mumbai is a must-visit place for every Marvel fan. With a spaceship theme across the cafe, the ambiance is a treat for all the Avengers Fans. The walls and tables in the cafe are painted in galaxy colors, and there is a colossal sculpture of Thanos right at the entrance. The Marvel character-themed cafe serves delicious continental and Italian food and also has a dedicated healthy food item menu for fitness enthusiasts.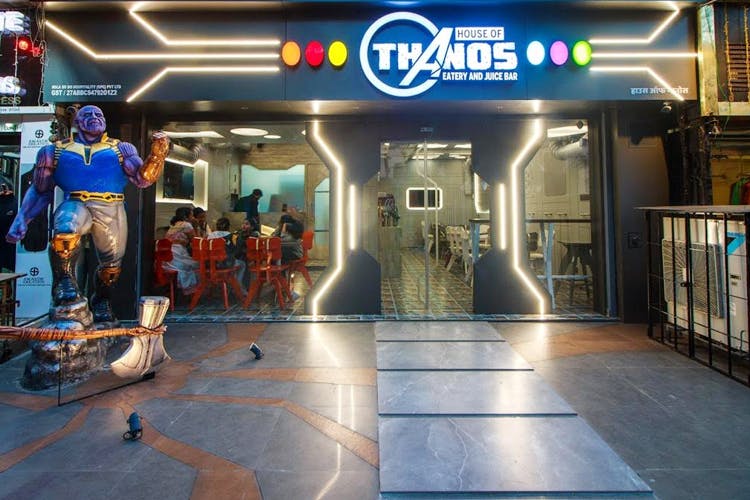 Where: B 7-8 Rizvi Mahal Building, Near Bhabha Hospital, Waterfield Road, Linking Rd, Bandra (W), Mumbai
Price: INR 900 for two
8. Hungry JD's
Mumbai's first local train-themed restaurant, Hungry JD's aptly duplicates the scenario of a local train. The inside area of the restaurant resembles the interiors of a first-class local AC train coach. Whereas the outside area of the restaurant offers ample open space for seating with food carts serving Indian delicacies in an innovative twist. Along with the attractive decor, the quirky station names inspired by Bollywood movies add a touch of liveliness to the place.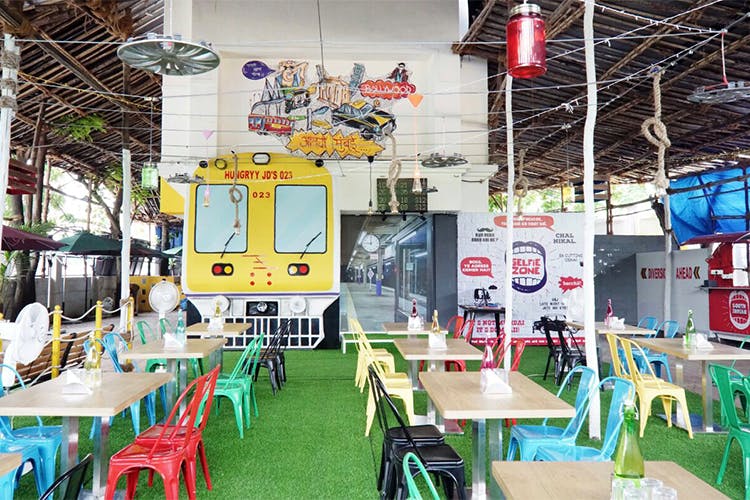 Where: 12, New Link Rd, Eksar Village, Eksar, Borivali West, Mumbai
Price: INR 1000 for two
9. Veranda
A modern Indian Restaurant, Veranda, beautifully captures the charm of Indian tradition with a blend of cuisine and ambiance. The restaurant space exhibits colorful paintings and elegant decor that add a quaint antique charm to the place. The striking color scheme, along with the soft lighting, highlights the restaurant theme even more brilliantly.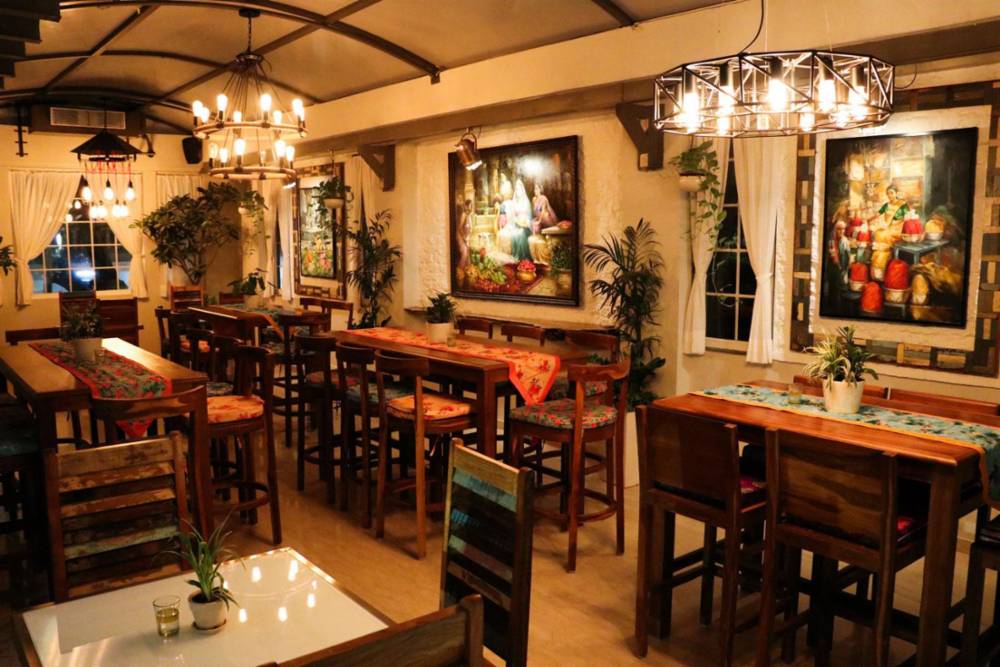 Where:  331, Doctor BR Ambedkar Road, Pali Hill, Bandra West, Mumbai
Price: INR 2200 for two
10. Cafe Hydro
The first aqua theme restaurant in Mumbai, Cafe Hydro, is unique. The ground floor represents the interiors of a local Mumbai train. With a large aquarium and soothing interiors, the first floor symbolizes the beauty of the ocean, whereas the second floor displays the calmness of a serene garden setting. Along with its splendid ambiance, this unique cafe serves delicious North Indian, Chinese, and Continental cuisines. 
Where: Shop No.3, Esspee Tower, Dattapada Rd, Ekta Bhoomi Gardens III, Rajendra Nagar, Borivali, Mumbai
Price: INR 1200 for two
11. Mirchi And Mime
Along with the delicious food and vintage ambiance, what makes Mirchi and Mime a unique themed restaurant in Mumbai is their staff. One of the first restaurants to employ staff with hearing and speech disabilities, it is the only restaurant in Mumbai that encourages its customers to communicate in sign language. The restaurant menu displays sign language for diners to enact while giving the orders. The antique interiors and excellent service by the staff accentuate the courteous setting of the place.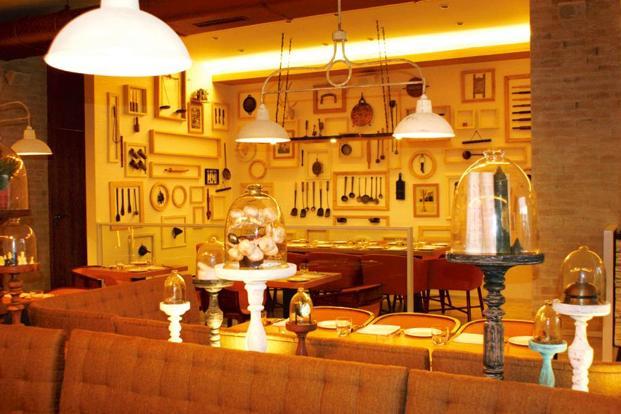 Where: Trans Ocean House, Lake Blvd Rd, Hiranandani Gardens, MHADA Colony 19, Powai, Mumbai
Price: INR 1800 for two
As quoted by FranchiseIndia, theme-based restaurants prioritize the restaurant concept over everything else. Not only does it influence the architecture and food, but these concept-based restaurants also create distinctive and memorable experiences for customers. Explore these top recommended theme restaurants in Mumbai and let us know about your experience in the comments below!