Delhi, being the food capital or also known as the 'Restaurant Capital' of India has the highest number of restaurants in the country. People in Delhi have mixed ethnicity, mixed beliefs and a varied range of preferences when it comes to food. This is why it becomes really daunting to run a restaurant in Delhi. There is enormous competition, with all the leading rich brands situated here, it takes quite a unique approach for a smaller restaurant to work well. Here we have decoded how you can increase your restaurant profits in Delhi, in spite of the rising competition. 
The restaurants in Delhi are also named as the positive cash flow machines. This is certainly not just another title, as you may look at the restaurants of Cyber Hub and Select City Walk, Saket, just to name a few. Despite the challenges, these restaurants are continuing to make more profits in Delhi. This happens for a major reason that the food cravings can never go down in Delhi, and people would never stop experimenting with their food. 
Apart from what a restauranteur would do on a normal day to strategize an increase in sales, we have pinned down some underrated, yet effective ideas to boost up your restaurant sales all the way to the top. But before that, let us first understand why most of the restaurants in Delhi fail to sustain in the first place. 
16 Actionable Tips To Increase Restaurant Profits in Delhi That Work Like a Charm
The one major reason why 9 out of every 10 restaurants fail in the first place in Delhi is that they don't pay enough attention to consistency. Imagine a situation where you have the best chef in your restaurant and customers are hooked to your restaurant because of the quality of food. If he/she is absent on a particular day, how do you justify the changing tastes of your food to the customers? This is why restauranteurs need to provide their staff with the right training and have consistency measures for all extreme situations. 
Not just consistency, the X factor that the failing restaurants lack is the ability to change with time. It is highly important for a restauranteur to be able to cut down on its overloaded costs, like increased food costs. However, you need to be able 
i) Perseverance Is The Key 
The restaurant business might look all glittery on the outside, considering the number of opportunities and growth in the industry. In a city like Delhi, almost everyone with a few lakhs in their pocket wants to open a restaurant of their own. But let us tell you that the world of restaurants is not all glamour, as on the outside. It takes a lot of perseverance and hard work to increase your restaurant profits or sustain the competition in the city. 
However, when we talk about increasing your restaurant profits, the only way to do that is by putting in all you have, 24*7 into your restaurant business. Apart from location, theme, and concept, what is of paramount importance in the restaurant business is to keep delivering good quality food at all times. 
"Any seasoned restauranteur will tell you that consistency is the key to success in this business. This is over and above the factors such as theme, location, style, beverage, entertainment, etc. Customers now are widely traveled and sure of what they want," says Sonia Mohindra of restaurant consultancy 'Under One Roof.'
Having a restaurant management software helps you to maintain consistency. You can standardize your recipe, the way your kitchen operates as well as receive regular updates if anything goes out of order. 
Enforcing the regulation of restaurant SOP's really help to maintain consistency at your restaurant. Make sure that you and your staff keep this fact in mind at all times. 
Apart from these do's about your consistency, you can also try maintaining some disciplines within yourself and your team. The end results in everyone's mind should be to make more sales and send more happy customers home at the end of the day! 
ii) Your Menu Is The Heart Of Your Restaurant 
People in Delhi are big-time foodies and tend to eat out on an average of six times a month, according to a report on consumer behavior from NRAI, 2019. With the increasing options to dine out, customers pick up their favorite place to eat largely on the basis of its menu and ambiance. 
This brings in a dire need for restauranteurs to have the perfectly sparkling menu for their restaurant, as people would only be charmed by something unique. You could use your restaurant POS to have an ideal menu, by deciding which items or dishes perform better at your restaurant. Shifting the highly performing dishes towards the front, and omitting the ones that are not performing quite well, would tend to increase your restaurant profits to many folds. 
iii) Manage Your Space Well 
Another factor that you should keep in mind is your restaurant space. No customer wants to be having their food in a congested, non-proportioned space. You can use your restaurant space to actually increase profits. By ensuring that you have optimized the space, and kept enough tables would reflect on your sales. 
It helps you Increase The Number Of tables kept in your restaurant, and thereby increase the number of customers to be seated in your restaurant in a go. 

Optimizing the space would also make it look more aesthetic and instagrammable, so you might get some social media attention! 
Managing your restaurant space well to optimize the number of people that can sit and eat at your restaurant is one major step of setting up your restaurant. This is because no customer would like to be seated too close to another table, and keeping them too far would cost you a table of business!  So, plan accordingly. 
iv) Minimalistic Decor Never Goes Out Of Style 
Now, once you set up your restaurant, you need to have the right decor. It is observed that millennials like to go to places with quirky decor, that suits their Instagram image. This is why you need to be smart enough while deciding your restaurant decor, as it directly affects your restaurant sales. But remember, your customers are not going to feed on the decor and accessories you put in your restaurant. It is therefore always recommended that you put minimalistic decor, which would never go out of style. 
Here are some ideas to have a great ambiance without creating a hole in your pocket. 
Bring in low-maintenance beautiful plants to make your place look more aesthetic.

Feature local art, to set up a vibe that millennials can relate to. 

Try minimalistic shelving, they never fail you. 

Offer unique seating options, it could be in the balcony, or around a big indoor plant. 

Put in some DIY lights to brighten up the place. 
Restauranteurs of Delhi are picking up all these tips and tricks to make their place as instagrammable as possible. Pinterest and Instagram are two major sources where you could find some inspiration for styling your restaurant. Try checking them out, and make sure to make a statement for your customers in the first go. 
v) Incorporate Loyalty Programs To Enhance Sales
 Customer retention becomes a crucial factor while you're thinking of increasing sales, especially in a competitive market like that of Delhi. It is also statistically proven that increasing your customer retention rate by a meager 5% will help you increase your sales by a major chunk of 25-30%. Here are some ways you can retain your customers to increase profits:
Use loyalty programs to retain your customers, and thereby enhance sales. Using a restaurant POS could help you create regular campaigns for your customers. 
The regular customers could be offered promotions, discounts and other goodies as a token of appreciation. You can easily access the data of how frequent a customer is at your restaurant through restaurant management software. 

Run email/SMS marketing every month to make sure your customers won't forget about you. 

Targeted marketing, which includes offering discounts on what exactly the customer likes, coming from his past orders, would actually make them want to come back. 

Retain your staff to retain customers. This is a huge factor that most restauranteurs miss out on! If you keep your staff happy, the customers will be happy. You could use an incentive structure through a restaurant POS so that your staff is rewarded for their performances. This has a direct impact on customer retention, and thereby the sales. 
Incorporating such high-ended tips into your business model will not only help you increase sales but build an overall trust factor with your customers. This is why you need to ensure that the loyalty programs you set for your customers are precise, specific and targeted well enough. Once you understand what your customers want, you'll be able to understand how to increase your sales further. 
vi) Word Of Mouth Marketing Does Wonder 
Even in the digital era, where millennials consume almost all their information from the internet, word of mouth marketing helps a great deal for restaurants to attain profits. Restauranteurs begin by giving their customers a great first experience to achieve the kind of word of mouth marketing. Here are a few tips you can use to enhance the word of mouth marketing for your restaurant. 
Provide great customer service, and engage with your customers. Talking to your customers makes sure that the feel special, 

Focus on getting feedback to cover up the lags if any. 

Use social media to engage with your customers and offer your loyal ones with loyalty benefits. 

Have a Unique specialty about your restaurant that people would want to talk about! 
Although, it is often said that having a great marketing strategy requires an equally high investment. But to be honest, word of mouth marketing is one of the most effective zero-cost marketing strategies that you can enforce on. While you follow these tips and make sure your restaurant a happy place to be in, your customers will eventually be talking good things about you. 
vii) Thought About Unfamiliar Cuisines?
Delhiites are always ready to experiment with their food. Taking advantage of this factor, you could aim at increasing your restaurant profits by presenting some unfamiliar cuisine. What you need to keep in mind is your target audience and the location of your restaurant. Since Delhi has a mixed population of people from all over the country, there is a varied range of tastes and preferences. Even though the customers are mostly open to experimenting, you need to explore the market well enough before introducing a new cuisine into your restaurant. 
viii) Online Food Delivery Could Be Your Savior 
Since online food delivery and takeaways are gaining popularity in Delhi, you can increase your restaurant profits by focussing on them. According to NRAI's Delhi Food Services report of 2019, it is statistically observed that 16% of the entire foodservice market is order in/delivery, and 25% of the market is take-aways. This makes it a total of 41% of the market which is driven by online food ordering. 
There are two ways you can go forward with online food delivery to increase your restaurant profits. 
Tie-Up With Online Food Aggregators: Online food aggregators like Swiggy, Zomato already have a rapport with Delhiites. You must think of incorporating these aggregators into your business model, especially if your restaurant is at a nascent stage, as it boosts your online presence. 

Get Your Own Food Delivery App: Another way to enhance your restaurant profits is by getting your very own food delivery app. Get a designer to make a beautiful app for you that serves your customers with a platform to order in. One major advantage here is that you won't have to pay any margins as you did with the online food aggregators. You could also use your app to retain customers by providing them with some redeemable points on their further orders. You can use your 

restaurant POS to make that happen for you.
Focussing on online orders would clearly increase your sales by a major percentage. This is why everything from having strong visibility on the internet to be able to fetch clients' online orders, is crucial for your business. 
ix) Research On Your Authenticity Well Before 
Next, on the list, we have the authenticity of the food being served. Most restaurants promise to serve their customers with authentic taste and quality but fail to do so. Since the customers today are more aware than ever, restauranteurs need to be sure of what they want to put on the table. Many restaurants in Delhi like Moti Mahal and Punjabi Tadka have been working extremely well for more than a decade now, all because of the consistency in the authenticity of their North-Indian food. 
Apart from North-Indian food, Delhi is also a great platform for ex[perimenting with other international cuisines. Italian, Japanese and Continental, all the cuisines are welcome, when it comes to Delhiites. All you need to do to make better sales is to verify the authenticity of the food you're serving and hire a brilliant chef. 
x) Run Co-Working At Your Restaurant
The millennial generation is almost always working. There is hardly anyone that can refrain themselves from replying to emails or working for more than an hour. This is why you need to work on your restaurant being co-work friendly. Here are a few tips that you can use to make sure your restaurant is a better space to work in. 
Put up a Wi-fi and laptop tables at your restaurant.

Serve your working customers with free tea/coffee, if they are regular and tend to spend long hours at your restaurant. 

You must switch to a POS that takes reservations for conferences, corporate events and much more. 
Following these tips and more, makes your restaurant an ideal place from where the customers would want to work. The more time they spend in your restaurant working comfortably, the more likely it is that they would order something to ear/drink. Therefore, you must ensure that your customers are comfortable as long as they are seated at your restaurant. 
xi) Influencer Marketing 
Next, on the list, we definitely have influencer marketing on the list. The food bloggers and micro-influencers that restauranteurs mostly target are the ones from their respective local regions itself. For instance, if a restaurant in Delhi wants to start with its influencer marketing campaign, they can start doing it by reaching out to food bloggers or restaurant reviewers from Delhi. When someone with higher authority or a great range of followers, who are mostly from the same region says good things about your restaurant, the followers are most likely to believe it. 
Reach Out to famous influencers through emails/social media platforms and formally invite them to have lunch/dinner at your restaurant. You could start by offering them a few discounts and offers so that they would want to come to your restaurant and review it. 

These micro-influencers can post your restaurant food pictures, ambiance pictures and other USP's about your restaurant and followers might get attracted to your restaurant. 

You must target the influencers that have more than 10k followers or so, or have an excellent engagement on their page. Such targeting will reflect on the ROI of the campaign very quickly. 

Although there are a hundred benefits of using influencer marketing at your restaurant, there is a darker side to it too. An inflated review can create unreasonable expectations in the minds of your potential customers. The customer's high expectations not turning into reality would reflect on your decreasing customer retention rate. 

Also, you must make sure that you are absolutely ready to cater to the high footfall that your influencer marketing is going to cause for you. 

Do not go for giving discounts to just any other food blogger. Since there are no barriers to entry into being a food blogger online, anyone with an Instagram account could claim to be one. What is important is to identify the right set of Instagram followers.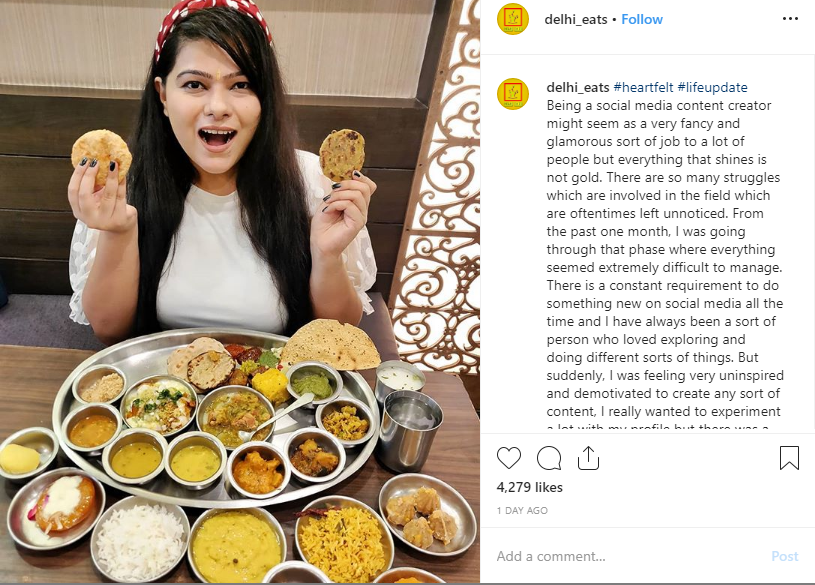 Reaching out to these micro-influencers has as much a good side to it as it has the ugly one. This is why you must analyze both the parameters and weigh them well enough to be able to make a decision. Reaching out to the right influencers, who have a wider range of audience and followers thus becomes important. 
xii) Increase Prices- But Very Slyly 
It is always a good idea to increase prices, but not at the cost of losing out on customers. Increasing your prices, a little step at a time would actually have a huge impact on your sales accounts. And at the same time, it would not affect your footfall. Here are a few things you must keep in mind while increasing the prices of your dishes. 
Research your surroundings before trying to increase your price. 

The targeted clients should be happy with the dishes you're trying to increase the price for, So, it's always better that you increase prices of the bestseller dishes first, and then see the response. 
In case you're still having difficulties in finding the right prices for your menu, you can start by going back into your data. The bestsellers would give you a crunch of the changing consumption trends of your city. Comparing that to the increased average disposable income you can make a detailed analysis of how much rise in prices wouldn't cause a hole in the customers' pocket. 
xiii) Use Technology To Be On Top Of Your Game 
Like every other business today, the restaurant industry is also becoming entirely technology-driven. With the increasing use of technology, and a restaurant POS streamlining your operations, there are now many opportunities for restaurants to increase their profits. Restaurants mostly fail because they are not able to find what is preventing them to make more money. 
Let's look at the various ways in which a restaurant POS can help you make more restaurant profits. 
Identify frauds if any, by incorporating a tight mechanism to check the staff operations. Once you do that, you remove any loopholes that were earlier not identified. 

Using a restaurant POS helps to streamline operations for you, which would, in turn, reflect your table turnover rate. 

Keep a track of your sales reports handy, and get instant updates of the ROI of each campaign that you're putting pout for your restaurant. 
Once you start using a proper restaurant POS in your restaurant, you should be able to see how smoother the little things are operating on their own. These streamlined operations would have a clear reflection on your restaurant's numbers. 
xiv) Try Traditional Ways- Reduce Food Costs 
Reducing food costs and standardizing recipes are a great way to save on your investment and thus increase your restaurant profits. Since running a restaurant in Delhi is all about sustaining the competition and still be able to provide customers with the best quality food, reducing food costs become important. Apart from using technology, you should be able to standardize your recipe, which also plays a huge role in cutting down food costs. You could also try offering smaller food portions to cut down on the waste and ensure that your returns are multiplied. 
xv) Social Media Marketing Tips
A social media presence does not quite restrict having an Instagram/Facebook page. Since consumers today, are mostly consuming information from these social media platforms, you should be able to impress them with your page first. Different social media platforms have different algorithms that you need to learn about to work a business page well on them.
For instance, Instagram works on hashtags and the quality of your content. However, Facebook works by tagging. You can increase your restaurant reach in a much shorter span and with the least possible resources. However, here are some tips for you to use while thinking of expanding your social media account. 
Having a strong Instagram image should be on your top priority.  Post relevant and good quality content out every day to not lose the charm. 

Engaging customers everywhere, by replying to their reviews and comments on Facebook, Linkedin and Instagram would also increase your social presence with them. 

No doubt that a website/blog increases your online presence. But you need to be constantly updating your blog so that your customers won't forget about you

Employ customer-generated data, and repost their pictures to make a better impact on your potential customers. 

Keep a track of your social media growth, and ensure that you target the relevant audience. 
Apart from all of these tips, keeping a check on what your competitors are doing about their blog, is a good idea as you can always analyze what's working/not working for them. This way, you are always a step ahead of your competitors. On the contrary, you must also ensure that none of your content clash, or is similar in any way. Not only does that give the reader a perception of blatant cheating, but it also would cost your blog for plagiarism. 
xvi) Greetings Could Go A Long Way 
When Delhiites are dining out, they are mostly looking for leisure and comfort. In this city of numerous options, a restauranteur can still make a customer still to his outlet. Greetings and a simple smile could go a long way. It creates a better ambiance at your restaurant for your customers to eat their food and makes them want to come back. 
On certain occasions, it is also observed that the presence of the restaurant manager on the premises actually helps to retain customers. Having a pleasant interaction with customers also helps you to make them feel wanted and recognized, which is why they might want to come back. So, its time for you to put on your best smile and believe in the magic of greeting your customers. 
All in all, running a profitable business seems pretty challenging in a city where the success rate is as small as 7%. Even successful restauranteurs like Zoravar Kalra suggest that it is a risky business to be in. Keeping the perfect strategy in hand about increasing restaurant profits and ensuring that the restaurant never goes out of business will help you go a long way!