Imagine going to a restaurant that has a stinky smell or dirty tables or waiters serving you food dressed in dirty clothes! You would not want to spend a penny there. Since customers want to have an overall great experience while dining out, you must take care of your restaurant hygiene. As a restaurateur, you know that maintaining hygiene at your restaurant is directly related to the customers that come in, and thereby the revenue generated. An intricated report by Posist on Restaurant Industry and Market Evolution highlights that more than 80% of restaurant operators feel that food quality and safety will surpass price as a decision-making factor for cost-conscious customers. Therefore, keeping a checklist or listicle to ensure that each corner of your restaurant is clean, every day helps you maintain high standards of hygiene.
Maintaining Your Restaurant Hygiene: How's And Why's  
Keeping a regular check on your restaurant's hygiene not only increases footfall but also helps prevent the spreading of any foodborne diseases. Since your staff plays a significant role in the same, you need to have a separate set of guidelines included in the restaurant's SOP. Before digging into the checkpoints that you need to maintain, let's understand why it's essential to adhere to hygiene standards. 
Why Is It Important 
In September 2019, the Food Safety and Standards Authority of India (FSSAI) issued a mandatory rule for restaurants and hotels to display their hygiene ratings on their doors. These ratings are given by a certified food inspector to ensure that there are no discrepancies  
"Hotels, restaurants and eating joints need an FSSAI license to operate, but food safety standards are not necessarily met," says FSSAI's Chief Executive Officer Pawan Kumar Agarwal. 
Since the 'Eat Right India' movement, many people from the F&B industry are becoming increasingly aware of their hygiene standards. The governing body has also brought in regulations to check how much oil is reused while frying. Under the FSSAI guidelines, food products are to be categorized under two heads, namely Standardized and proprietary food. 
Ways To Keep Your Restaurant More Hygienic 
Most restaurateurs carry their own set of rules and regulations to maintain hygiene at their place. Here are some tips that you can follow every day! 
The floor of your restaurant shouldn't be too slippery. If the flooring is carpeted, there should be enough points for vacuuming the place. 

Check that the light lamps are not collectors of dust.

Ensure that all the cleaning schedules and deadlines are met.

No staff should be on duty without a clean uniform. 
Here's your everyday action plan! 
i) Regular Inspection
A lot could be suggested and recommended for maintaining hygiene at your restaurant. But taking regular steps and maintaining consistency while doing it is the most important. . Especially for areas like kitchen and dining, you need to maintain the standards of hygiene outlined by the FSSAI.   
"If the area is too dusty, there should be screens to cut out the dust. It should not have too many nooks and corners. Hygiene 1, they accumulate too much dust," says Shamima Sinha, Food and Beverage Manager, Davanam Sarovar Portico Suites, Bangalore. 
Any sort of illness or nausea must be taken seriously, and staff should be off the kitchen area for at least 48 hours. 

Keep a fixed time to clean the restaurant, after every two-three hours. 

Ensure that the storage room, stock and inventory room, and the dining areas are absolutely clean and well maintained. 

The water pipes need to be checked and leaks worked upon,immediately. 

Power wash the bins inside out! 
ii) Maintaining Personal Hygiene- Staff 
Good personal grooming and maintaining basic hygiene is essential, especially for your first-line staff. Most foodborne diseases spread because of a lack of hygiene awareness. It is equally important to take steps such as frequent hand washing and proper sanitization after every cleaning job. Ensuring that the food is handled well should be a  part of mandatory staff training. Other than training, here are some things you can take care of!  
Wash hands after washrooms or smoking

Wear your caps to cover all your hair. 

Changing uniforms after your shift 

Sanitise hands every three hours while on duty.

Wear a proper gear/ hand glove while handling food. 

Wearing a full apron to avoid any food contamination 

Rubber gloves must be washed during dishwashing

Injuries like cuts and wounds must be protected and covered by water-resistant bandages.

Conduct a staff health exam periodically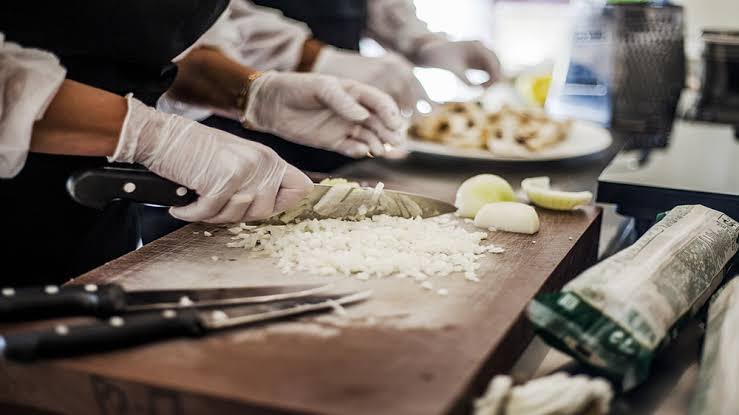 iii) Regular Sanitization for Kitchen Equipment 
Do quick checks on your kitchen equipment and surrounding areas, now and then! Make sure your kitchen floors are well swept at all times of the day. Even if the kitchen is super busy, there must be one of your staff ensuring that each dish is made with careful sanitization!
Also, you must have separate areas for contaminated or dirty tableware, clothes, or mops. Especially if your restaurant has a live kitchen, you must ensure that the following practices are followed: 
Steam clean the cooker hood. 

Ensure to polish all steel surfaces 

Keep your carpets and curtains stain free 

Get rid of grease in your fryer and grill, every now and then
iv) Ensure Proper Ventilation For Better Restaurant Hygiene 
Having a proper ventilation system at your restaurant helps to prevent any contamination that can happen due to airborne contaminants. 
"The restaurant should have easy access to fresh air and ample space for garbage storage. One of the critical factors here is that the restaurant should also have a healthy hygiene and sanitation training plan, both before and after opening, says Chef Jerson Fernandes, the former Corporate Chef, Berggren Hotels.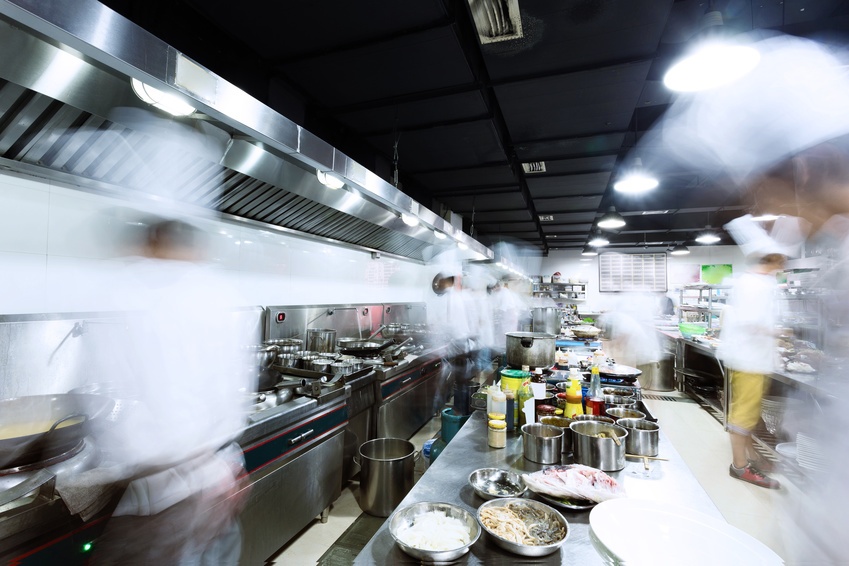 v) Proper Washrooms 
Believe it or not, washrooms play an essential part in setting up the vibe of your restaurant. Imagine going to a fine dining restaurant and finding out that the washroom stinks! Would you still want to dine in the same place? 
Your restaurant washroom needs to be cleaned every hour. Make it a point to not forget that at your peak hours. 
Check taps, fixtures and toilet seats for damages. 

Get rid of any loose toilet seats or broken locks. 

Ensure to get all the walls and corners of your washroom cleaned, and not just the floor
vi) Keep The Storage Area Clean! 
Your inventory room has high chances of smelling bad due to spoilt food and raw materials kept in an improper way. One way to prevent that is to constantly keep a check on your inventory and stored raw material. Another thing you need to keep in mind is the placement of raw materials in your inventory. Here's what you can do! 
Store meat products on the lower shelves

Keep a check on the shelf lives of your perishable products 

Store delicate products away from fans 

Food should be stored in containers with an air-tight seal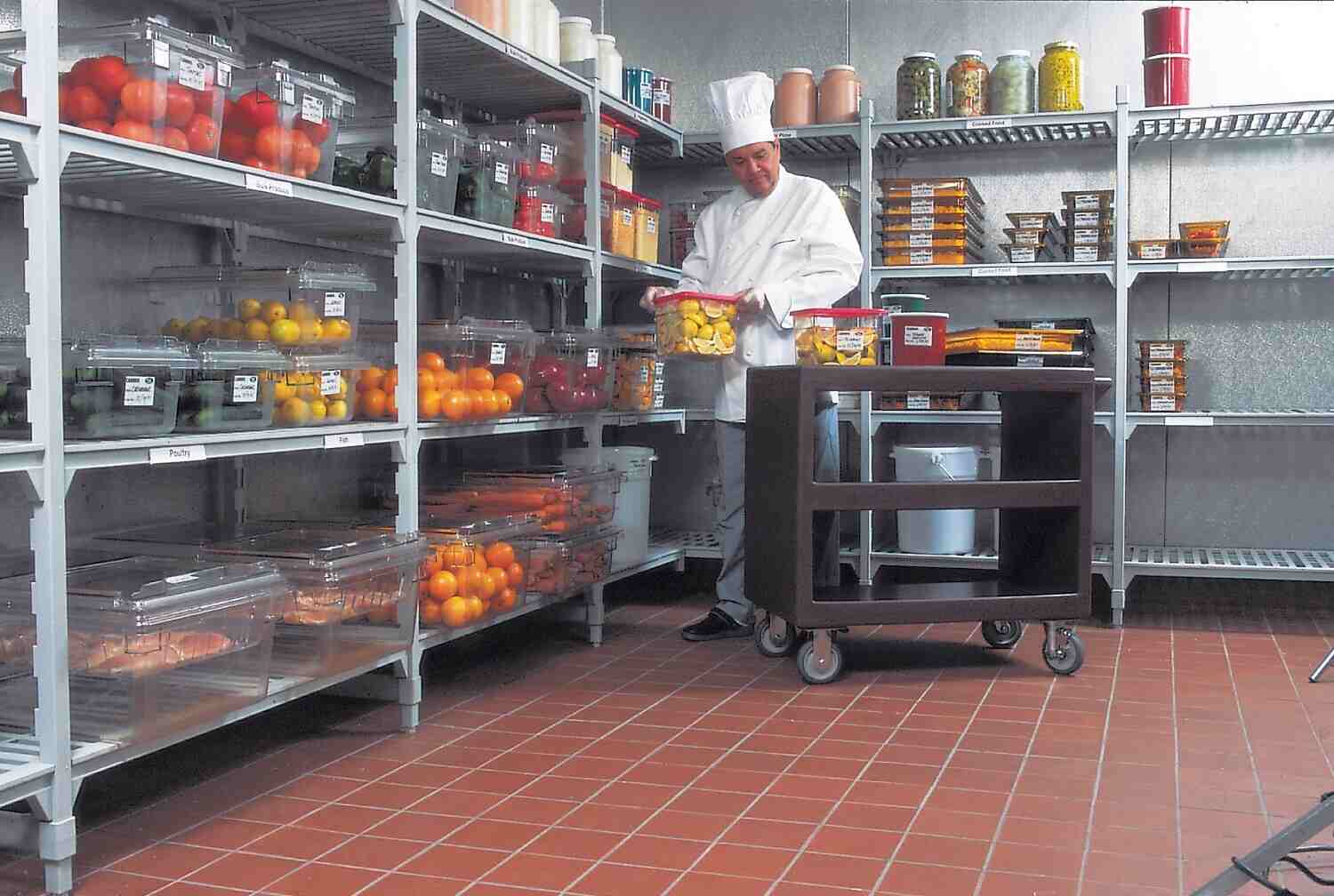 vii) Maintaining Restaurant Hygiene While Packaging
While keeping hygiene at your restaurant, it is also crucial to ensure that your packaged food reaches your customers in the best possible condition. Here are some tips you can use! 
Keep hot and cold food separate 

Avoid leaky containers, and reduce the risk of any leaks by placing your side dishes on the sides! 

Choose a packaging material that can withstand pressure or temperature differences. 
One critical reason why you should maintain a top-notch hygiene level at your restaurant is because FSSAI is likely to penalize places that fail to follow their guidelines. No matter how tasty your food is or how well it is presented, it becomes essential that you take each point in this list pretty seriously to keep your restaurant running successfully!