Rebranding is a great exercise to stimulate business growth while reaching out to a new set of customers. Rebranding a restaurant business becomes necessary to keep your restaurant relevant at a time of changing customer preferences and capture a bigger market share. However, rebranding a business may often come with the risk of losing brand recognition and alienating loyal customers. This article provides expert tips on how to rebrand your restaurant effectively and retain customer trust.
How To Rebrand Your Restaurant Without Losing Market Recognition
Here are 5 proven tips on how you can rebrand your restaurant without losing recognition or breaking the customer's trust.
1. Understand Your Restaurant's Positioning
From the customer base to the restaurant menu, you must have a baseline to compare with post-rebrand. Think about where you want to see your business post rebranding and accordingly set specific goals. Consider which areas in the restaurant need the most time and attention. 
Reflect on your restaurant's values and mission before you make changes around your restaurant. Understanding where your restaurant is positioned currently, and the resources you need for future success will be exceptionally helpful. Gather information from as many sources as possible to help you maximize your rebranding efforts and reduce your risk of losing customers.
2. Analyze the Audience
Analyze the target audience and the demographics that make up the majority of the nearby population. Remember to also include the competition in the vicinity so that your rebranding plans can cater to these customers' interests.
Analyze what your guests and staff like and dislike about your restaurant. Is it the decor that requires a revamp? Does the restaurant menu need an upgrade? Customer opinions can be extremely valuable while rebranding your restaurant. Gather as much feedback as possible before planning the rebrand. 
Survey your customers using comment cards or online polls. Ask them to fill out a survey or prompt them to respond to social media posts and polls.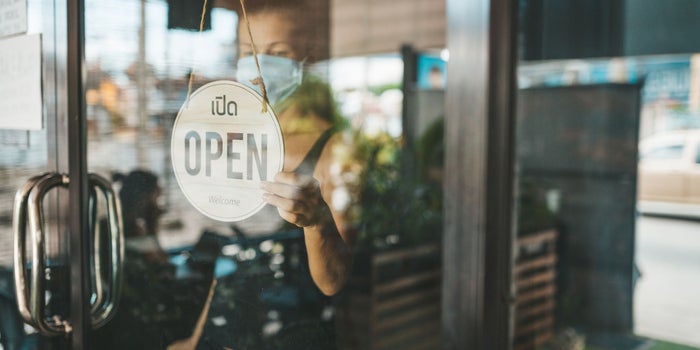 3. Analyze Competition
While rebranding your restaurant, it is always advisable to monitor the competitors. How are they positioning themselves in the market? Are they aligning their brand correctly with their customers? How can your brand differentiate from the rest? Knowing where you stand among the other restaurants in your area will help you learn what you need to change in order to surpass them. Conduct a SWOT analysis of your restaurant and focus on these areas. 
Strengths:

Recognize the areas where your restaurant performs the best. Enhance the areas where your business excels by taking steps to strengthen them. 

Weaknesses:

Look out for areas where your restaurant lags behind. Identifying the weakest spots in your restaurant will help you focus on where you can make the most significant improvements. 

Opportunities:

Find out ways on how you can expand your services either physically or through delivery services. Consider adapting the menu to customer tastes and preferences. Closely monitor how your competitors are modernizing, and take inspiration from it. 

Threats:

Keep an eye on the competing restaurants' strategies to identify potential threats that could possibly affect your business. Pay attention to rising food prices and changing government regulations. If a particular ingredient is adding to the overall costs, consider replacing it in your new menu.
4. Involve Your Staff
When it comes to planning a restaurant rebrand, overlooking the needs of restaurant staff is not a wise decision. Feedback from your team can be of immense help in shaping your rebranding strategy. They will also be able to help you tweak anything that doesn't align with the customer's interests.
As the FOH staff spends the most time with the customers, they will naturally be hearing direct feedback from customers. Ask your servers about which menu items to cut or keep. Similarly, take help from your cooks as they can readily help in introducing the most popular items and bring improvisations to the existing dishes.
5. Communicate Effectively
A restaurant rebrand is incomplete without an effective communication strategy. If your customers are unaware of the latest innovations you have introduced, your restaurant won't be effective in drawing new customers. When planning restaurant rebranding as a whole, include a comprehensive advertising and marketing strategy.
Think about the different modes of advertisements and channels you want to use. Have a dedicated page on your website; drop printed cards into delivery and take-out bags with revamped design or logo. Post pictures or videos of menu items, new decor, and create a teaser for the reopening event. This can help you engage with customers via social media and get them excited for the reveal before your launch. 
Rebranding a restaurant is not an easy task. However, with the right strategy and assistance, you can rebuild your restaurant without losing market recognition. Follow these restaurant rebranding tips and strengthen your bond with loyal customers while attracting new ones!