The hospitality industry is one of the toughest to survive in. We see several restaurants opening up and closing within just one year of their establishment. Statistics show that the rate of failure is marginally higher than the rate of success of a restaurant. This is why we want to bring you the lessons learned by some top brands in turning around loss-making restaurants. Keeping in mind that failure teaches you much more than your success, we  analyze the contingency plans of these brands in times of decreasing margins and distill insights from them for you. How these successful chains grew their restaurant sales from the verge of closure is definitely both inspiring and noteworthy! 
How Top Restaurant Chains Dealt With Decreasing Margins
Here are some examples of top restaurant chains that dealt with decreasing margins and emerged stronger. 
1. The Crucial Case Of McDonald's 
McDonald's started with the then new idea of fast food with the launch of their first branch in the US Midwest. Instantly, the restaurant became the new talk of the town and the new generation's favorite. 
McDonald's had many competitive advantages that led to the success of the brand. For starters, the brand had cut the service time from 20 minutes down to 30 seconds. This alone was enough to make it an instant hit among people in Chicago.
McDonald's Strategy of Dealing With Decreasing Margins: 
a. Affordable Menu: Instead of introducing more items to the menu, the brand launched cost-effective hamburgers, that people picked more than usual.
b. Creative Advertising: McDonald's has always focused on advertising, which is why it was able to survive  massive waves of competition from other brands. In 1967, the brand spent 1% of its sales on advertising, which was a lot of money then! 
c. Customer Satisfaction: The third aspect of their strategy was to make the customer happy, no matter what. The introduction of a happy meal with a toy attracted many families. It also made more people think of the restaurant as a happy place.  
d. Fast Service: Quick service has been one of the most attractive features of the brand. This is why a varied range of population, ranging from school kids to office going adults, like to visit here. 
e. Menu Innovation, Brand Innovation: Innovation worked in their favor! With time, the brand innovated everything from their logo to the menu. The touch of newness made customers ask for more. Along with that, they marketed the innovations real well! 
2. KFC Dealing With Closing Down Of Two-Thirds Of Its Branches Around The UK 
This happened when the restaurant chain switched its logistic partners from Bidvest Logistics to DHL. The new partner worked on a completely different supply chain model that failed to deliver essential supplies of chicken to 750 of its 900 outlets in the UK. Since KFC moved from a decentralized system to a centralized one, probably to decrease operational costs, it wasn't able to cope up with the increasing demands from the customers.  
Here's what it teaches us! 
a. Centralized Operations Work, But Be Careful: 
Big restaurant chains know how centralized operations reduce their operational costs marginally. Since a single massive warehouse acts as the hub for most of your supply operations, you can save money by building it in a cheap city or town, which drives down the cost of acquiring the land. Lower prices, better processes, and more storage are a few other benefits of having a centralized system. What you need to remember is that a centralized system works best if your business model does not depend on deliveries, and the consumer demand is stable.
Otherwise, shifting your models could be a bad call!
b. Responsiveness: 
What happened with KFC was that the brand could not refill its warehouse as quickly as it should have. The delayed response was majorly because the warehouses were too far from the market bases. Here, a decentralized model, where warehouses are closer to markets, would help the brand. However, if you have a fast-growing company with a centralized strategy, you need to operate with the maximum responsiveness for supplying the raw material in time!
c. Increasing Product Offerings: 
Instead of shifting your models too quickly, what you can do is offer more bandwidth in your products. A little increase in the menu prices would also have helped the brand deal with decreasing margins. Since the brand has a perpetually increasing customer demand, it would have been a better idea if KFC continued with the decentralized model to take care of its responsiveness.  
3. Dunkin' Donuts Increases Sales By Simplifying Their Menu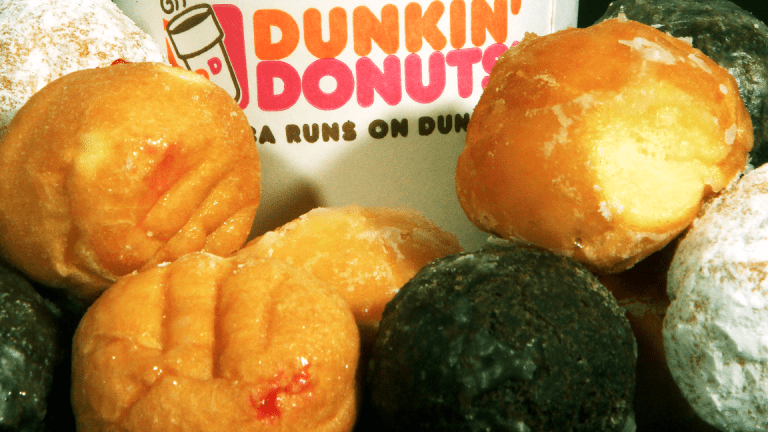 Most restaurateurs would think that offering more to the customer helps them increase sales. On the contrary, more menu items confuse your customers and eventually results in them ordering lesser or even moving to the next best restaurant. 
Here is one such example from Dunkin Donuts.
The two-part strategy was: 
Cut down on the menu to increase profits
Include a loyalty program to increase customer engagement
To increase profits, the brand decided to have a 10% cut down on its menu.
"While we were confident in the 2017 menu simplification test results, and we knew it was the right thing to do if we progressed with the blueprint. We also knew it was an unprecedented effort for the Dunkin' system going from 1,000 to 9,000 restaurants with a new simplified menu," says Nigel Travis, Chief Executive Officer of Dunkin Donuts. 
Cutting down some dishes off its menu was the first step towards achieving a bigger goal. Increasing profits also demanded another program that attracted customers. Including a loyalty program was the next step that the brand took! 
4. How Starbucks Maximizes Profits During Decreasing Margins
A smart pricing strategy is another way to increase your profits. In June 2019, Starbucks raised its beverage prices by an average of 1% across the US. The increase in price did not hamper the footfall since a 1% increase did not matter to the loyal ones. As a result, the company's net income rose to 25%. The price hike was applied to less than a third of their beverages, and only in certain regions. On average, statistics show that a 1% increase in prices leads to an average increase of 11% in your restaurant's profits. (Source: priceintelligently.com). What works for Starbucks are loyal customers and the right market that they are targeting! 
Apart from these few, we could give you a hundred examples of restaurant chains gearing up for failures or standing up from being hit by the price hike. Your restaurant strategy to deal with decreasing restaurant margins can only be dependent on one thing, i.e., your business model. Analyze your business and see if you can align them with the problems that these more prominent brands faced. There is no harm in learning from somebody else's mistakes!