Are you planning to venture into the restaurant industry? If yes, then your first step should be in deciding a concept. While doing so, you need to be very careful, since your concept will be the primary factor in your choice of location and the cuisine you will be planning to offer. Often restaurateurs choose their restaurant concept and open the business without figuring out if it is right according to the location, target customers, and even their budget. 
For instance, planning to open a bakery in a small town which already has multiple highly successful bakeries running might not be the best business idea. Just like writing a business plan you need to do a bit of a homework, it is same when it comes to deciding on your restaurant concept.
Things To Consider While Deciding Your Restaurant Concept
There are various things that you must keep in mind while you are finalizing your restaurant concept. A proper and a stellar concept has the potential to pave the way for your restaurant towards a ravishing success.
1. Do Your Market Research
Firstly, you must do a proper industrial market research about the what works the best in your area. If you are based in a small town, it is preferable you don't select a concept which already exists in the vicinity. For example, if there are three to four coffee shops in the area then it is preferable if you don't venture into the format. While high competition is a good thing in a high-end food street, it is not the same in a small town. Try and comprehend what type of cuisine works the best in the market. If you see there are too many Chinese and Continental restaurants, in an area, try and find out which one has a better footfall. In doing so, you will get a chance to peek into the minds and tastes of the customers you are planning to target.
2. Decide As Per Your Budget
Since different restaurant formats require different capital investment, the budget is the main thing you should keep in mind while deciding your restaurant concept. You must have a budget in mind which you need to adhere to.  For example, if you have a budget of a food truck or a takeaway and you dream of having a fine dine or a casual dining, it will be your biggest blunder. Once you decide the restaurant format, you also need to keep menu and the style of your concept.
Does your restaurant menu require expensive ingredients like seafood or steak? If yes, then reconsider your decision, taking into consideration whether you have the budget enough to buy and serve the menu item.
If you are considering to take a loan to open your new restaurant, you will without a doubt burden yourself with a huge payment each month for the maintenance of your restaurant even before you know how profitable it will ultimately be. Moreover, restaurant owners mostly allocate all their budget on the setting up of the restaurant. This is one of the fatal mistakes, because, they must keep some working capital which will help them to run the restaurant until it starts making the profit.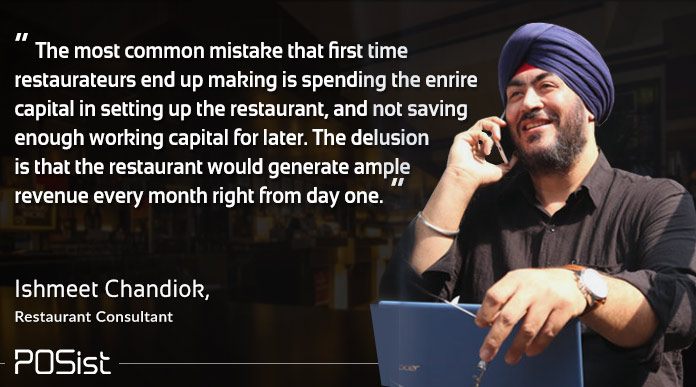 3. Think About the Cuisine You Want To Offer
What have you decided to offer to your customers? Will it be southern classic cooking with a modern twist, a traditional sushi, or a low-key Mexican comfort food? Whatever it might be, you must understand that all will not work together in the same restaurant. Choose what you want to go with, and keep it really simple. While selecting your cuisine, remember the insights you had garnered from the market research. Think about a concept so simple that people are able to describe your restaurant in one sentence. This will help in creating a USP of your restaurant and also aid marketing via word of mouth.
4. How Will You Price Your Dishes?
This is a very important deciding factor in choosing the right restaurant concept for your restaurant. If you want to charge fine dine price in a casual dining restaurant will probably not be a very sane idea. On the other hand, you may not be able to support the prices for fine dine ingredients if you want to keep entrees under $10.
5. Consider Your Targeted Clientele
Know who you want to target. For example, if you are planning to target the college or the student crowd, they would prefer a quirky establishment, with funky interiors and prices which is easier on the pockets. On the contrary, if you are planning to target families or upper-class crowd, then you must go for a fine dining establishment, with prices relatively higher which the targeted crowd won't mind to pitch in. According to the clientele you are planning to attract you can mould your restaurant's concept to suit their type.
6. Choose a Concept that Goes with Your Location
Your location will have a huge effect on choosing the most effective restaurant concept. If you choose to open a restaurant in a hipster and a student-centric neighbourhood, you may open a more quirky and youth-oriented establishment, whereas if you are in a corporate office area where people dine out to have business meetings, you can go for a posh establishment with basic colours and classy interiors. 
7. Consider the Size of Your Restaurant
If it is a small space with only one or two table area, a more casual takeaway concept might be the best option. If it is a capacious space with two bars and 75 or more covers, you can go for a more crowd-pleasing concept with trend-proof dining options where people can bring large groups. You must consider the size of the kitchen area as well. 
8. Look for A Unique Concept
Here's a big question, and one that requires that you take a step back and really answer honestly. Is your restaurant concept really unique taking into consideration your competitors in the market? Here market research will come handy yet again. If you are planning to have a cafe in a student locality with too many other cafes you've got to do something that will help you to stand out amongst the others in the vicinity. In such a situation, choose a concept with which the customers will relate too. For example, a similar thing happened in Hudson Lane, New Delhi. It is a university area with too many quirky and funky cafes. Suddenly there was this poster of F.R.I.E.N.D.S, and it was realized that a new cafe is coming up with the theme of the popular English sitcom, F.R.I.E.N.D.S. Once the cafe stated, we saw that the menu was the usual, but the interiors were based on the popular show and there was always a long queue in front of the restaurant. This shows, either you choose a location where you will be the first of your type or select a concept that will propel customers to choose you over your competitors in the vicinity.
Diligently keep in mind all the factors mentioned above which will help you to have a thorough understanding about which concept will suit the best for you and how you can further bolster your restaurant operations which will pave the way for a successful business.