Whether you're in charge of a brewery or a nightclub, the obstacles of running a good bar extend far beyond keeping clients' glasses filled. You must keep your store well-stocked, serve delicious drinks, organize events to attract new customers, and defend yourself from any potential liabilities. Bartenders can work a lot more efficiently if they have the correct bar layout proportions. It's true in any industry: a pleasant working atmosphere boosts productivity. This is especially true in the case of having a bar setup. Over the course of a bartending shift, wasted movements add up, making a bad bar layout and design extremely detrimental to its profit margin. 
7 Professional Tips To Have A Perfect Bar Setup
Here is how you can top-notch those sales with the perfect bar setup.
1. Design The Perfect Space 
Bartenders can save a lot of time and effort if they have the correct bar layout proportions. There are some basic commercial bar elements that your bar should adhere to in order to keep your bartenders happy and productive. In the big picture, a well-designed bar is a pleasure to work in and drink in. Creating a commercial bar layout is a topic in and of itself. 
However, once you arrive, you must ensure that everything is in its proper place. To ensure that your bartender's time isn't wasted, there are a few often utilized items of bar equipment that need to be front-and-centre. Your bar needs skilled bartenders who know how to work behind the counter professionally and serve clients beverages of constant quality and flavour. Bartenders need more than simply the appropriate liquor, mixes, and other drink ingredients to accomplish this. They also require the appropriate equipment in order to mix and deliver drinks swiftly and efficiently.
2. Inventory Checks
You'll never have to rely on eyeballing if you conduct inventory on a regular basis. Then you'll be able to confidently order and purchase items that are tailored to your bar's exact needs. You can also keep your customers satisfied while making large sums of money. Make sure you take inventory for a product regularly, whether it's daily, weekly, or monthly. Consistency ensures the accuracy of your figures and helps keep costs under control. That is the only way you will be able to run a successful bar. You must determine exactly what your bar requires. POS systems provide for real-time daily inventory management, allowing you to keep tabs on your booze and food prices. You'll never run out of stock of any of the goods on your menu if you have careful inventory control, and if you do, you can adjust your menu and pricing accordingly.
3. Alcohol Distributors
It is really difficult to find the right alcohol distributors. You'll need to find a distributor regardless of whether you serve alcoholic or non-alcoholic beverages. Distributors are business partners who assist businesses in connecting with and selling their products to the relevant retailers, which can range from convenience stores to restaurants and bars. The product is the easiest method to summarize the distinctions between an alcohol and non-alcohol distributor. 
However, there are a number of regulatory restrictions that come with distributing alcoholic vs non-alcoholic items. A wholesaler-supplier relationship is similar to a marriage in that it is a true partnership. Setting expectations jointly with regards to volumes and pricing is also a crucial component of developing a good partnership. An alcohol distributor's job is to help a supplier overcome market constraints. Working with each retailer to determine what makes sense for them to carry, providing solid data about a product, and assisting them in successfully integrating a product into their store are all common examples of this.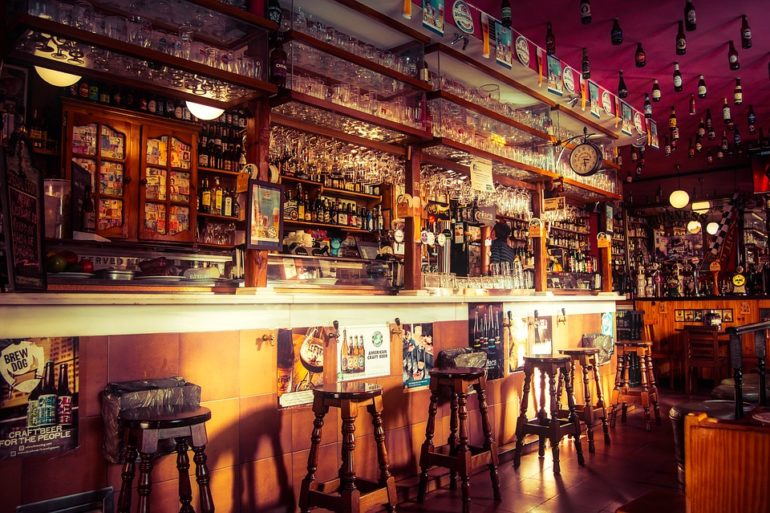 4. Signatures
While many customers will order famous drinks like rum and coke or a Tom Collins, producing drinks that are unique to your bar can offer you an advantage over other establishments. Additionally, if you make your speciality cocktails, you may charge more for them than you would for regular drinks, increasing your profit margin. Consider your target demographic and their preferences while developing new recipes and beverages. If you're near a college campus and your customers are in their twenties, for example, you'll want to create powerful drinks with rum, vodka, or tequila. Bars with older patrons, on the other hand, may wish to utilize top-shelf liquors in their recipes, such as expensive whiskey or bourbon.
5. Craft Beer Bar Design 
Keep bottled beer and cans in glass-front coolers behind the back-bar glassware shelves if your bar sells a lot of them. You can also keep them in a cooler with top access. Set up draught beer taps in the middle of the bar or on one side of the mixing station, if possible. It doesn't matter what size beer kegs you use because those will be on the other end of the lines. Just make sure you're aware of the various sizes of beer kegs. 
6. The Layout of Wine Bay 
Your bartenders will benefit from organizing your glassware by the sort of wine each glass is made for. Even the most seasoned eye takes a second to notice the difference between a red and a white wine glass. Alternatively, if your wine program is more advanced, choose between a Bordeaux and a Burgundy glass. It will be a lot faster if they are on labelled shelves.
7. Choose the Right People to Work in Your Bar 
The most crucial, and divisive, aspect of hiring is that you should hire for personality. Of course, hiring someone with no experience isn't always the greatest option. However, we're talking about recruiting someone eager to learn. An attitude that is open to change. Nothing sucks the life out of a bar like a disgruntled employee. Make it clear to employees that they can submit feedback, whether or not it is requested. Set up a suggestion box or an anonymous web form. In huddles and shift meetings, ask for comments. This is beneficial for two reasons: your employees will take ownership in the decision-making process, and you will receive a slew of new ideas.
Your orders have been fulfilled. The bar setup is spotless, well-managed, and well-organized. Your crew is pleased since you are an excellent bar manager and your establishment is a fantastic place to work. Running a bar entails continually striving to optimize day to day operations on a day to day basis. If you stick with it, you'll figure out how to drive growth in no time. For more information, adapt the bar management suggestions in this article to your own business.
Read more: Bar Setup Ideas For The Audience You Want To Attract