COVID-19 is likely to have a longer-lasting impact on the restaurant industry. Due to the social distancing measures and general caution in public places, dining out has been limited to a minimum by most people. According to a source, there has been a 43.35 percent year-over-year decline of seated diners in restaurants worldwide. As restaurants are now beginning to reopen, the primary focus is on how to provide a safe environment to patrons. Maintaining the highest level of hygiene and implementing social distancing is paramount for all the restaurants operating in the post-COVID era. With restaurant brands evaluating various post-COVID-19 strategies to satisfy consumer expectations, one can expect significant adjustments to the dine-in layout plan and space. This article delves into the necessary restaurant layout changes and how restaurants will be required to redesign their floor layout and optimize the use of space to promote a healthy dine-in environment for both employees and customers. 
Essential Changes In The Restaurant Layout Prompted By COVID-19
While government guidelines regarding social distancing in restaurants will vary between countries and municipalities, focusing on redesigning and redefining the open areas and spaces with maximum human interaction will be crucial. 
Here are some essential restaurant layout changes that your restaurant must adapt to during these times.
1. Reduced Capacity While Maintaining Social Distancing Measures
It is expected that utilizing the restaurant space creatively to maintain distance between tables and maximize seating will be the top of mind strategy for all the restaurants. It will be necessary for restaurants to reduce seating capacity and allocate sufficient space to allow social distancing.
In many places, the reopening mandate is that the restaurant capacity must be reduced by 50%, with outdoor seating. It is recommended to either remove some of the tables or mark them as unavailable. The tables should also be located at least 2 feet apart. Besides, the self-service areas or stations will also need to be removed or marked as not available initially.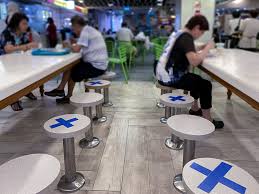 2. Physical Barriers
Restaurant formats having community tables that are meant to seat people together may still exist, but with dividers installed to separate the groups. In areas where maintaining distance between tables is impossible, introduce partitions between tables or booth seating using plexiglass attachments that don't take up a lot of space. Wherever possible, make outside or rooftop seating, a part of the standard floor plan. Restaurants and bars can also renounce the open-plan and community table concepts favoring intimate private seating. 
3. Circulation Within The Premises
To comply with government regulations, restaurants must also address how patrons and staff will move through space. Operators need to define a flow that prevents people from coming too close to each other. As much as possible, consider creating one-way circulation within the premises. For example, if a restaurant has two doors, one can be assigned for entering and another for exiting. Once a workable pattern is developed, communicate the instructions using written directions, signage, or floor markings.
4. Hands-Free Measures
The safety of employees and customers is of paramount importance to restaurants operating on tight margins. Providing no-touch solutions is going to be essential for restaurants. Consumers will soon accept the new reality and even demand it at places that are not yet aligned with hygiene measures. From the doors, hand washing stations, restrooms, trash receptacles, menu ordering, etc., every area in the restaurant should ideally follow the 'hands-free' protocol. 
5. Sanitization Stations
As hand-washing and sanitizing are key prevention factors for the COVID-19, hands-free handwashing stations must become a norm for every restaurant. It may be beneficial to set up sanitizing stations throughout the dining space, particularly at the entrance, to avoid patrons going to the restrooms to wash hands. If you have a large restroom space, consider limiting the number of people who can enter the restroom one at a time. Also, remember to comply with guidelines on sanitization frequency. 
6. Contactless Ordering & Payment Options
Contactless dining-in, delivery orders, and payment options have significant advantages for both consumers and the operators. Providing contactless solutions to the customers will not only streamline operations but also gain customers' trust as they will be avoiding the common touchpoints. 
Contactless Wi-Fi-based Ordering: As menu cards are passed around from each table, customers might be apprehensive about touching the same menu card that has been touched by many. This is probably the best time to offer diners the option to place an order without handling physical menu cards. Provide them a wifi-enabled option with Posist's Contactless Dining Feature.
The feature allows customers to place an order on their mobile devices by connecting to the restaurant's WiFi network, accessing a digital menu. Once they place the order and register their mobile number, servers confirm their order at the table, and it is then sent for preparation. Customers can request for bills on their mobiles, and soon after the confirmation, pay bills via digital apps. The feature also allows diners to re-order or add new orders via the digital menu. 
QR code-based ordering: According to Posist's PRIME Report, it was revealed that 33 percent of restaurants have installed an e-menu using a QR code ordering technology at their outlet. QR based ordering keeps contact between patrons and the servers at a minimum, thereby maintaining necessary social distancing.
Along with the Wifi-Based Contactless ordering feature, providing a QR code-based ordering option to diners is also a good alternative. Using Posist's QR code ordering dashboard, patrons can place orders by scanning the QR code that will be displayed on each table and pay for the order at the same time. Upon scanning the QR code and entering the mobile number, diners can view a virtual menu on their mobile browser through which they can select their desired menu items and place the order seamlessly.
Even for the payments, customers can request for bills directly on their smartphone. The waiter assigned to the table will send the invoice to the diner's phone along with the payment options. After making the payment, the receipt gets automatically generated, and a digital copy is sent to the customer via WhatsApp and SMS. 
Contactless payments: Offering a multitude of digital payment options will ease the payment process for both consumers and the restaurant. To avoid the exchange of cash or credit/debit cards, partner with digital wallet platforms such as PayTM, Google Pay, PhonePe, etc.  
Even though these are unsettling times, adopting new strategies in terms of layout and guest service is going to be the new normal for the restaurant industry in the Post-COVID era. Adopt these essential changes in your restaurant layout and address both the consumer and operator needs of the new environment!